There's no question that 2020 has been a difficult year. It's solidified my core belief that your home should be a place that recharges you in every way. That means the decor should reflect your own unique style and the organization should make your life easier.

But general tidiness has to come first. Clutter can counteract every dollar you spend creating the most beautiful home and bring feelings of anxiousness and failure instead of peace. Worse, those negative emotions can carry into other parts of your life.

Cleaning has two components. The tidying and decluttering step, like picking toys up off the floor and papers off the counters, and then the actual cleaning and sanitizing your home. The easier it is to keep the house tidy, the easier it is to talk yourself into the cleaning.
Let's look at the specific things you can do to get motivated to clean.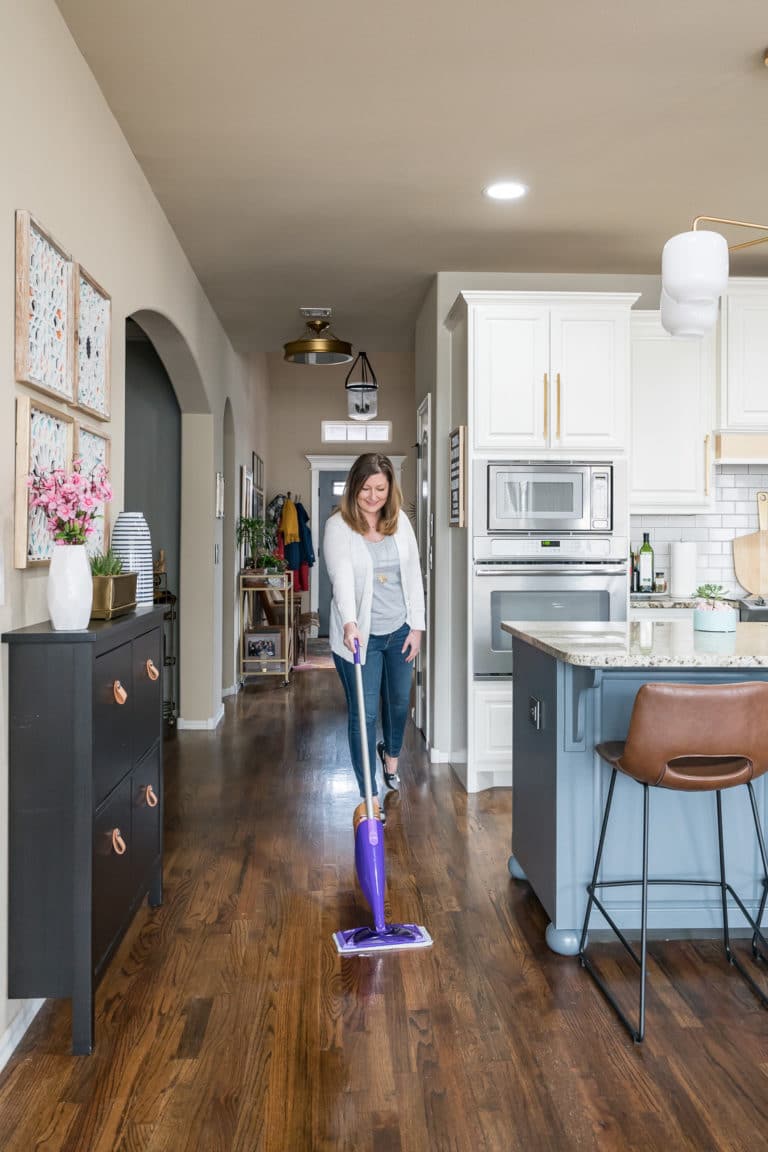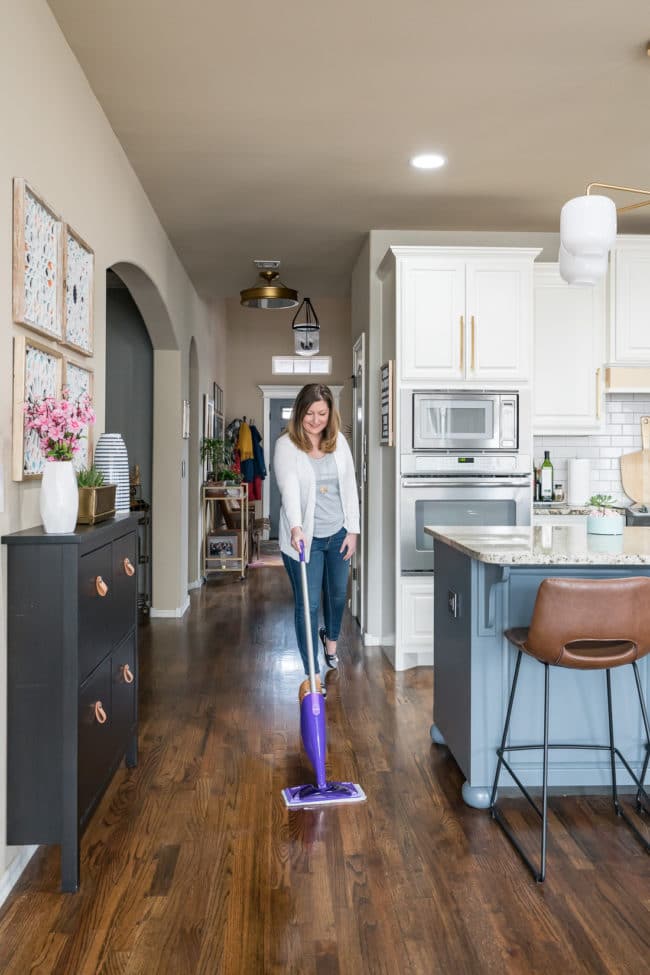 Don't Chase Perfection
Kick the expectation of constant perfection out of your mind before you move on to any of the other tips. Aiming for perfection sets us up for failure from the beginning by moving us toward one of two different extremes.
On one hand, and the more likely one if you're reading an article about finding the motivation to clean, perfection tells us that if we can't do a job 100%, we shouldn't start. It tricks us into believing there isn't value in spending 10 minutes tidying a space because we can't get it "done" in that short period of time. But that's a big lie we tell ourselves to get out of taking small steps. Instead, always focus on making improvements instead of creating perfection.

On the other hand, you don't want to be so obsessed with creating perfection that you're missing out on life. Yes, it's important to keep a clean and tidy house, but you can't consistently choose that over time with family or even doing something you enjoy. Sometimes you need to give yourself permission to take a long bath with a book or go outside to play with your kids and let the vacuuming wait. It can be tricky to find that balance, but it's worth it.
Know What Matters the Most
Since we're letting go of perfection, prioritization is important. I can work up the motivation to keep a few things tidy each day, it's thinking about the whole house that becomes overwhelming. When you think about your home, which areas cause the most stress when they're messy? And which areas make you feel like you can breathe easier when they're tidy? For me, it's suffocating when our kitchen island is covered in stuff. On the other hand, I like it when the pantry area is clear, but it doesn't affect my mood very much if it's a mess for a week.

The same thing happens with our tables. I hate it when the kitchen nook table is a mess because it's in my main line of sight when I leave the bedroom each morning. But, if the dining room table needs to be a temporary holding zone for project supplies, I'm okay with it. In the office, my desk being cluttered keeps me from getting anything done, but projects on the credenza don't affect me the same way.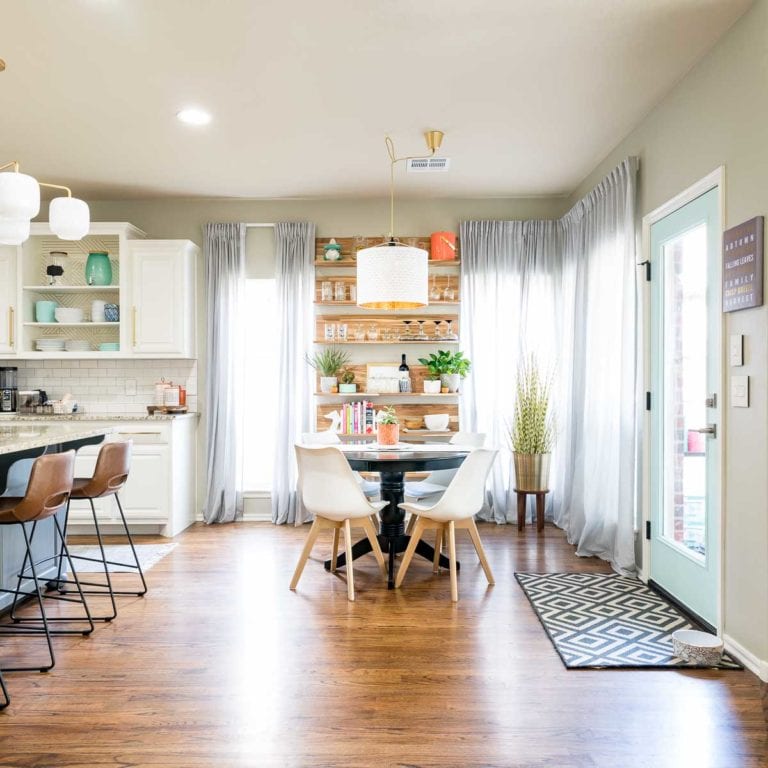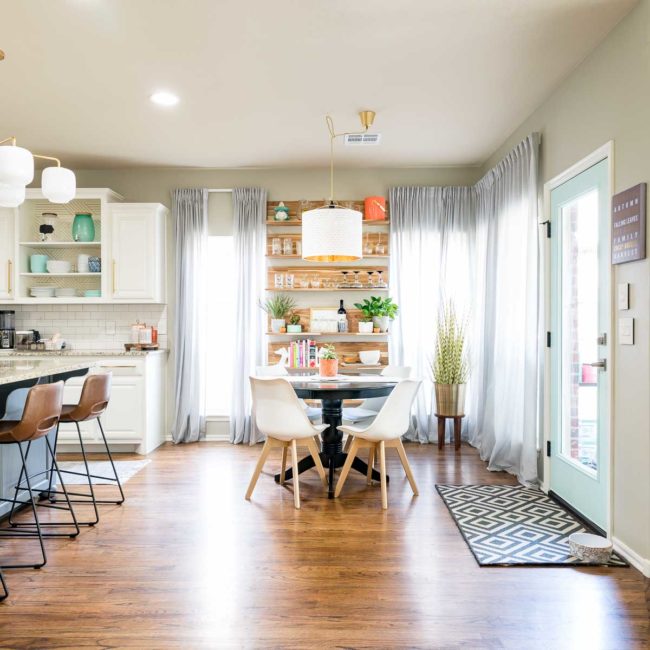 Pay attention to which parts of your home impact your mood the most. While I'm happiest when everything is tidy, it's motivating to know which zones give me the most bang for my cleaning buck.
Start with a Purge
While I'm not a minimalist overall because I love being prepared for as many circumstances as I can, there is great value in reconsidering the number of certain items that you keep easily accessible.

For example, we reduced the number of towels we keep in our master bathroom. Before, we could get way behind on washing them because there always seemed to be more on the shelves. Now, when the towel hamper is full, the shelves are almost empty and we are automatically triggered to wash them.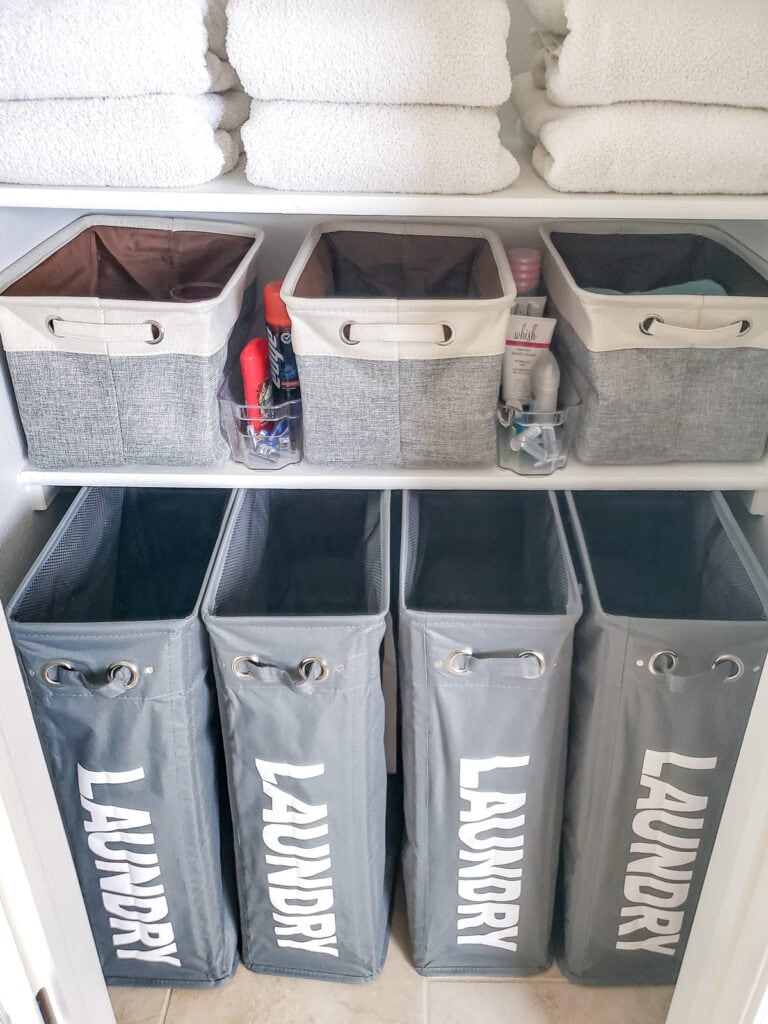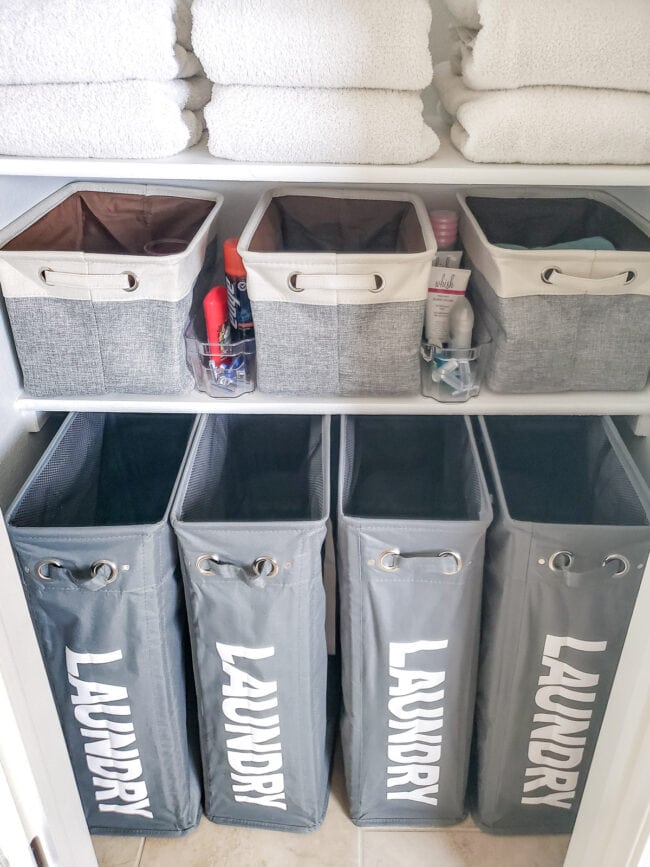 I just implemented the same technique with my coffee mugs. I'm the only one that uses them daily, but I used to have 6 or 7 on my coffee tray on the counter. Somehow, they'd almost all end up dirty. I moved the extras to an upper cabinet shelf to use when we have company and kept only my favorite two out. Most days, I just quickly hand wash my mug and put it right back with the supplies. We have more room for other dishes in the dishwasher, which helps the sink stay empty.
What are your problem areas within the home? Can you make any adjustments? Motivation by necessity is very effective – if I don't wash the towels, I can't take a shower. If I don't wash my mug, I don't get coffee. It probably doesn't make sense, but even though I'm doing those tasks more often, they feel more natural and less forced.

PS: If you need some decluttering tips, my article Decluttering Tips That Really Work should help!
Make It Entertaining
A pair of Bluetooth headphones can transform the time you spend cleaning. I like to listen to an audiobook, and once I get started, I'm motivated to continue because I don't want to stop listening to the story. With the headphones, the book follows me through every part of the house. Most libraries have an option for borrowing audiobooks or you can purchase them through Amazon or Libro.fm, which benefits independent bookstores.

If books aren't your jam, listen to your favorite music or a podcast. When I'm doing a task in one room, I'll even watch a favorite show on the iPad. If we're doing several loads of laundry in one day, the iPad just stays in the laundry room so I can pause and resume one episode each time I need to fold things out of the dryer. I don't put off the folding, because I have something to look forward to.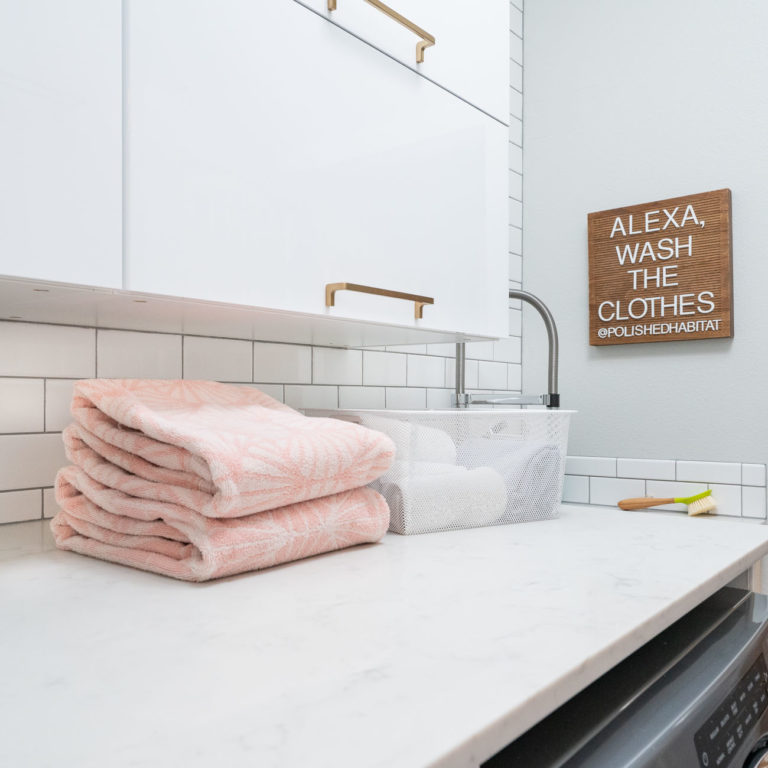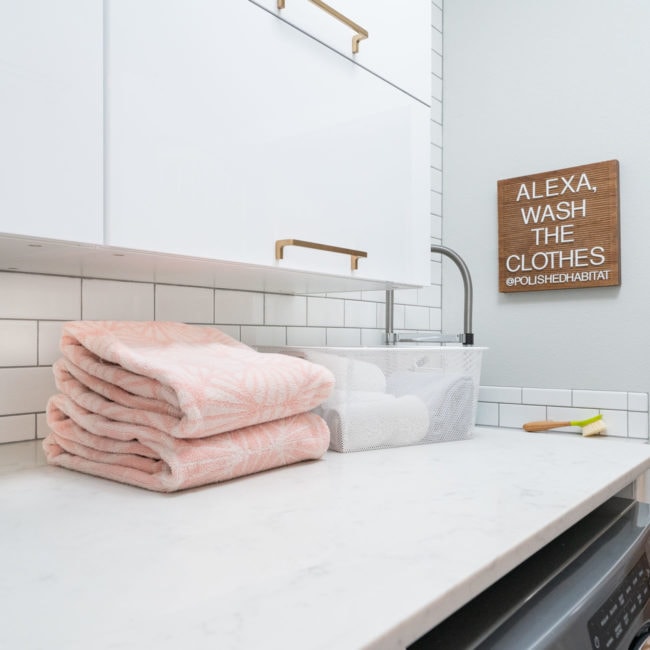 Set the Timer
A simple timer is my personal favorite way to instantly motivate myself when I really need to clean, but don't want to. There are two different ways I use a timer, and you should try both!

First, when things are either cluttered or dirty and I catch myself spending more time THINKING about cleaning than actually doing it, I set a timer for 10 minutes.
Then, I tackle whatever I can from that area that is bothering me the most until the timer goes ding. It doesn't matter if I don't make it perfect, it will still be noticeably better!
Of course, if you get on a roll and have more time you can keep going. But the real goal is to train ourselves that it's okay to make small progress when we have 10 minutes versus waiting until we have a bigger chunk of time.
Second, for the repeating tasks that you dread or are just bad at doing consistently despite truly WANTING to get done, start a timer before starting the task.
See how long in actual minutes (or seconds!) it takes to get done. For me, the tasks I hate are always less time than I think. Now that I have hard data proving that it truly takes under 2 minutes (1 minute and 36 seconds to be exact) to make the bed, I have NO more excuses!
Splurge on Cute & Effective Tools
Yes, this is a totally superficial tip, but I'm a big fan of whatever works. As much as I don't love cleaning, I love a pretty cleaning tool. And if pretty teal sponges in the kitchen work and make me more likely to clean than the classic green and yellow combo, I'll gladly pay a little extra for them. And if keeping cleaning products in a cute caddy motivates you to grab the caddy and knock out the bathroom, that's a big win!
Find Your Decor Style
Anytime we makeover a room to create a space that's truly our style, we're more likely to keep it clean and tidy. It's absolutely possible to create a beautiful space and then let mess takeover, but it's much easier to ignore a mess when you already disklike a room. I mean, look at this before photo from our bedroom.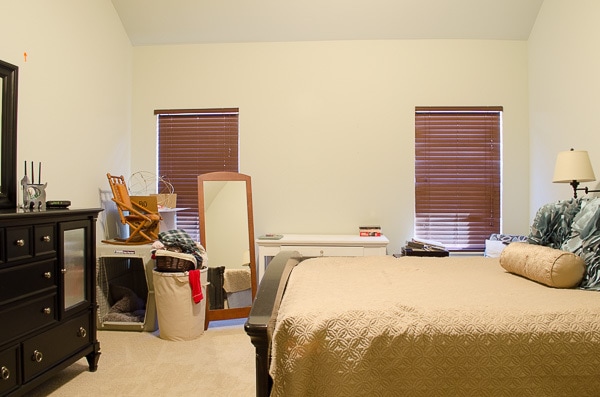 After the room makeover, we've consistently kept clutter out of the space because the room feels finished, cohesive, and reflective of our style. Now it almost feels insulting to the room when any clutter begins to gather or things get dusty.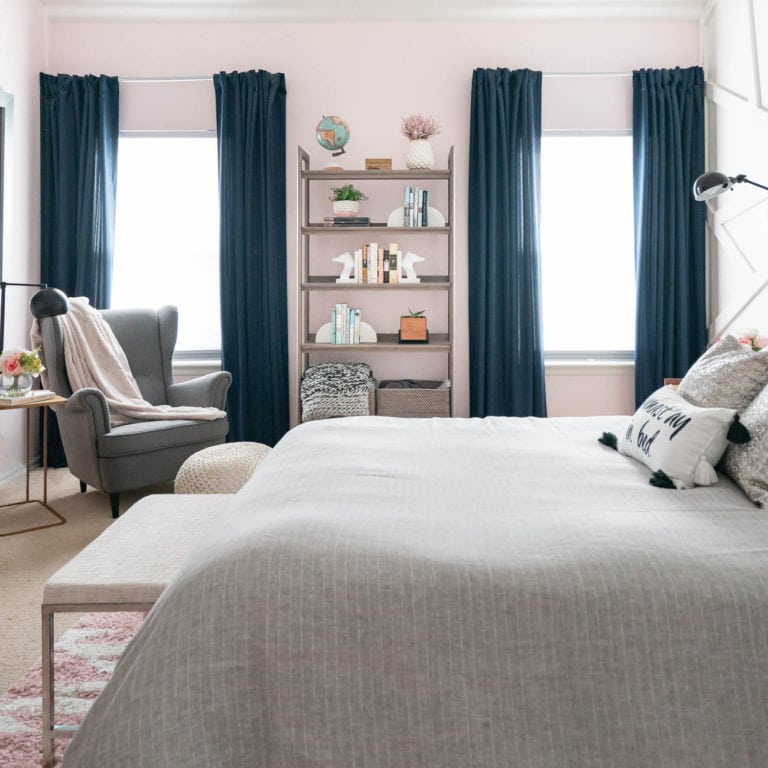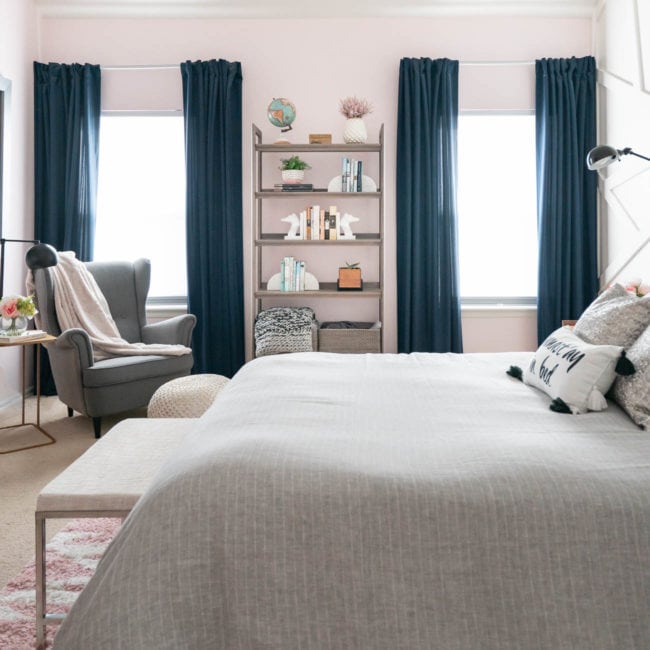 Know You're Worth It
Mental health is important, and making sure you're living in a space that makes you feel good is part of taking care of yourself. Especially if you don't live alone, it can feel like caring for the house is just another draining task that you do for others. But what if you reframe that thought pattern? Think about how you feel walking into your home when it's dirty vs when it's clean. Is it worth dedicating a little time each day to achieve that positive feeling for yourself?

That's not to say that you're solely responsible if there are other family members in the house. Divide and conquer, but know your mental state is worth taking the time to figure out a good cleaning plan.
Set Up Triggers
For daily tasks that make a big difference in how clean your house feels, incorporate them into your routines in a way that becomes an automatic habit, so you don't even need motivation. For example, you could start making the bed while the coffee is brewing.
If you're anything like me, you're still half asleep and can do it on autopilot, and by the time you're done, you have a built-in reward of that fresh cup of coffee. Other tasks could be coupled with brushing your teeth. Maybe you wipe down the bathroom counter, sink, and faucets each day right after brushing.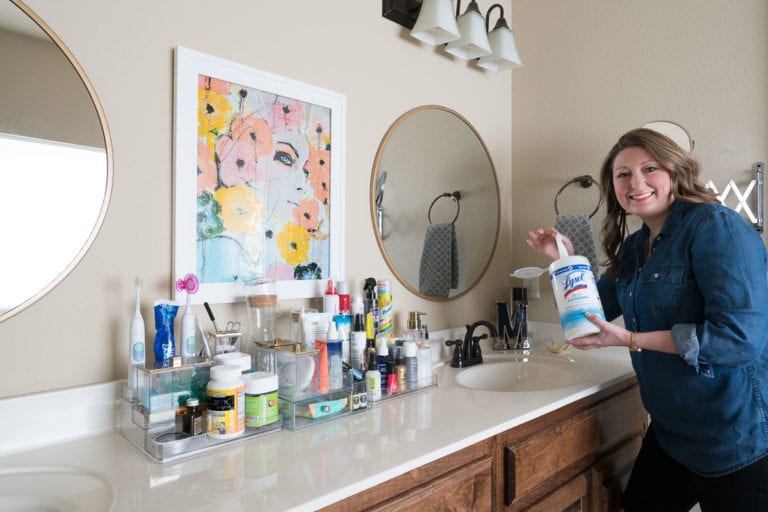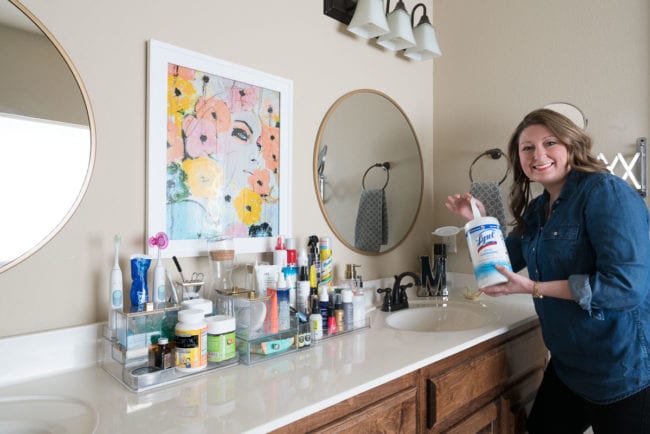 Make a Plan…and Then Be Flexible
Rigid plans don't work perfectly for me. As soon as I decide all the bathrooms will get cleaned on Tuesday, a new committment appears and and everything goes out the window.

Instead, I find it more effective to make the plan flexible from the beginning.

Create a cleaning list of everything that needs to be done in your home for you to consider it clean – from the toilets to vacuuming. Break the tasks down into chunks that can be done in 10-15 minutes or less. For example, don't put "deep clean all 3 bathrooms" as a single item. My motivation always wanes if I feel like a task is overwhelming.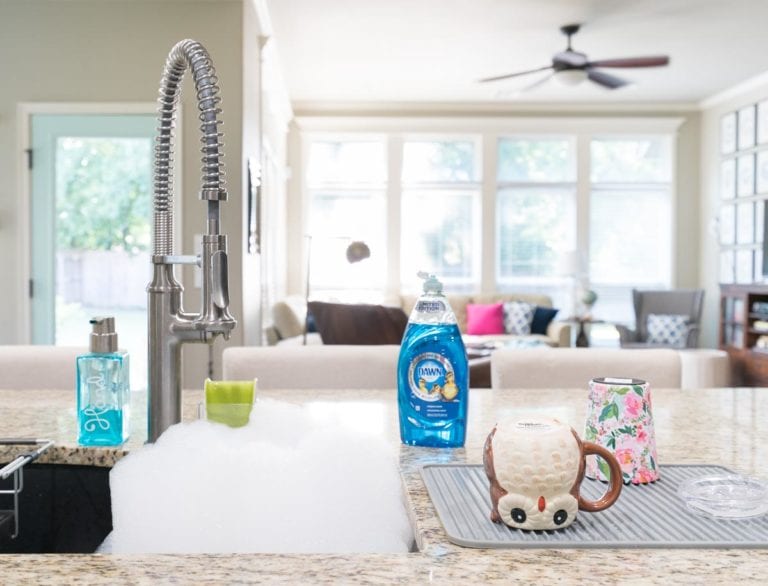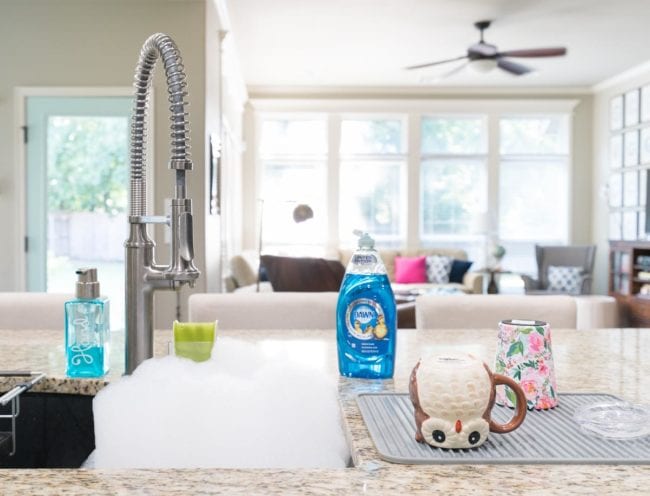 Separate your list into must-do and nice-to-do tasks that you'd love to get done, but won't be a huge deal if they have to be delayed a week. You'll probably have some nice-to-dos that get promoted to must-do in future weeks. Each day, pick at least one task from the must-do list, set a timer, and knock it out. Depending on your family, it may be that every person has to pick one of the tasks each day. Make it fun and add rewards if you knock out the entire list before Sunday.

This approach works better for me because I still have some control when I'm not in the mood to clean. I don't feel like I'm stuck doing one specific task, I get to pick from a menu. The magic happens once I've finished the first task because once I'm up and cleaning, listening to a book, realizing that task one went faster than I expected, I'll almost always find time to do another.
Before I know it, the house is in better shape than when I started.