While this year has been challenging for our family, friends, and most of the world, I try to remind myself regularly of the parts that have gone well. For Corey and I, our approach to dinner and food shopping has been totally transformed. The pantry, refrigerator, and freezer are stocked completely differently. We always have a wide range of meal options, and at the same time, we waste less food than we did before.

Earlier this week, a friend asked for our pantry staples list and then mentioned it could be a helpful post for you too. So here we are!

My partners at Head County sponsored the post since their seasonings and BBQ sauces are always on our must-have food list.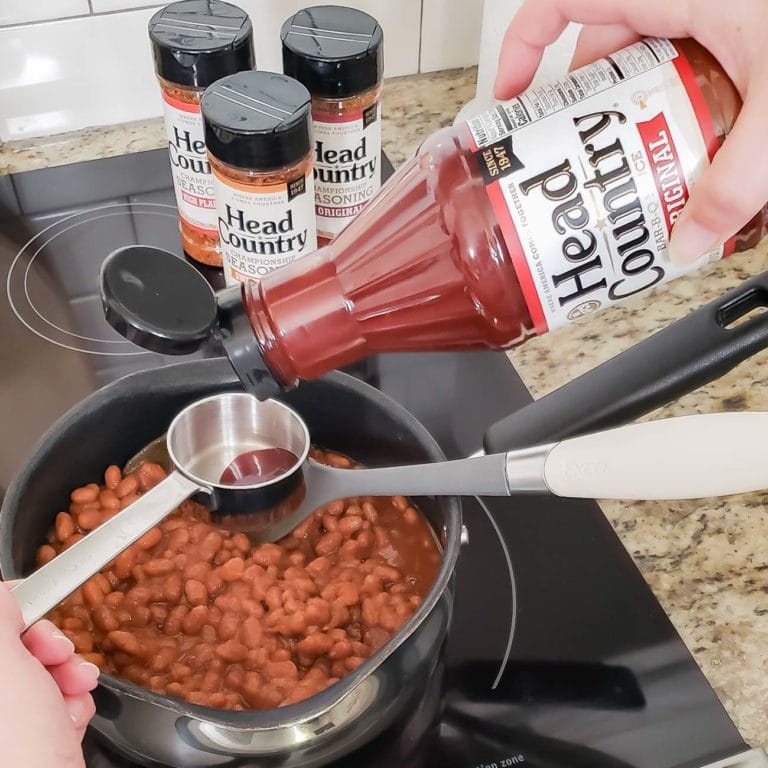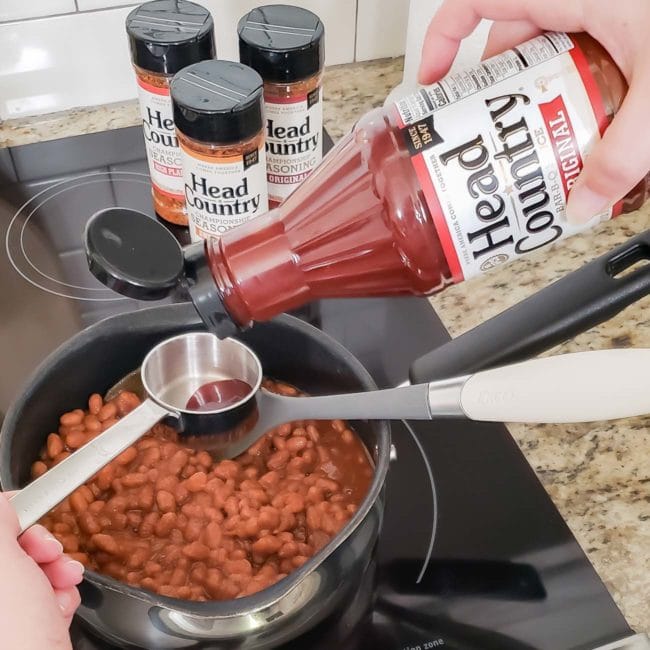 Use my list as a starting place and then add and remove items based on your family's likes and dislikes. Our list started by identifying the meals that we eat most often, especially those with a longer shelf life.

The list of meals acts like a menu, so instead of writing out a meal plan each week, we just look at the menu and pick what sounds good each night. The list has grown over time, but there are about 25 dinner ideas that we can choose from any night.

When we shop for the week, most of the list is simply refilling any staples and adding any fresh ingredients for specific meals. For example, when we make our three dinner pork roast, I only need a bag of coleslaw mix and to decide if I want to make buns from our normal pantry supplies, or buy them. We always have everything else for all three dinners.

It took some trial and error with produce to get a good sense of how long each item would last and how much we should keep on hand at once to balance not running out and not letting anything be wasted. When picking meals for the night, we prioritize options that use any fresh veggies we've had for a while. We've also gotten good at parboiling and freezing potatoes for homemade frozen french fries when I notice we may not eat them all before they start to go bad.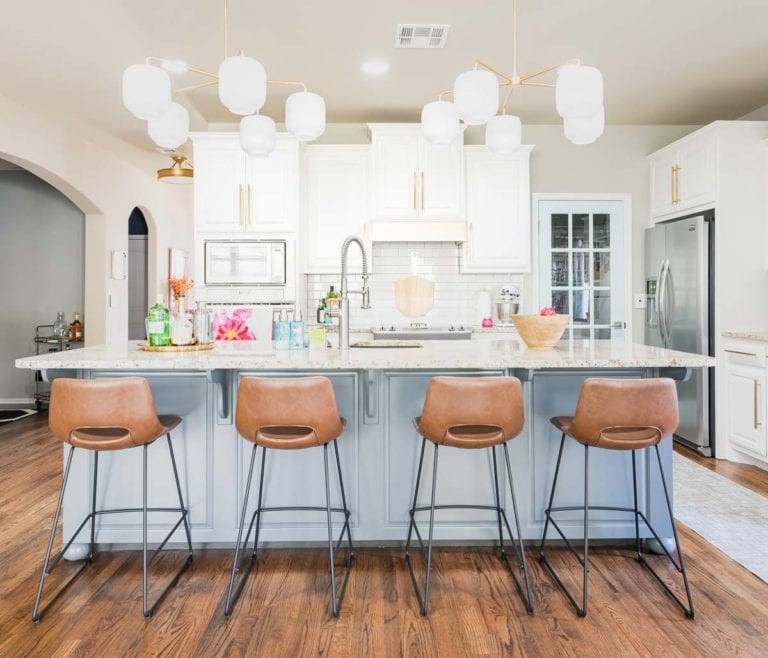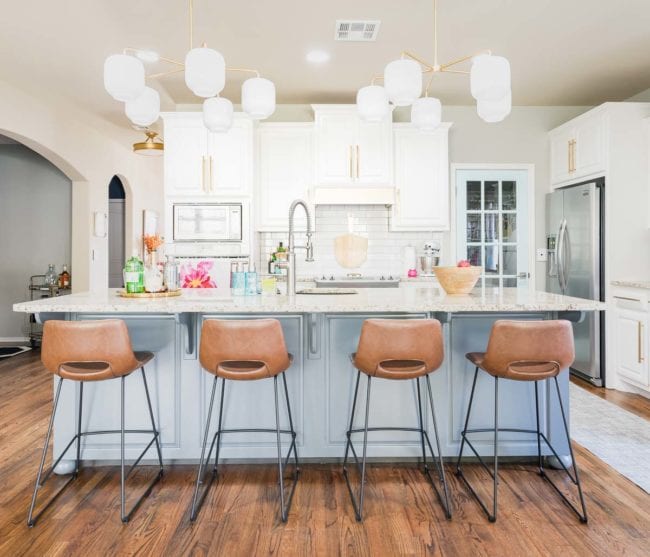 Our Pantry Staple List
Produce
Potatoes
Sweet Potatoes
Onion
Jalapeno
Cilantro
Lemon
Lime
Garlic
Ginger
Blueberries or Strawberries
Apples, Grapes, or Bananas

In addition to our produce staples, we get a farm bag delivered each week with seasonal veggies and lettuce. It's always a great variety and fun to figure out new meals to make with the items.
Refrigerator Staples

Eggs
Milk
Half & Half
Plain Greek Yogurt (great for breakfast and for sauces like Tzatziki)
Flavored Yogurt
Sour Cream
Cream Cheese
Shredded Cheese (Cheddar + Mozzarella)
Sandwich Cheese
Laughing Cow Garlic & Herb Cheese (Great for snacking with crackers or spreading in wraps or on sandwiches)
Stick Butter (Salted & Unsalted)
Spreadable Butter
Mayo
Mustard
Ketchup
Head Country BBQ Sauce (We keep Original, Hickory, Sweet & Sticky, and Hot & Spicy. They're all too good to pick a favorite.)
Salad Dressing
Salsa
Hot Sauce
Bacon
Lunch Meat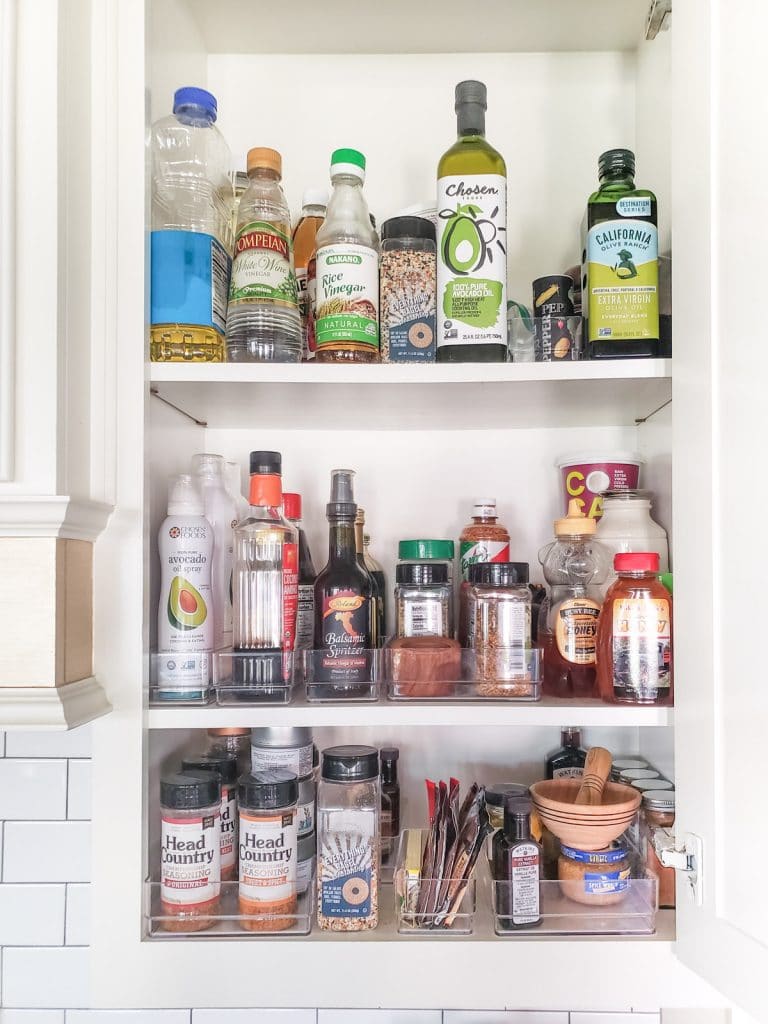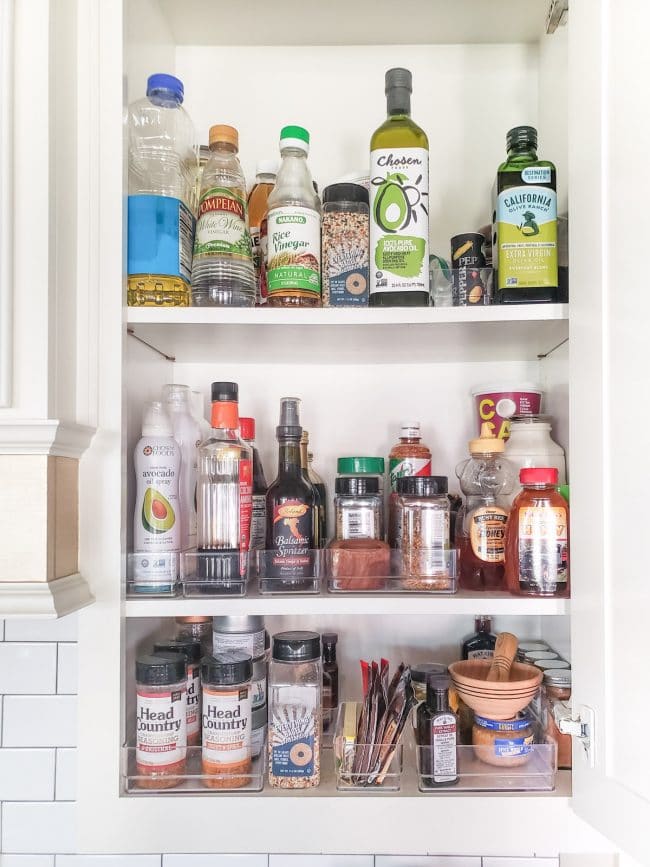 Seasonings/Spices
Sea Salt
Pepper
Head Country Seasoning (We love all three flavors- Original, High Plains Heat, and Sweet & Spicy)
Olive, Avocado, & Vegetable Oil
Cooking Vinegar (Rice, Wine, Balsamic, etc)
Garlic Powder
Onion Powder
Chili Powder
Cumin
Cinamon
Ranch Dressing Mix
Everything But the Bagel Seasoning
Honey
Sesame Oil
Coconut Aminos
Curry Paste
Other Individual Spices (I listed the ones we use most often above, but there's a full peek in the drawer below.)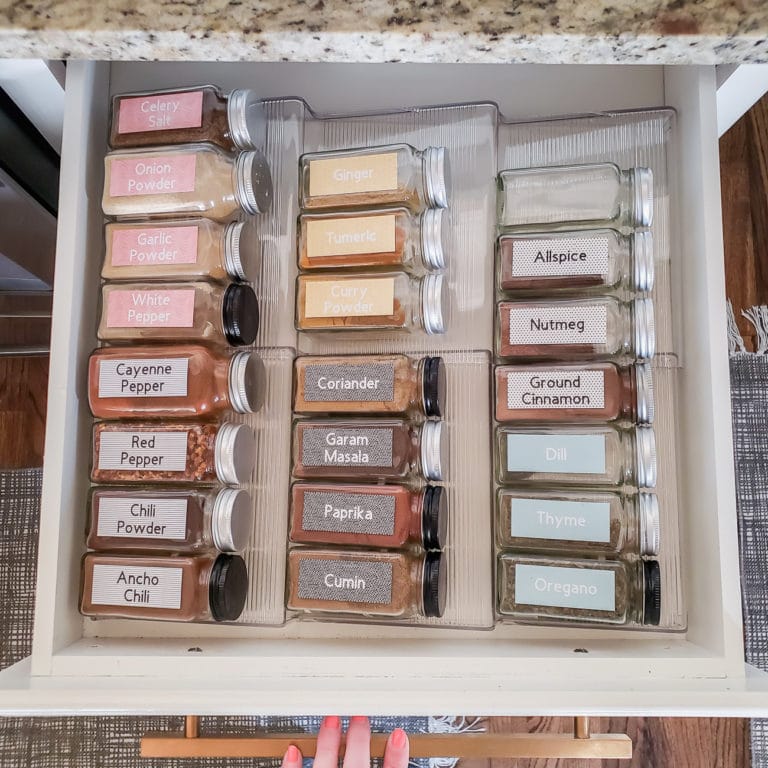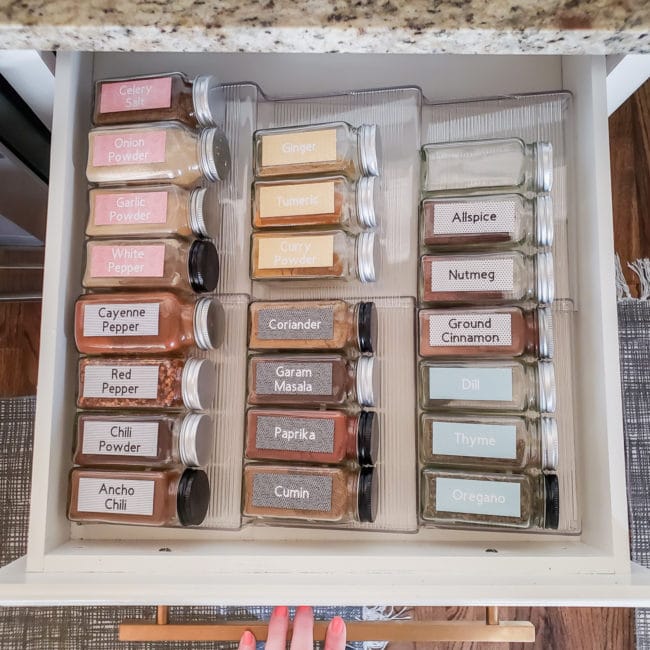 Pantry Staples

Sugar
Brown Sugar
Flour (White, Bread, Masa Harina)
Corn Meal
Yeast
Baking Soda
Baking Powder 
Vanilla
Cocoa Powder
Chocolate Chips
Panko Bread Crumbs
Oatmeal
Cereal
Granola
Protein Bars
Nuts
Crackers
Peanut Butter/Almond Butter
Jelly
Olives
Bread
Tortillas
Tortilla Chips
Sunchips
Pasta Noodles
Rice
Quinoa
Pasta Sauce – Tomato-Based and/or Alfredo
Tuna Cans or Pouches
Chicken Cans or Pouches 
Soup and Chili – both canned/jarred and dry mixes
Broth
Rotel
Canned Tomatoes
Canned Beans (Black, Refried, Chickpeas, Baked)
Canned Vegetables

In the pantry, we also keep unopened backups of everything in the fridge that is shelf-stable before opening.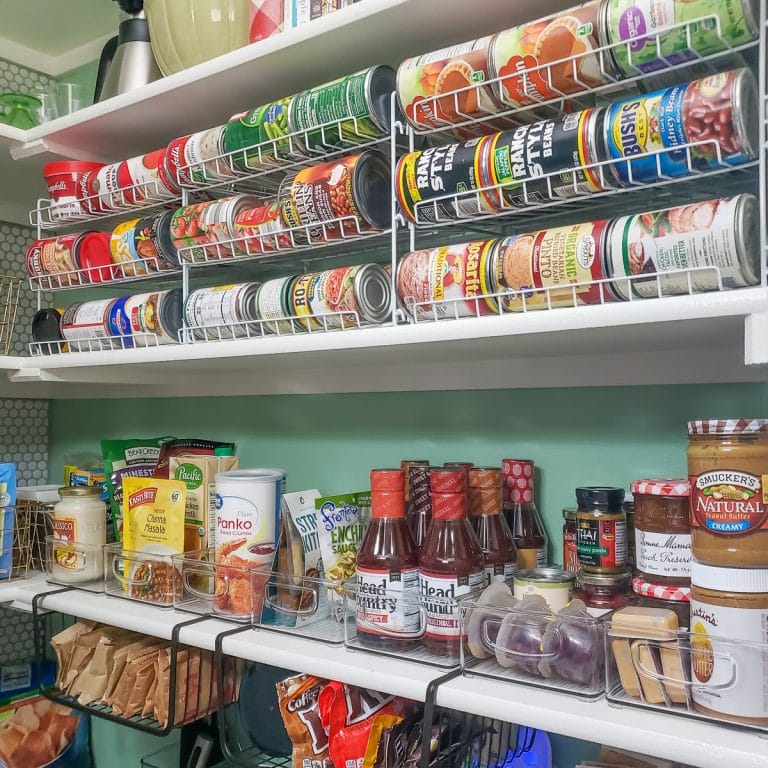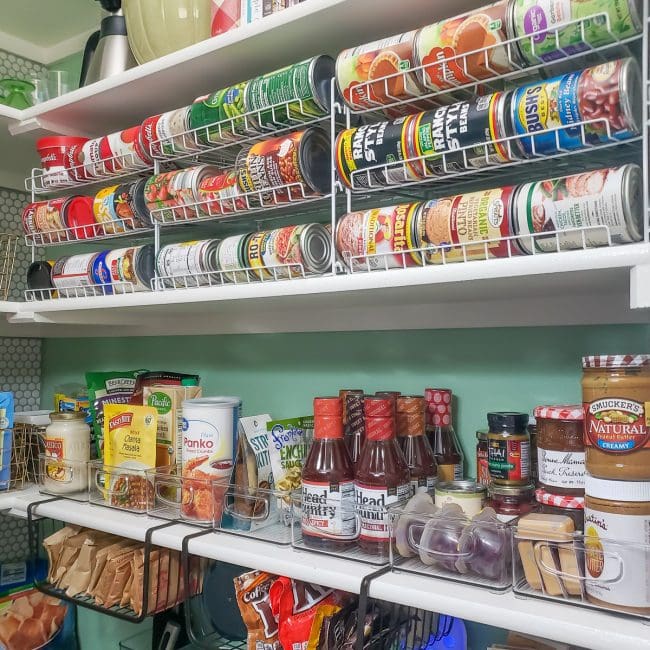 Freezer Staples
Ground Beef
Italian Sausage
Chicken Breasts
Fish (Mahi Mahi)
Pork Tenderloin or Pork Roast
Homemade Meals (For example, when we make Baked Ziti, we freeze half to reheat on busy nights)
California Pizza Kitchen Pizzas (Another go-to option when we want something quick and easy with no dirty dishes)
Fruit for Smoothies (we freeze any fruit going bad before it's too late)
Corn
Stir-Fry Veggies
Regular & Sweet Potato Fries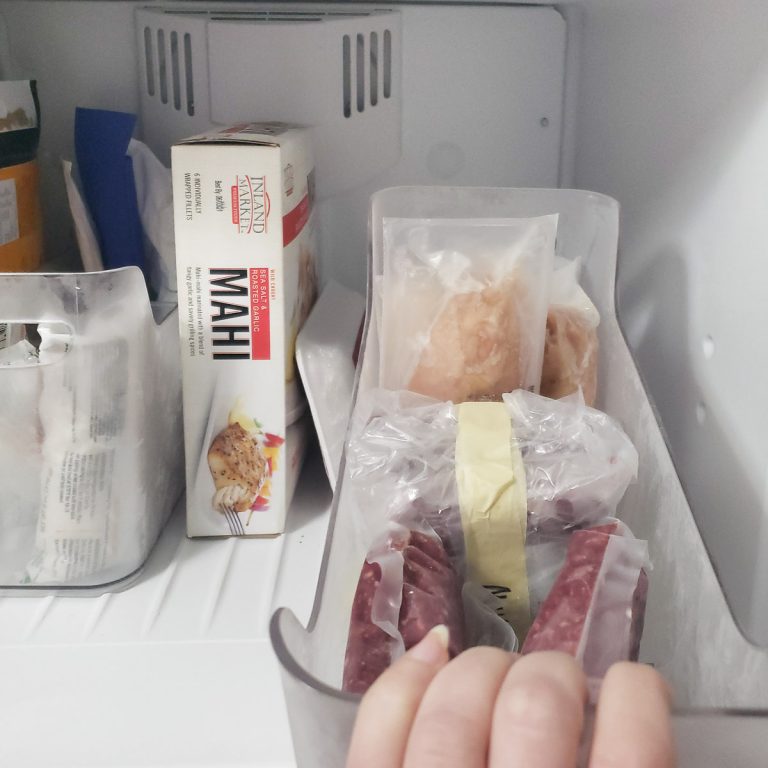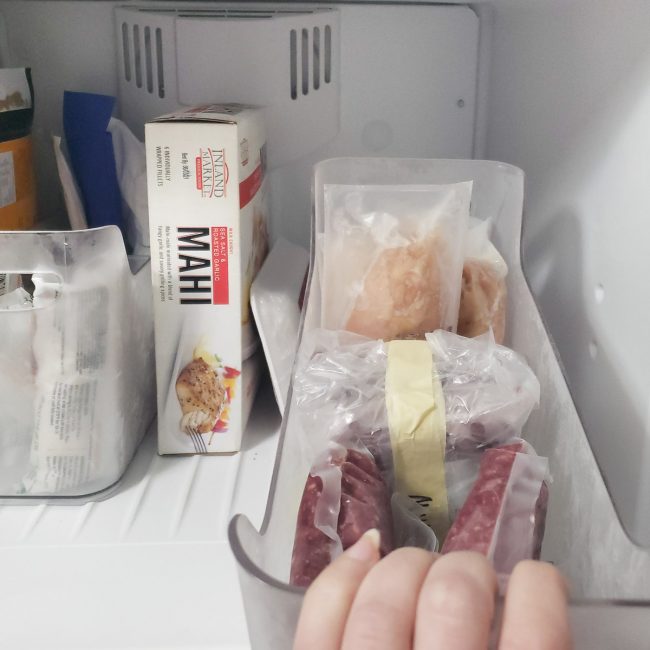 The quantities we keep of each item are dependent on how often we use them and the shelf life. As we've refined our menu over the last several months, we've also slowly increased what we have on hand to stock up without breaking the budget. I hope having this pantry staples list as your baseline helps you do the same!

And don't forget to pick up or order some yummy Head County products to add tons of flavor to a quick dinner. I need to order some Apple Habanero to try ASAP!