A few weeks ago, I confessed that I mix decorating with real house plants and fake indoor plants…and I think you should too!
In that post, I outlined the spaces around the house where it makes sense to opt for faux.
Today, let's chat about the flip side and share some tips for indoor plants!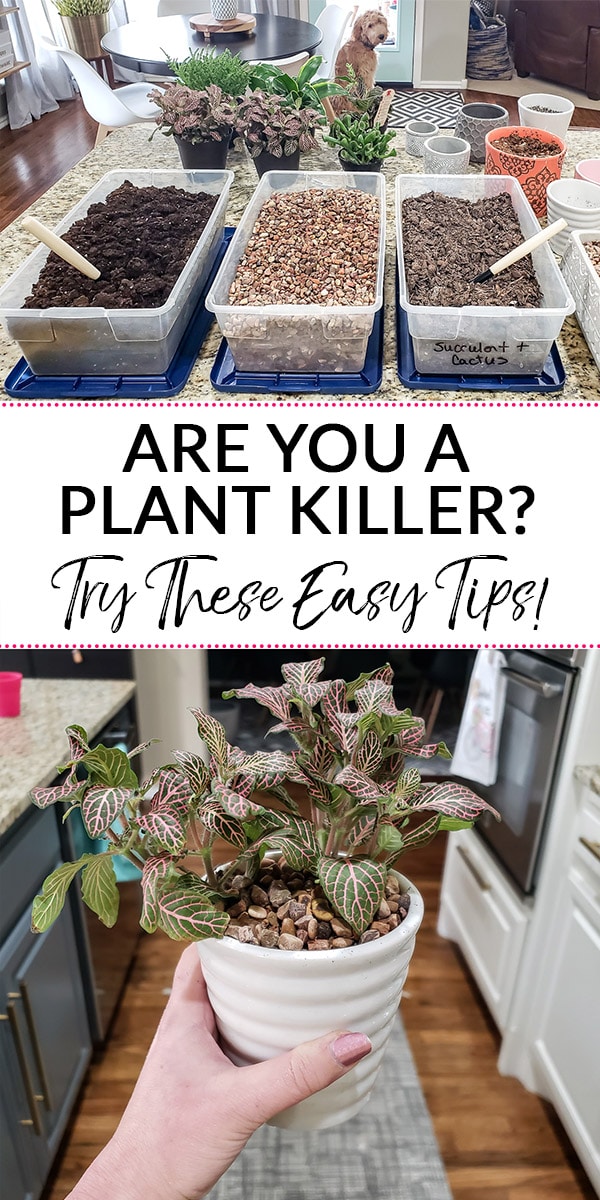 Don't worry if you feel like you have the opposite of a green thumb.
I was a plant-killer too, but over the years my success rate with house plants has gotten better and better and I'm confident that yours can too.
DID YOU KNOW?
The phrase green thumb originated because thumbs of those who worked with old earthenware pots would actually become green from the algae on the outside.
Things to Consider When Opting For Real Houseplants
The most important consideration is safety for your furry friends.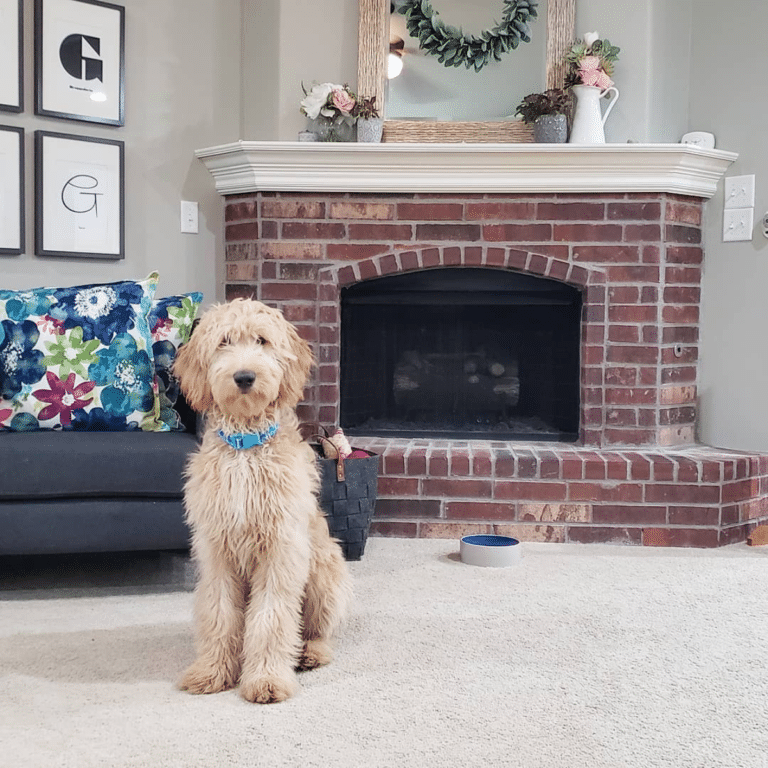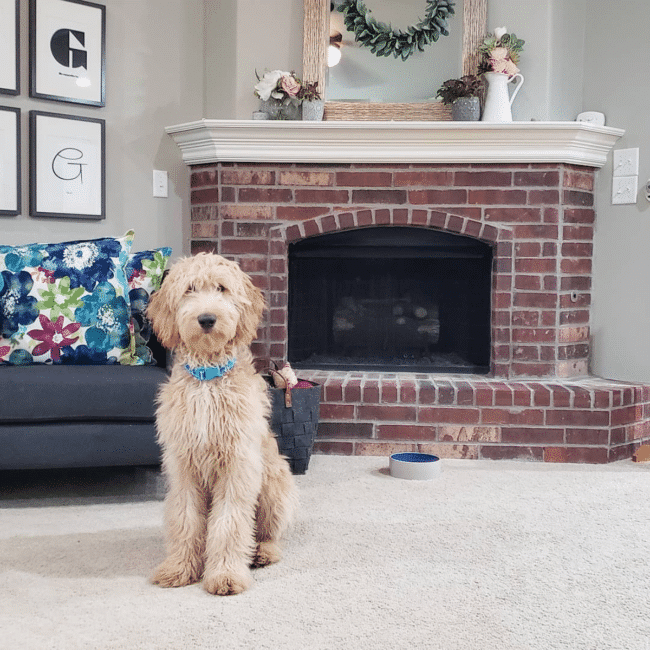 Which Houseplants Are Poisonous to Dogs?
Do you have pets? Several beautiful plants are unfortunately toxic to cats and/or dogs. This is something you should research with each new plant purchase.
I added a beautiful Peace Lily to our entryway and it was thriving in the spot by the front door…but then my mom mentioned she thought they were poisonous. She was right!
Considering Gus quite enjoys chomping on leaves, I was lucky he didn't get into it before I moved it. Whoops!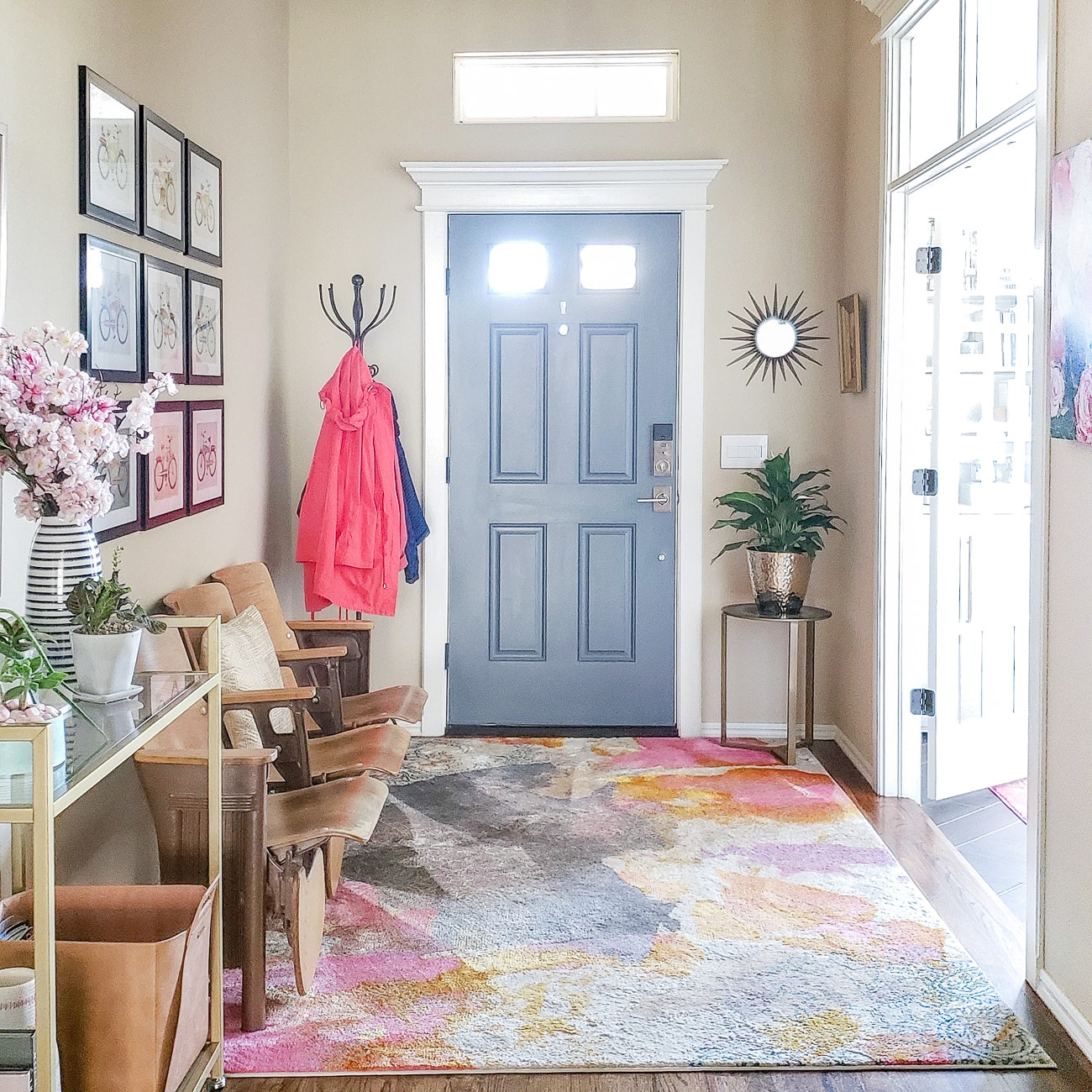 The ASPCA has a comprehensive list of plants that are toxic to dogs, along with a helpful list of non-toxic plants. I'd recommend bookmarking their list so you can reference it when shopping.
How Much Water Does Your Indoor Plant Need?
It took a few sad plant deaths to realize that I can't just water every plant around the house the same day and have them all thrive.
Some of my succulents only need water once a month, and overwatering is as bad as under-watering.
This means that it's important to communicate with other family members to prevent well-intentioned helpers from accidentally killing your plants. And yes, I speak from experience. 🙂
One way to up your success rate with watering is to make sure the soil in your pots has space to drain properly.
That's great in theory, but it seems almost every pretty planter I want to decorate with doesn't have drainage holes. And frankly, I prefer the streamlined look of pots without saucers anyways.
The solution is as simple as a cheap bag of rocks!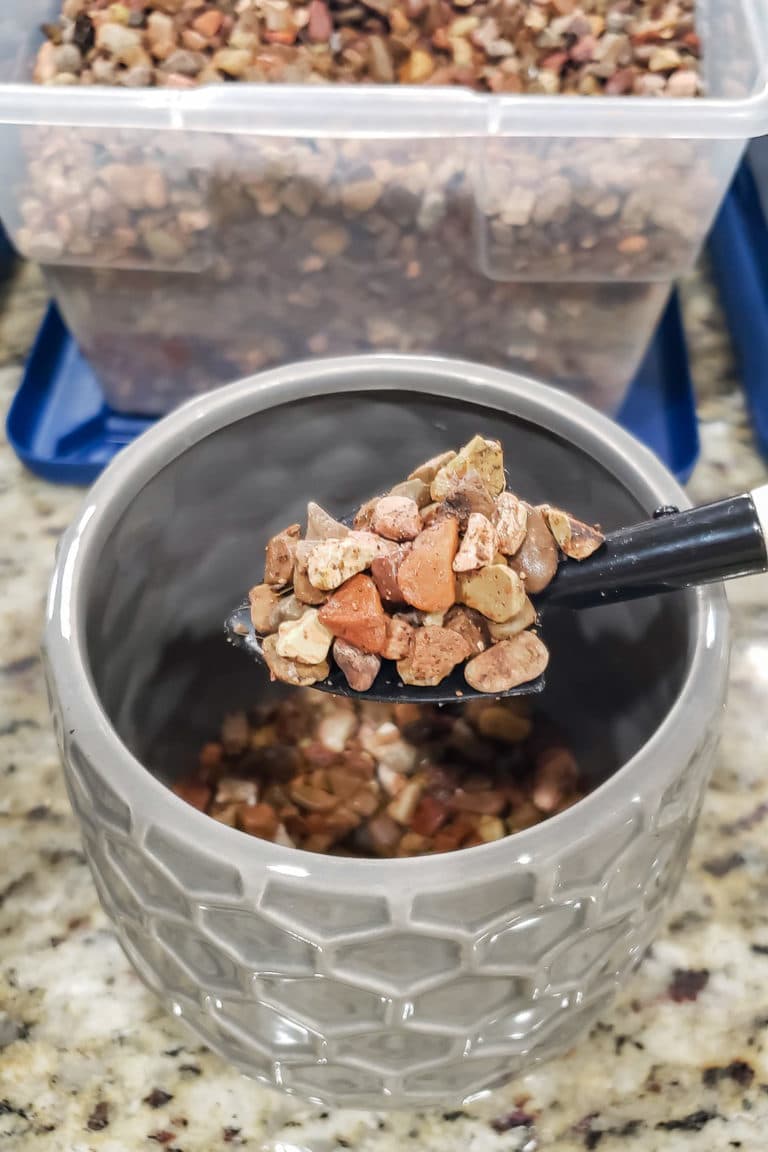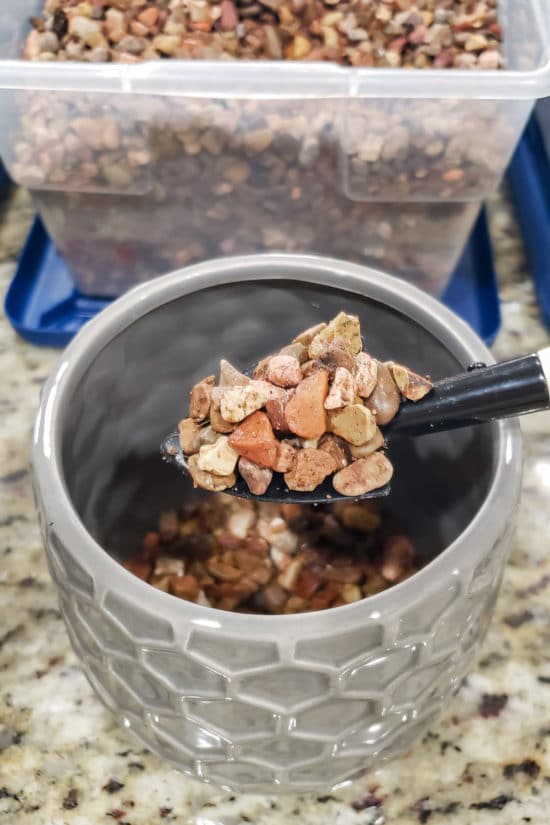 Before adding soil to your planter, add 1-2 inches of pebbles. The rocks provide a safe space for excess water to drain to protect the roots of your plant.
SAVE SOME CASH

Purchase your pebbles in the outdoor landscaping area of the hardware store. You'll get a huge bag of the same rocks for the same price (or less) than a tiny bag inside.
How Much Sunlight Does Your Indoor Plant Need?
When I'm adding new houseplants to my collection, the first thing I check on the label is the sunlight requirements.
When I was a new plant-mom, I'd impulse-buy beautiful plants based on their looks. Now I know that before I head to the checkout line, I need to be sure I have a spot in the house suitable for it to thrive.
Last time I was at Lowes, I desperately wanted a variety I hadn't seen before, but it needed bright light. Unfortunately, most of the perfect spots for plants inside our house only supply indirect light, so I had to leave it behind.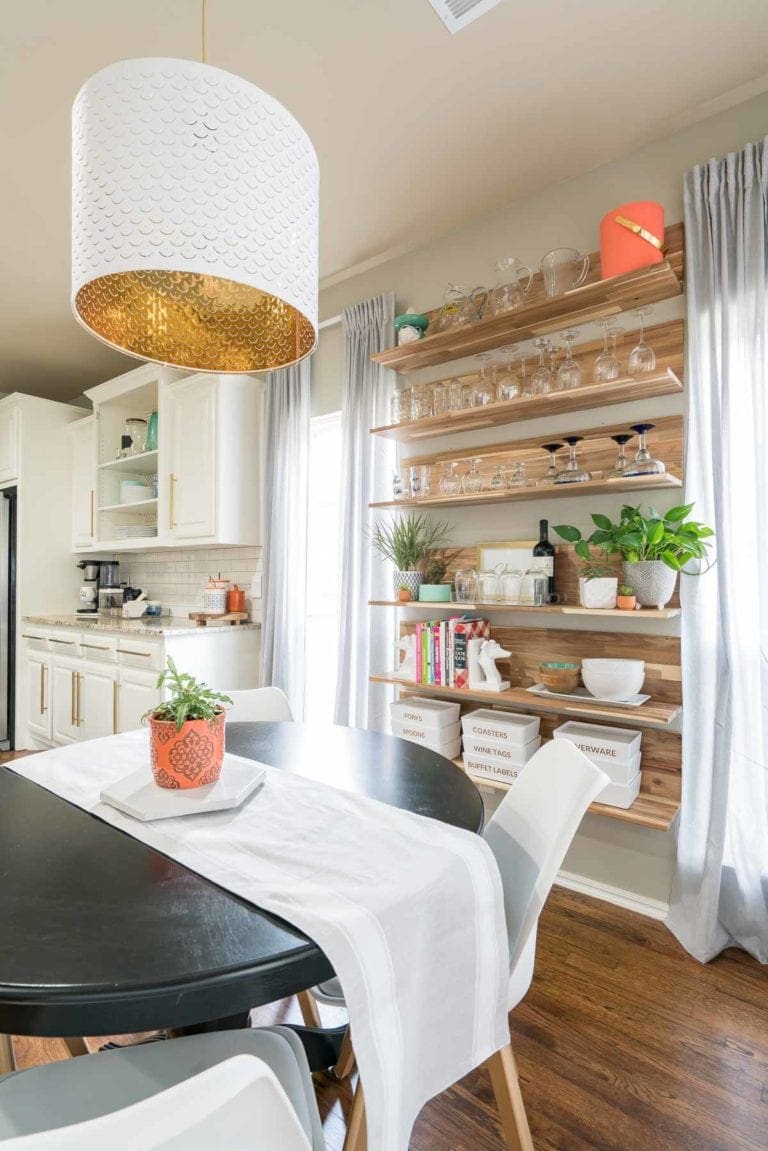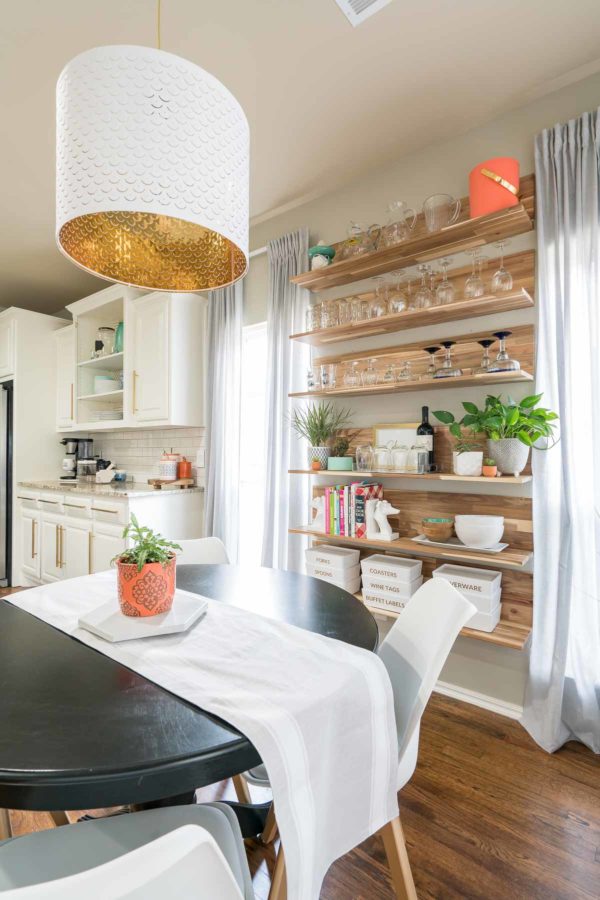 How to Successfully Decorate With Plants
While you're thinking about sunlight, you need to make a mental note of your decor in each of the sunlight zones around your house.
Sometimes I think I've put together the cutest plant + planter combo, and then once everything is planted I'll realize that the color or style of the planter works perfectly in a sunny spot, but the plant I choose needs low light.
Planning ahead will make sure your room looks great AND your plant stays healthy.
Easy Plant Care + Cute Decor
You'd think that the plants themselves would be a good visual cue for me to water them, but for some reason, my brain connects better with the watering can.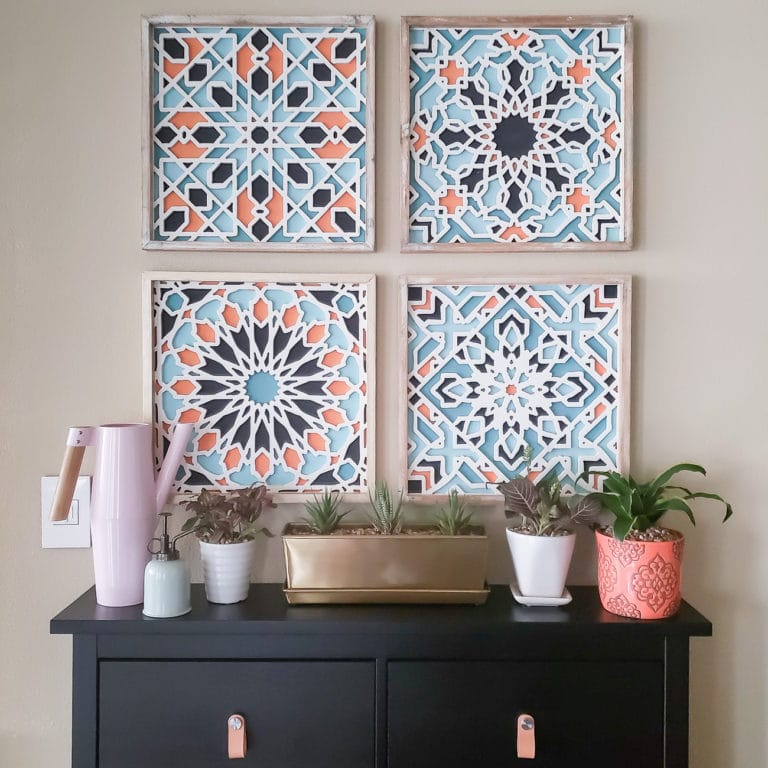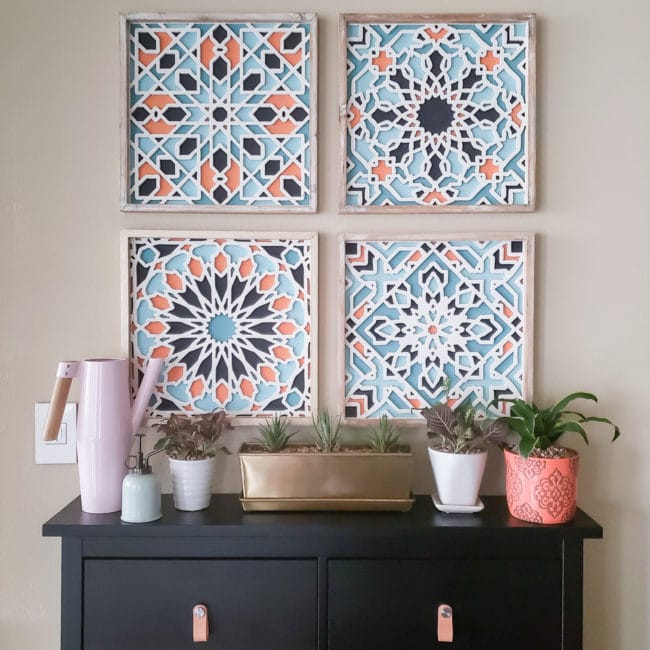 I found a chic pink watering can at IKEA and it looks great just sitting on our shoe cabinet in the kitchen alongside the plants. It's functional AND decorative – my favorite combo!
How to Decorate Your House With Indoor Plants: The Finishing Touches
Remember that big bag of rocks I suggested you haul home to put in the bottom of all your planters?
You're not done with it yet!
I like adding rocks to the top of my planters as well. It seems to help with even watering and not having the soil exposed looks a bit cleaner and less attractive to gnats.
Here's what one of my pots looked like right after I planted it.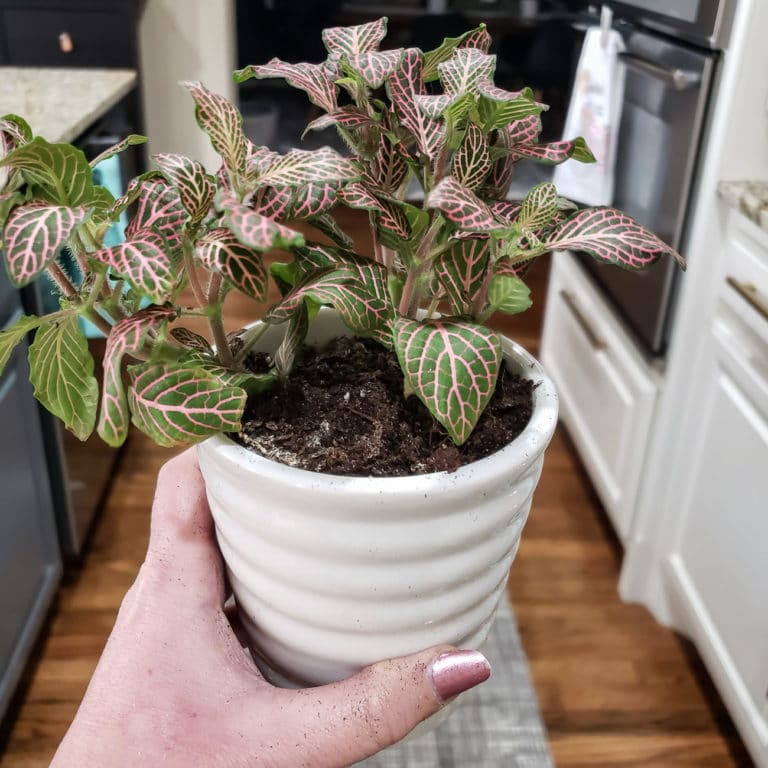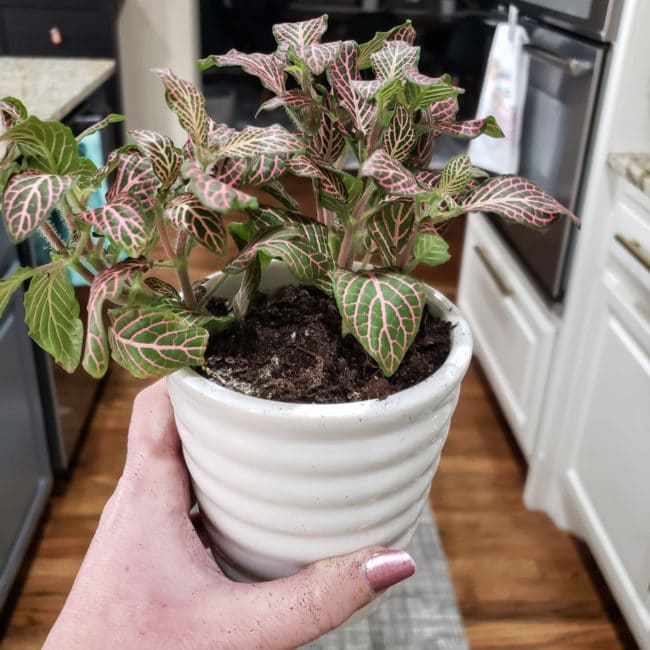 It's fine, just like an outfit without jewelry…but pop a few cheap rocks on top and the same plant looks more finished and like a piece of decor.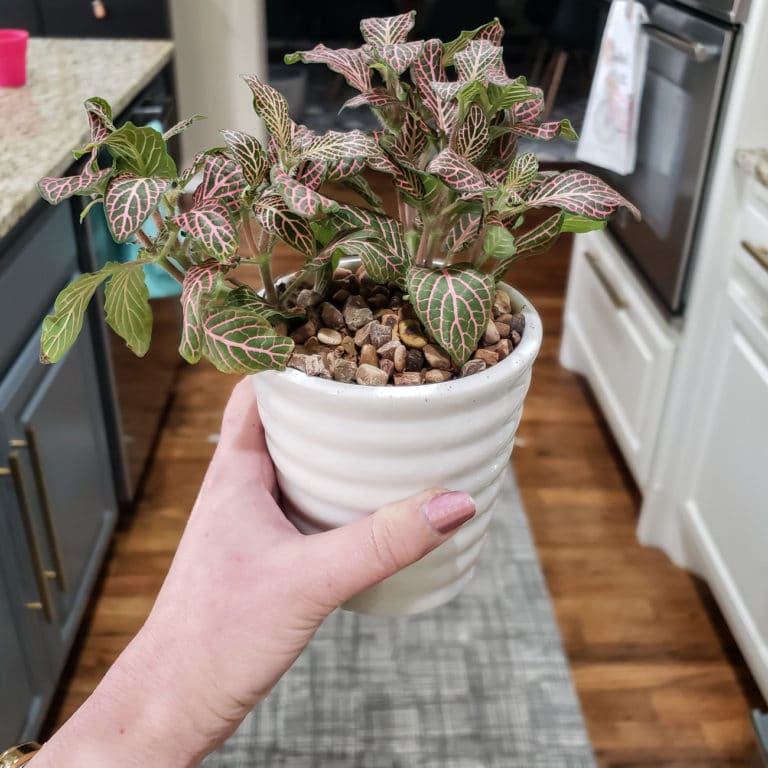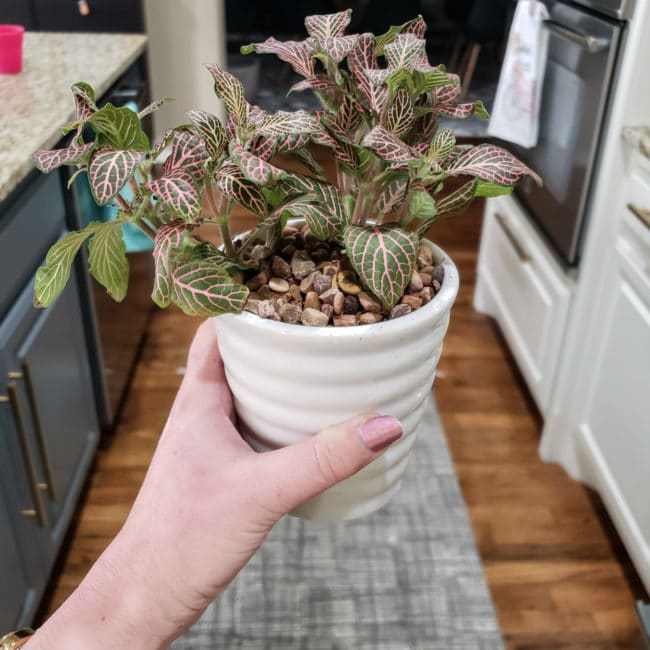 If your plants already have some gnats or you don't like the look of added rocks, these sticky things from Amazon have helped us keep the annoying little bugs at bay in the past.
The Thing No One Tells You
I'm sure you know that plants aren't a set it and forget it type of decor since they have to be watered.
What I hadn't really thought through when I started buying plants was that as they grow, they have to be moved into larger pots.
As the visible part of your plant gets bigger, the roots are also growing. They also enjoy access to fresh soil as nutrients become depleted in their old pot.
Spring and early summer is a great time to repot, and I like it get it all done in one day so I can have a bit of an assembly line.
ORGANIZING TIP


Cheap plastic shoeboxes are handy for holding potting soil and some of your rocks so you don't have to haul heavy bags into the house.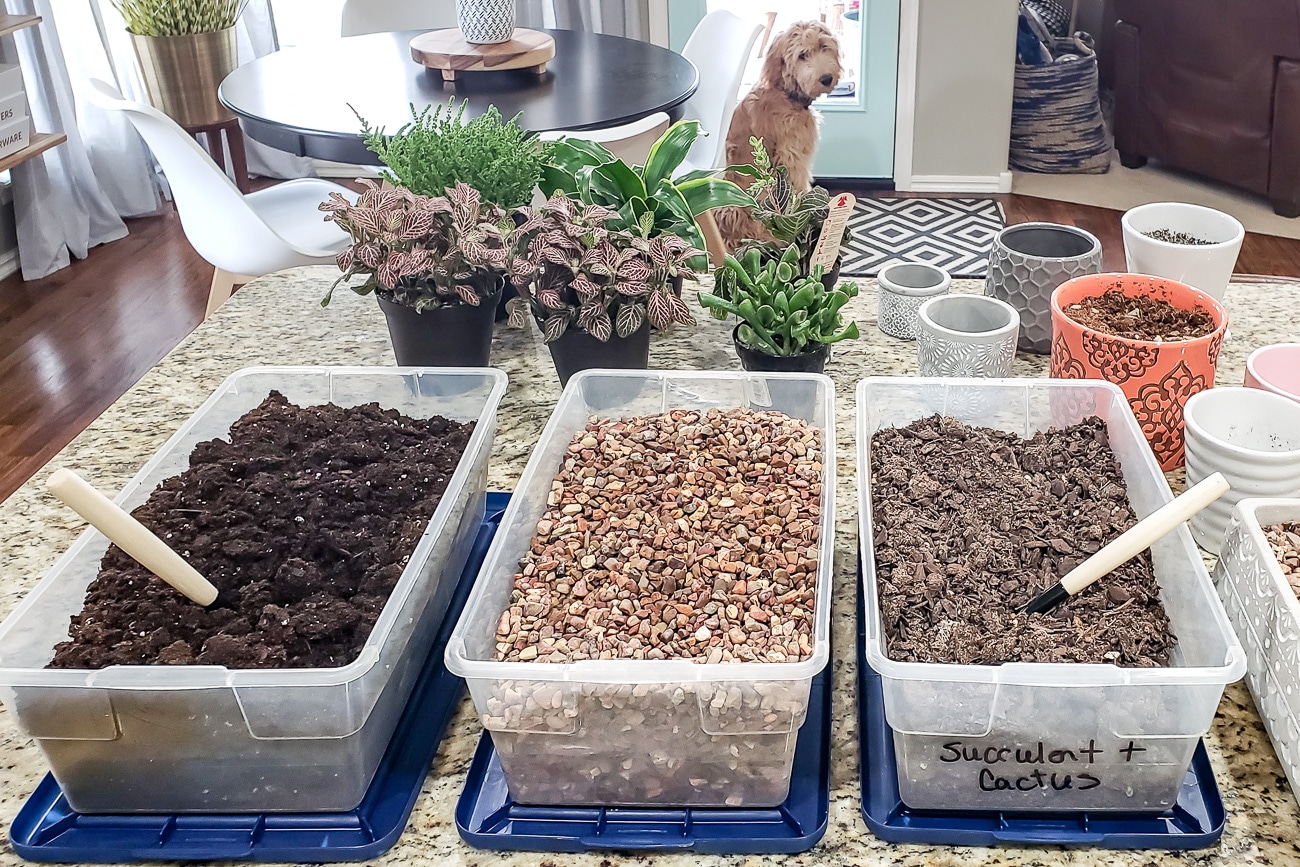 Since we have a mix of succulents and regular plants, I keep two potting soil formulas handy.
I like to set the whole planter in the rocks to fill the top so that any overflow just goes right back into the container.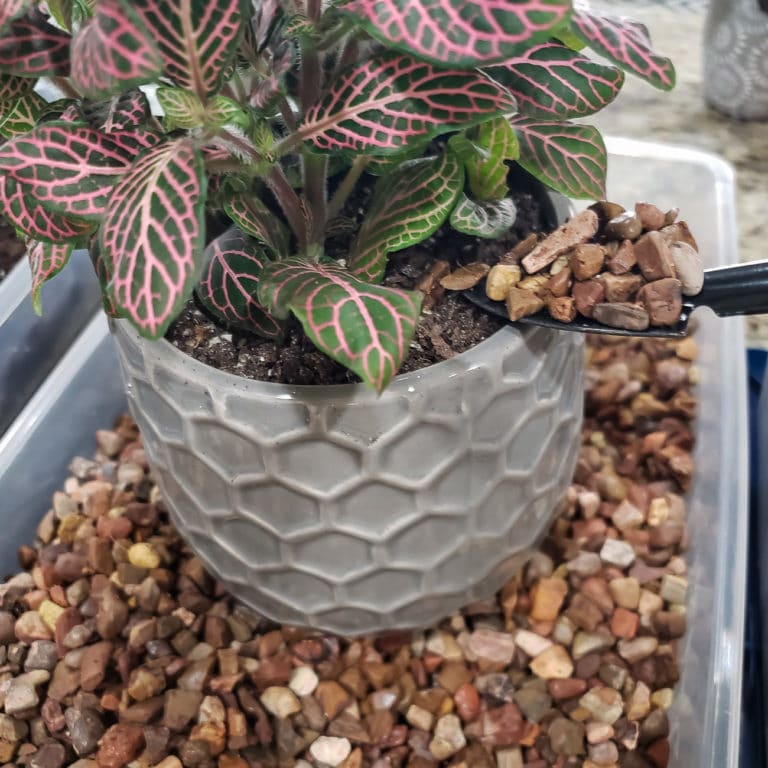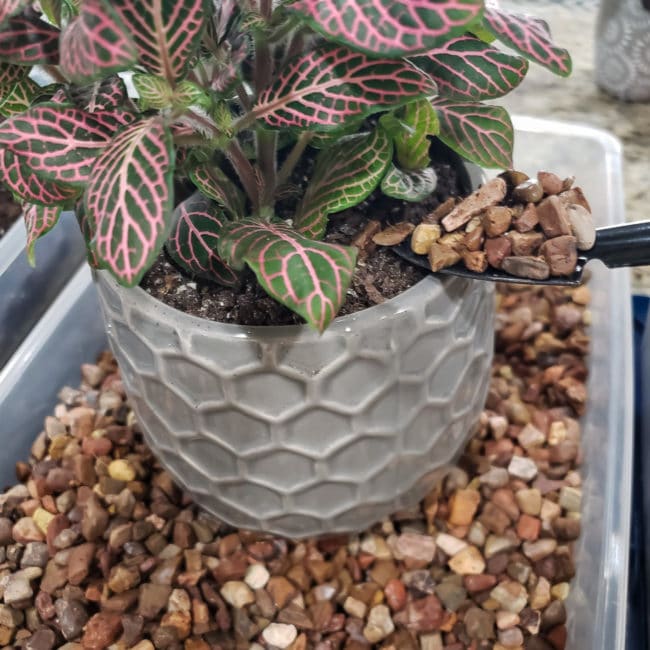 Final Tip: How to Keep Plants Alive
As I mentioned, I killed several plants before I started figuring out how to up my success rate. In addition to being aware of the different lighting and watering requirements before purchase, the thing that finally made a difference was starting slow.
If you don't have any live plants, start with ONE easy to grow indoor plant variety like the Snake Plant (Sansevieria trifasciata, also called mother-in-law's tongue). They thrive in indirect sunlight and it's okay for the soil to dry out a bit if someone forgets to water.
Once you've been successful with plant #1 for a while, pick out an easy care friend for it that requires similar lighting. Having them together will help you remember to care for them.
Another easy indoor plant is Pothos. It looks totally different from the Snake Plant, but can thrive in the same conditions, so is a great compliment.
After a successful run with your first duo, you might be ready to add a plant to a second area of your home.
ORGANIZING TIP


Consider adding a repeating watering schedule to the calendar on your phone. Before you know it, you'll be a pro indoor gardener!
To read a bit more on caring for different plants, I highly recommend this book. It's arranged more like a magazine with large images so it's easy to read, but it's still packed full of helpful, actionable tips.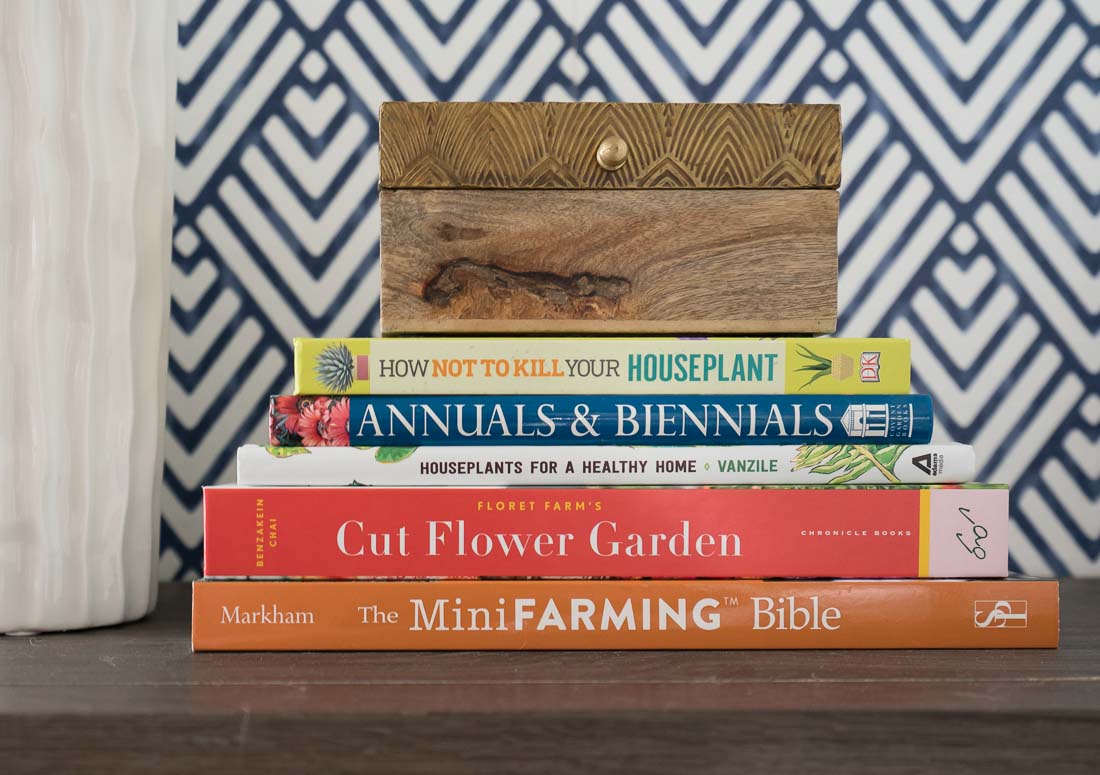 Even with all the plants we have around the house now, I've learned that if I try to buy too many new varieties at once, something goes wrong.
I hope these tips help you enjoy the warmth and joy that comes from having plants around your home. If you have any questions or tips, leave them in the comments below!