Struggle with laundry? Here are some laundry tips for washing, drying, and everything in between!

For today's post, Contributor Lana and I teamed up to share some things we've attempted to make our laundry-life easier. Fingers-crossed, someone will create an affordable robot to handle the whole clothes-washing process in our lifetime. Until then, I'll always be looking for ways to make it better!
Tip 1: Get in a Laundry Routine
I confessed the existence of my almost-always full hampers over on Instagram last week and asked for tips. The responses were all hugely helpful and had one very simple thing in common. Those that were successful had a set routine.
Jess from @brightgreendoor said she does theirs ALL on Monday, start to finish and won't go to bed until it's done. How great would it to NOT worry about it the other 6 days of the week? Deanna said she starts a load as soon as she wakes up every single morning. Melissa from @mk_athome said they tackle clothes two nights a week, and then only have to do bedding on the weekend.
If you feel like you're always "behind" with laundry like I do, challenge yourself to stick to one routine each week for a month and see if it reduces laundry stress. I would guarantee you I spend more time THINKING about the fact I should be doing laundry than I spend actually doing it. I'm going to clear the clutter from our laundry room so it looks like the picture below again and the start a new routine next week!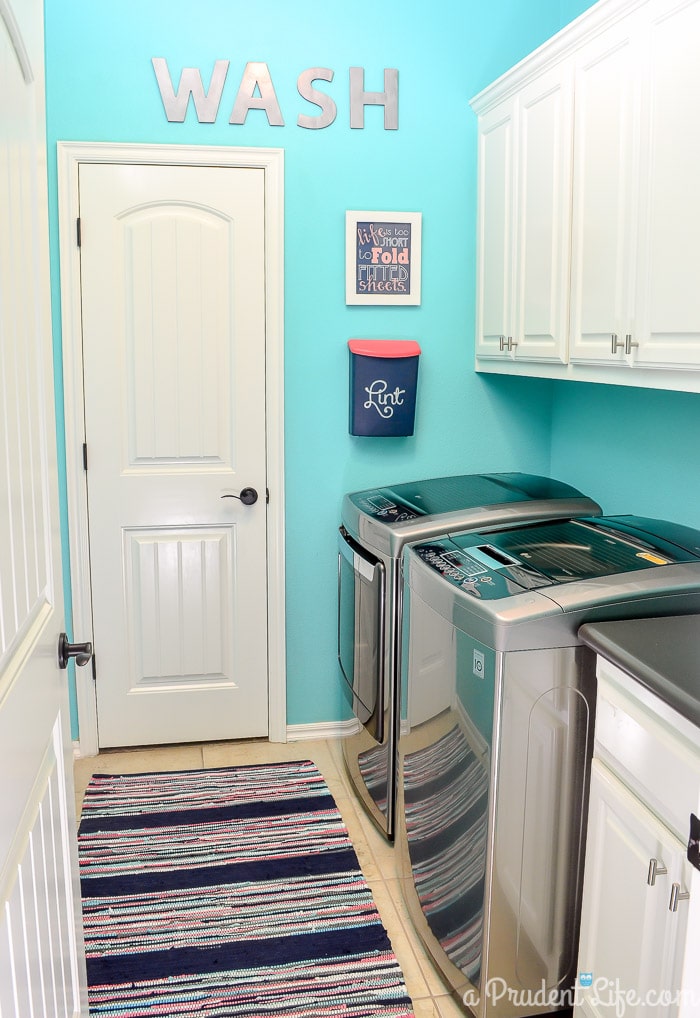 Tip 2: Quick Fix to Stinky Towels
I'm still bewildered that this works, but if you have any towels or clothes that end up with a musty or mildewy smell, it's an easy fix. I used to try to just rewash them, but the smell always lingered through several washings.
Now I add about a cup or two of regular, stinky, household vinegar to the load, just dumping it directly on top of whatever I'm washing. You don't even have to measure, I just pour my in from the bottle.
I wash the load like normal and somehow the smelly vinegar counteracts the smelly mildew and everything comes out smelling fresh and clean.
Before we get to Lana's 3 tips, I have one more bonus tip. If you can, budget to give your laundry room a spruce up with a paint color you love and a bit of decor. When you look forward to seeing the space, the task doesn't seem as dreadful. You can do amazing things, even in a small laundry closet. Check out what Blue i Style did to her laundry closet!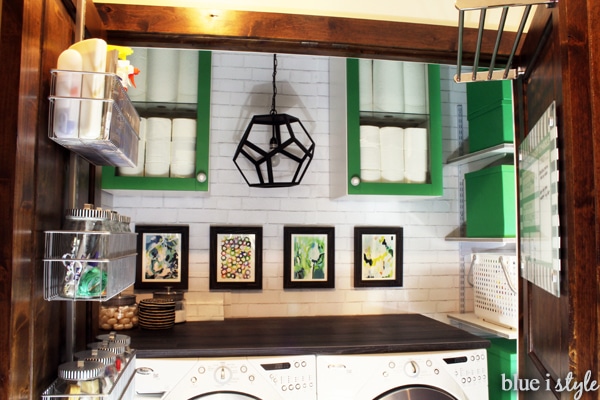 Now that you've got a couple tips from me (Melissa), here's Lana to share some products she's tested and a simple process for cleaning your machine!
Tip 3: Thinking of trying Crystal Wash? Here's Lana's test results/research.
A few months ago I spent a good chunk of change on Crystal Wash, a product containing small ceramic balls, called "bioceramics." They claim it changes the pH of the water by 0.6 after the first 15 minutes. What does this mean and does it work? Bacteria thrives between a pH of 6.5 and 7 so Crystal Wash states that their product loosens the stains from soiled fabrics and disinfects the laundry.
Effective for 1,000 washes, these balls should last for 3 years. Sounded like a dream come true!
Sadly, according to some research I found, Crystal Wash did not perform any better than hot water. Using only hot water, a home washing machine was found tough enough to kill many strains of bacteria, including Staphylococcus.
But what about stains?
What is the best way to attack common food and sweat stains? After trying several methods, I found Tide To Go Instant Stain Remover Liquid Pen. I decided that if I'm going to use chemical, it's preferable to keep my skin protected by only attacking the stains. It works perfectly, is affordable, is easy to pack and lasts our family for months!
So what about Crystal Wash? I'd recommend skipping this fad. Realizing how hot water loosens and removes dirt, I'm confident to use water to wash and a stain remover when needed instead.
Tip 4: How to Clean Your Washing Machine
When I think about cleaning a washer, I'm reminded of a quote from Friends. Eternally clueless, Joey asks, "Why can't we use the same toothbrush, but we can use the same soap?"
Chandler replies "Because soap is soap! It's self-cleaning."
And Joey comes back with, "Alright, well next time you take a shower, think about the last thing I wash and the first thing you wash."
Isn't that how it goes with washing laundry? The washing machine is always clean right? Unfortunately, mold and residue from the soap can get in the way of the next wash, so about once a month (or at least once a quarter) I clean it using this recipe:
2 cups of vinegar
1/4 cup of baking soda
1/4 cup of water
Scrub pad
Mix water and soda in a bowl. Add to the detergent compartment. Pour vinegar into the drum. Set washer to a normal load on hot. When the wash cycle is complete, take the scrub pad and rub around the opening where much of the mold can gather. Wipe clean with fresh water and smile.
Tip 5: Dryer Balls – Do They Work?
Last month we talked about having our whole house smell wonderful, but laundry smells are crucially important to me as well. The best way for me to indulge this luxury is to use dryer balls.
They serve three main purposes:
1. They double as dryer sheets, diminishing static and spreading lovely smells to your clothes (if you add essential oils).
2. They keep heavy items from balling up (blankets, towels, jeans etc).
3. They save money and energy. Clothes dry faster because the balls improve the air flow in the dryer.
Extremely budget-friendly, a 6-pack of dryer balls cost $12-$25 and lasts approximately 1,000 loads. Smart Sheep sells a highly rated pack made from wool. This company does not use any fillers, chemicals or synthetic materials which helps me feel confident in purchasing their brand.
Have you ever used dryer balls or crystal wash? Do you have any other must have laundry tips? Share them in the comments below!