Over the years, we've slowly worked through our master bathroom organization, organizing the bathtub and countertop, under the sink (my side) and under Corey's sink.
The bathroom vanity drawers had been given the least attention and had become quite the cluttered mess.
The drawer with hair supplies was the most frustrating. Over time, everything had become comingled and random non-hair items started making their way into the drawer.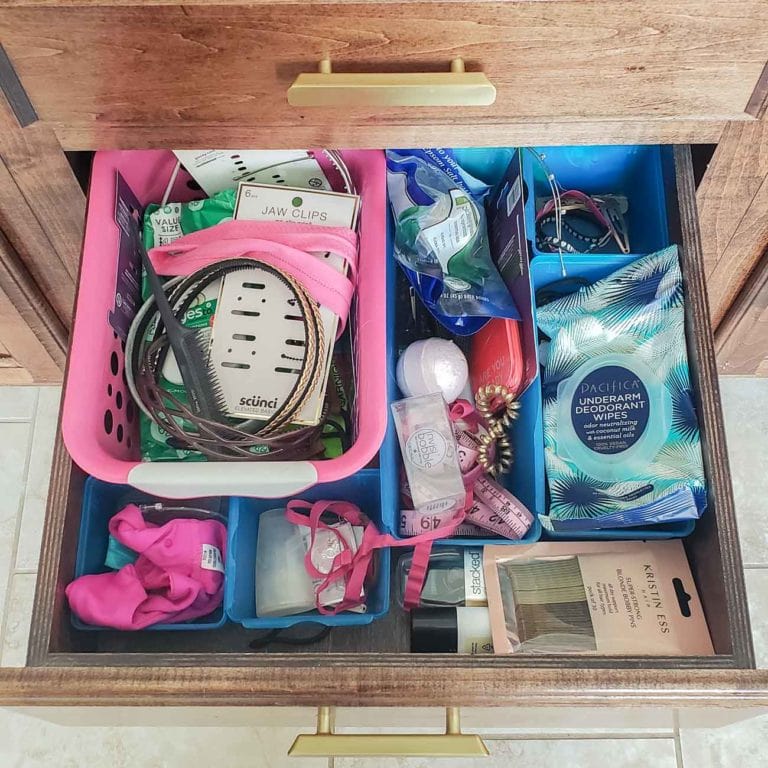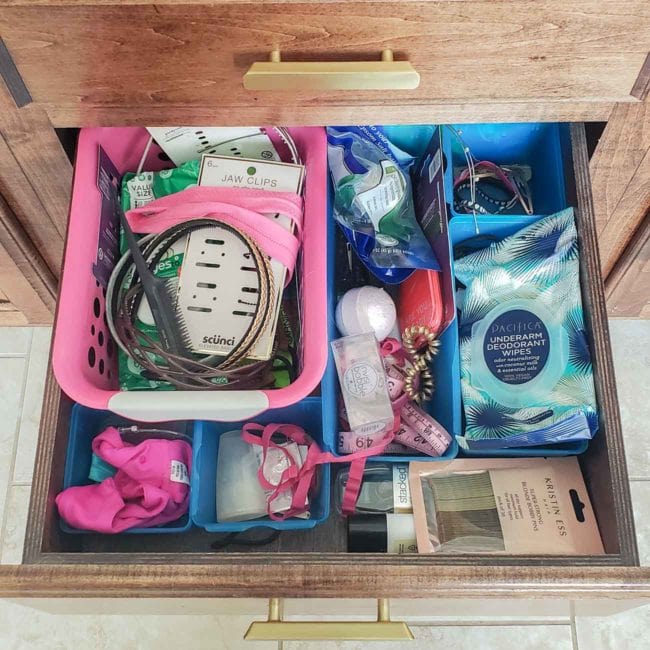 The first step of any successful organizing project is removing EVERYTHING from the drawer or shelf.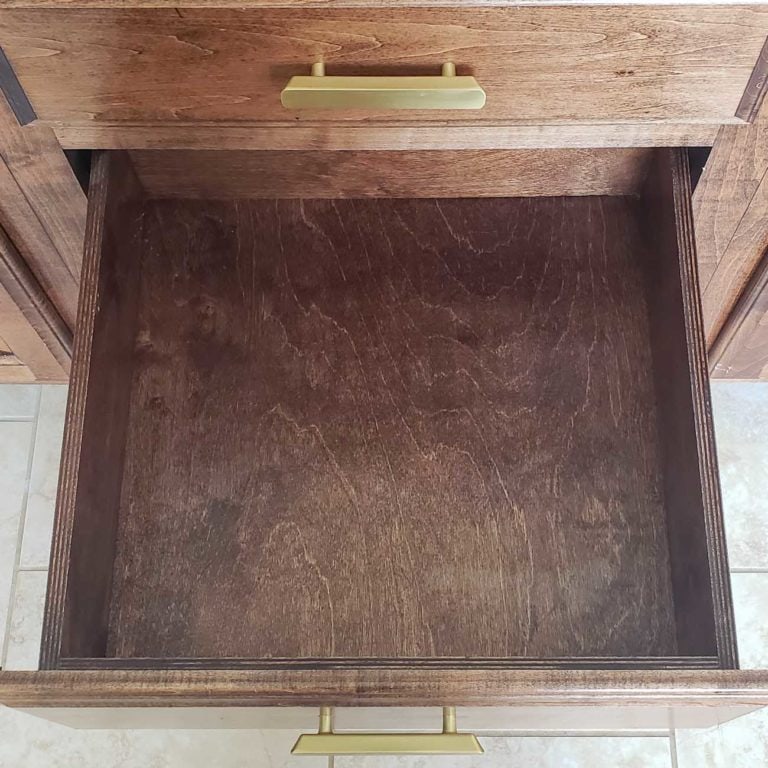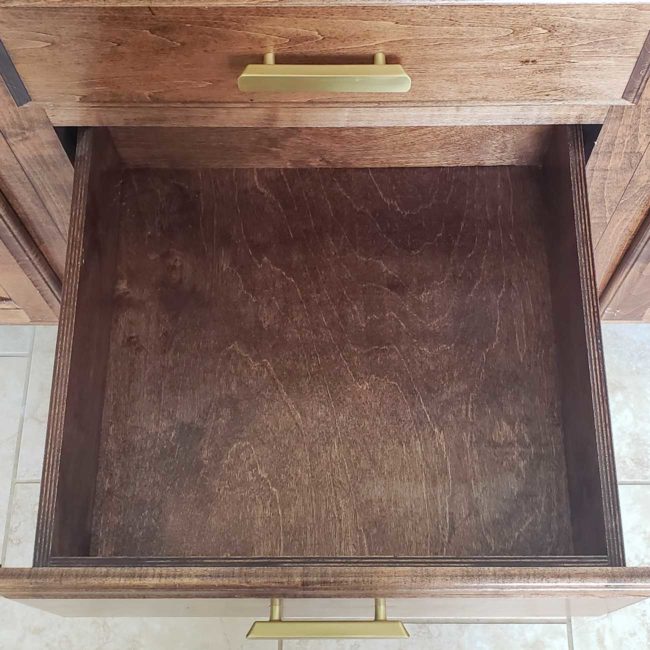 It's best to start with a blank slate so you can make the best decisions on what to keep. Plus, it's shocking how dusty things can get inside a drawer. It's nice to be able to wipe everything down.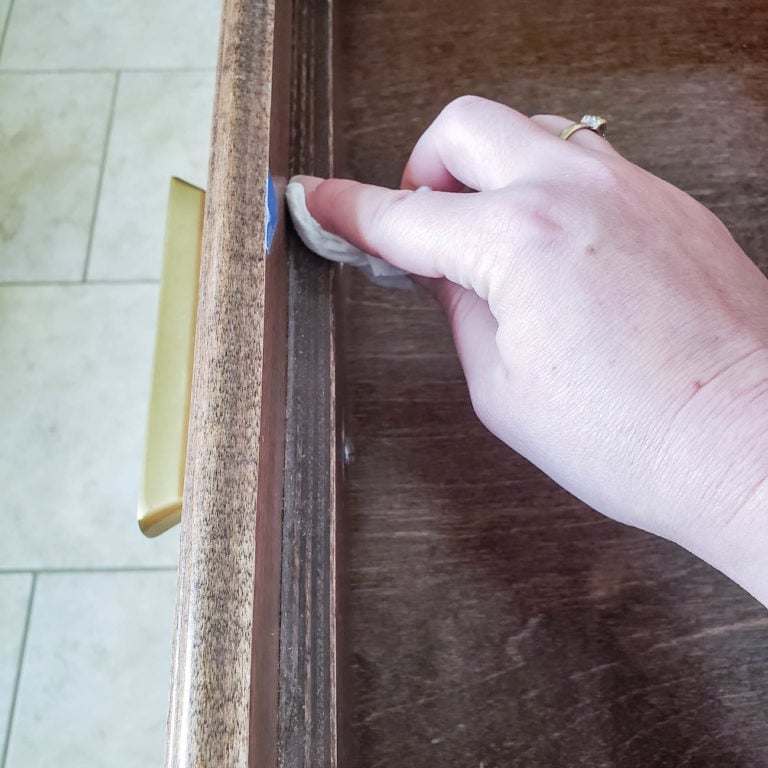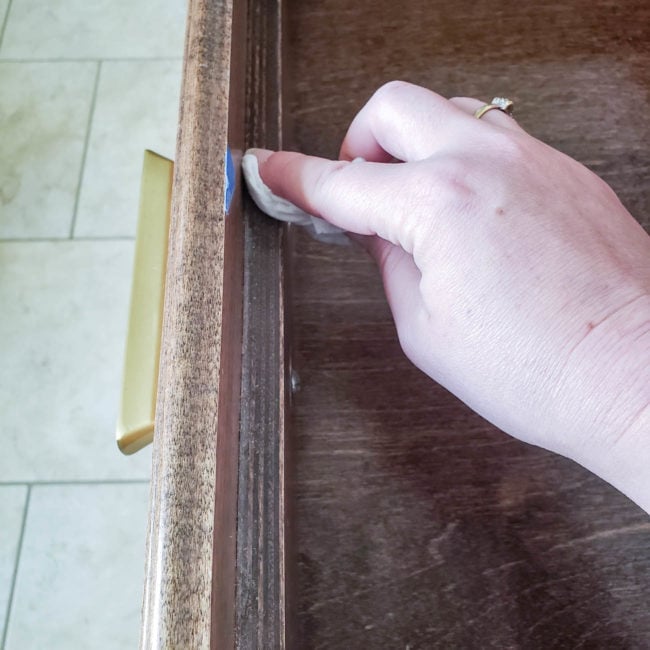 Next up, it's time to sort through everything you removed your drawer to declutter and purge. Be brutally honest about what you really use and trash or donate everything else.
I ended up collecting an entire grocery bag of trash just from the drawers. How is that even possible?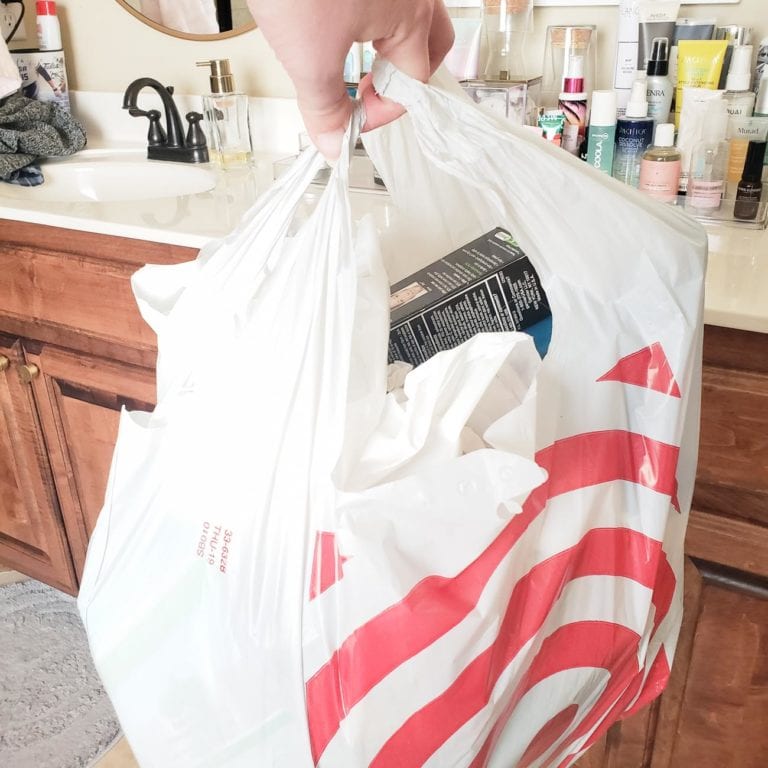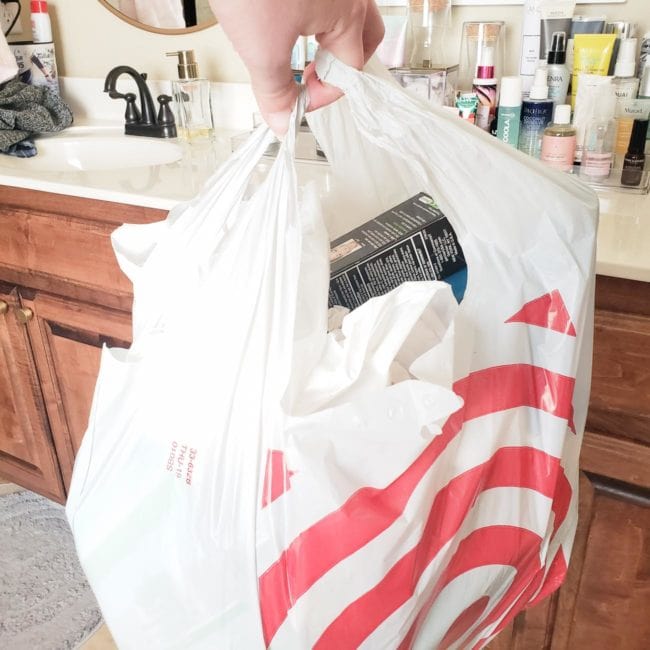 In my defense, quite of bit of the trash was packaging from extra items I had on hand and know we won't return. Taking things out of boxes saves a lot of space!
The other largest category of trash was expired cosmetics/beauty products or things I've held onto because they weren't cheap, but that I've gone YEARS without using.
Once I decluttered, I could clearly see what items I had left to organize. 
I measured the drawer and realized that it was an inch shorter than most standard drawer organizers at 15″ deep instead of 16″.
That ended up being just fine because I found the perfect clear drawer organizers on Amazon that are made in 3″ increments. The possibilities for configuring each drawer are endless!
For my hair drawer, I was dreaming of individual containers for each kind of hair tie, clip, bobby pin, etc. In addition to the small bins, I also needed a larger square for headbands and a long rectangle shape for brushes.
Here's what I put together using these clear bathroom drawer organizers I found on Amazon. Because they're sold in packs, the price per container is WAY cheaper than what I was looking at in stores.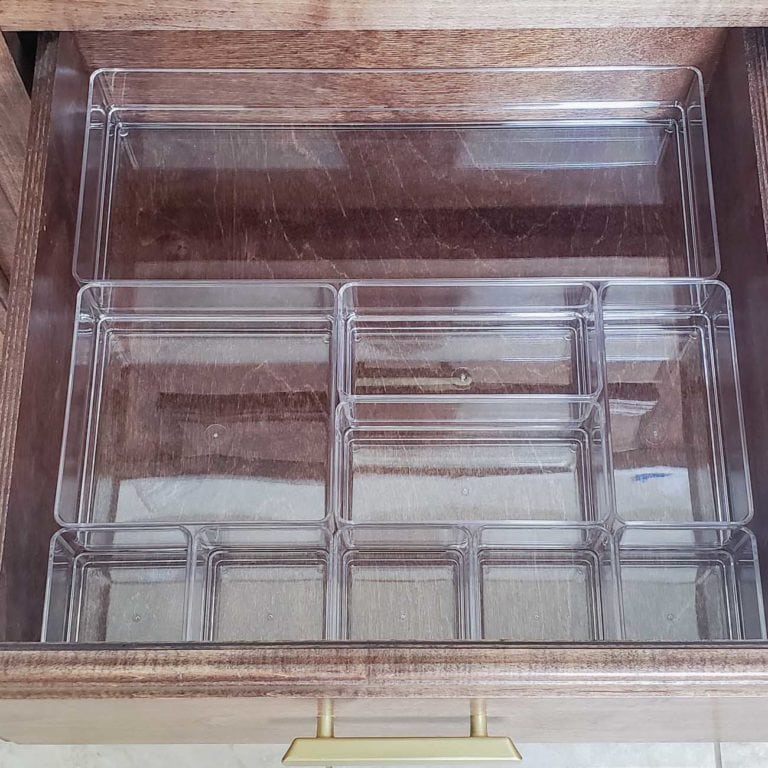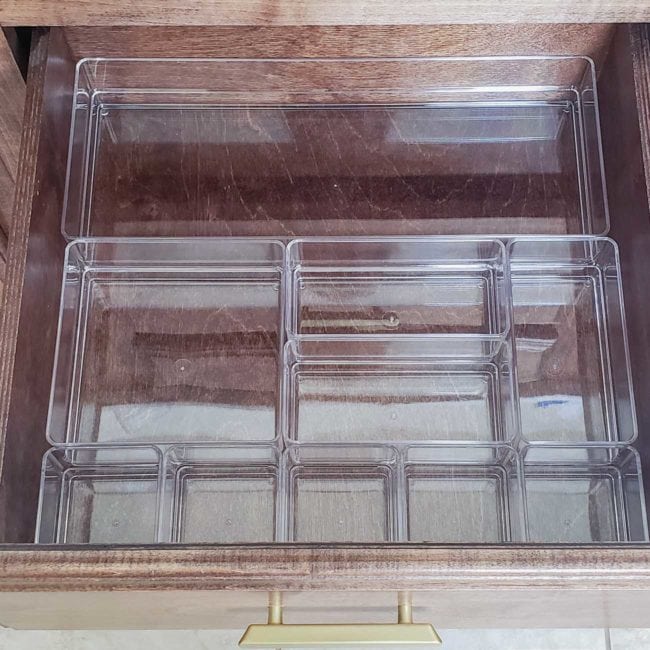 As much as I love the new kitchen drawer organization, this bathroom drawer of hair supplies might be my new favorite. The only thing I changed from the empty drawer photo above was nesting more containers in the brush bin.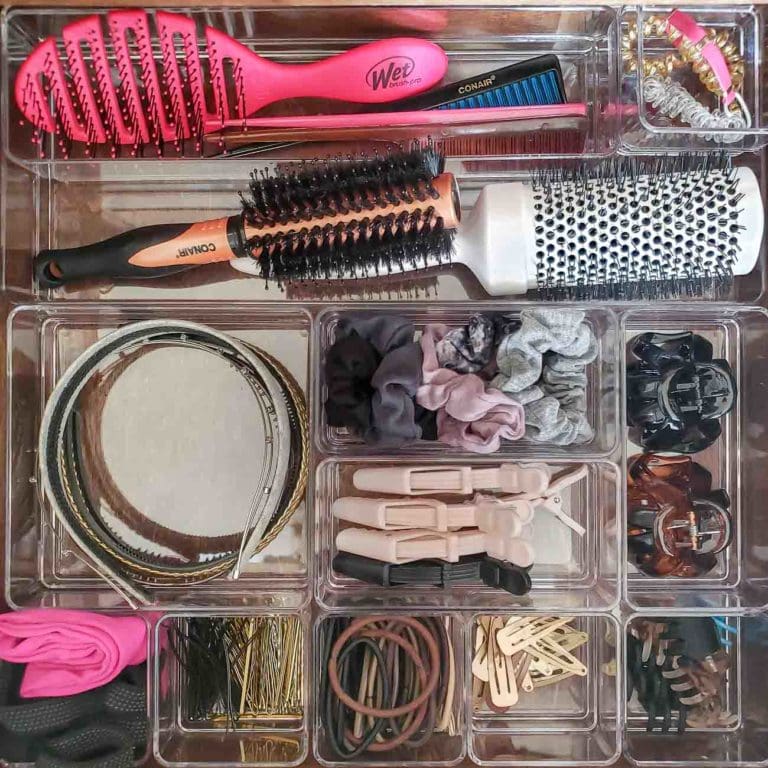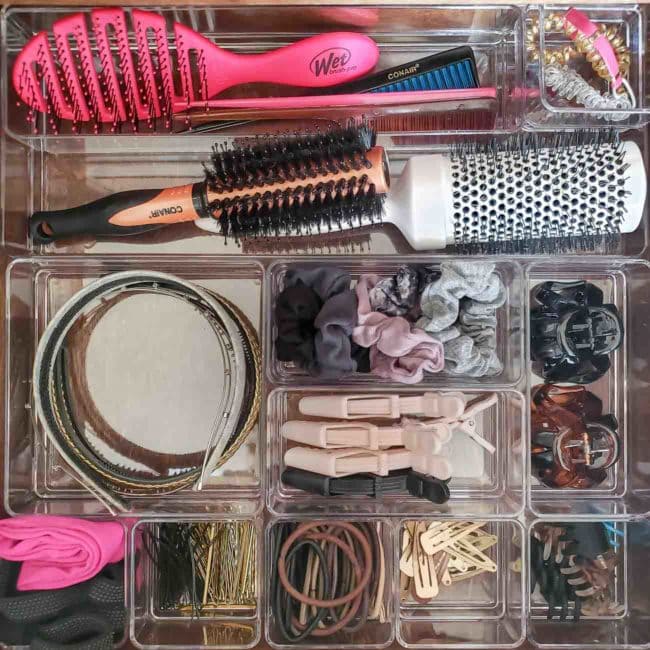 Being able to find what I'm looking for quickly has already been a morning routine game changer. It's also surprising how much more likely I have been to put things away promptly because it's no longer scary to open the drawer.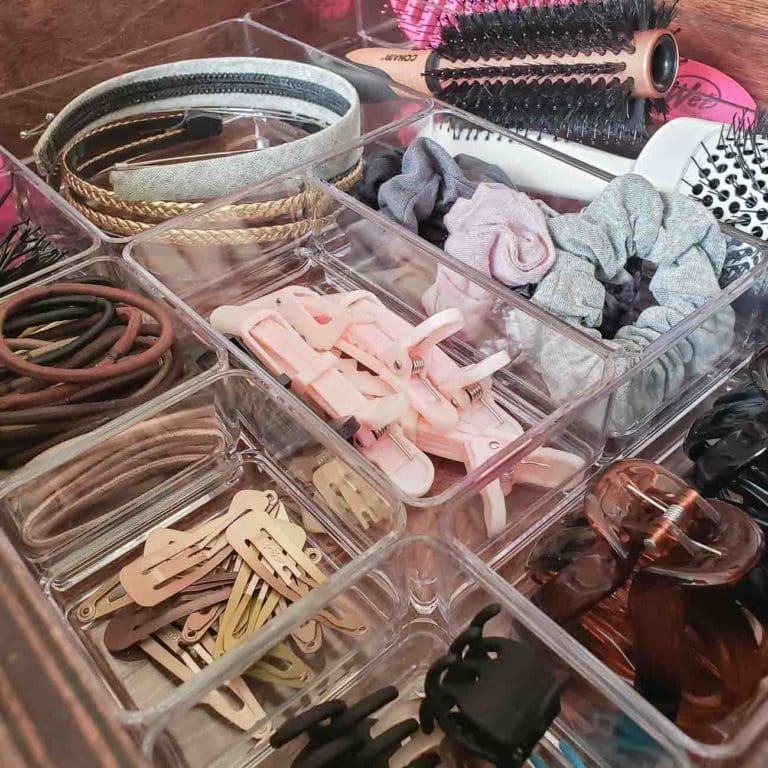 The beautiful thing about ordering individual containers is that I could create a different layout in each of our drawers to create the perfect storage scenarios.
For another drawer, I used rows of 3″ x 12″ organizers, with a 3″ x 3″ size at the end of each row for smaller items like extra dental floss.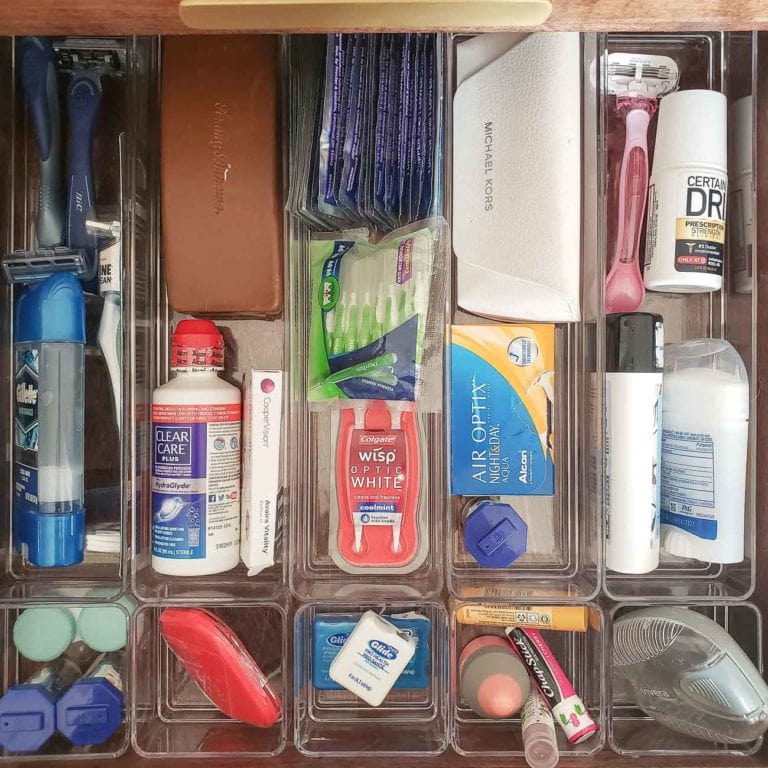 The bottom deep drawer has been largely wasted space in the past. Now, every inch has a purpose!
Extra Q-tips & travel tissues fit into a large 6″ x 15″ container in the back of the drawer.
The middle of the drawer is now the perfect storage for different masks and scrubs. I don't use them daily, so they didn't need to be cluttering the countertop organizer.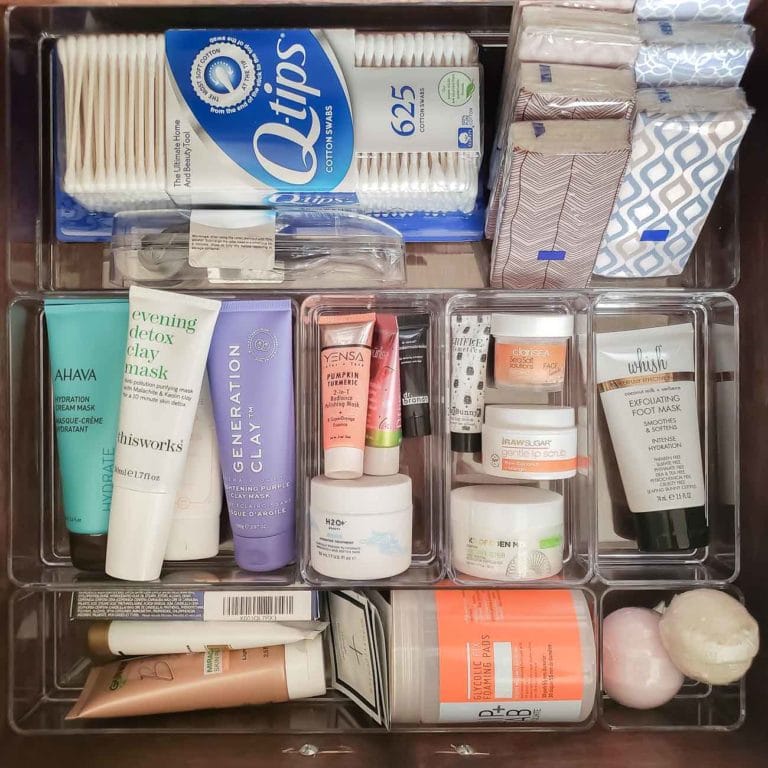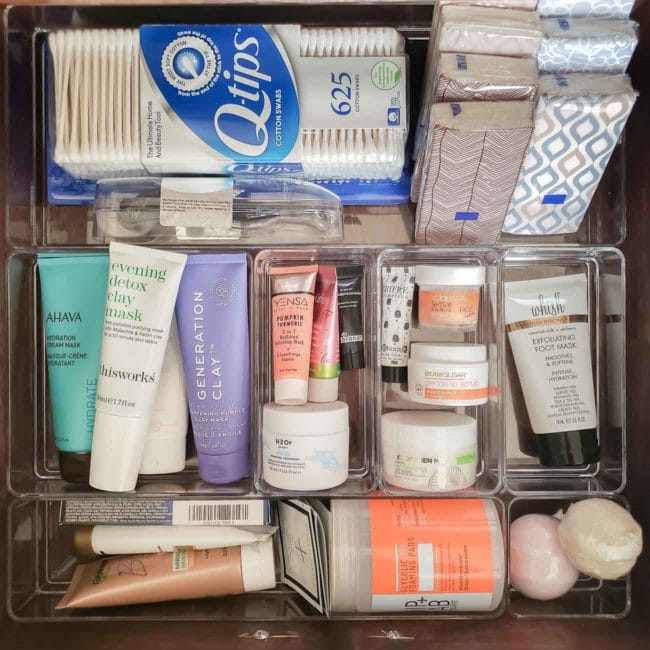 My favorite guilty pleasure is being a member of Ipsy & FabFitFun subscription boxes. They both come with different beauty products I wouldn't splurge on individually, but LOVE pampering myself with after a long day. Aging skin is no joke!
That said, if I don't keep the products organized, they don't get used and become a waste of money. I love opening the boxes and putting each product away somewhere I can easily find it.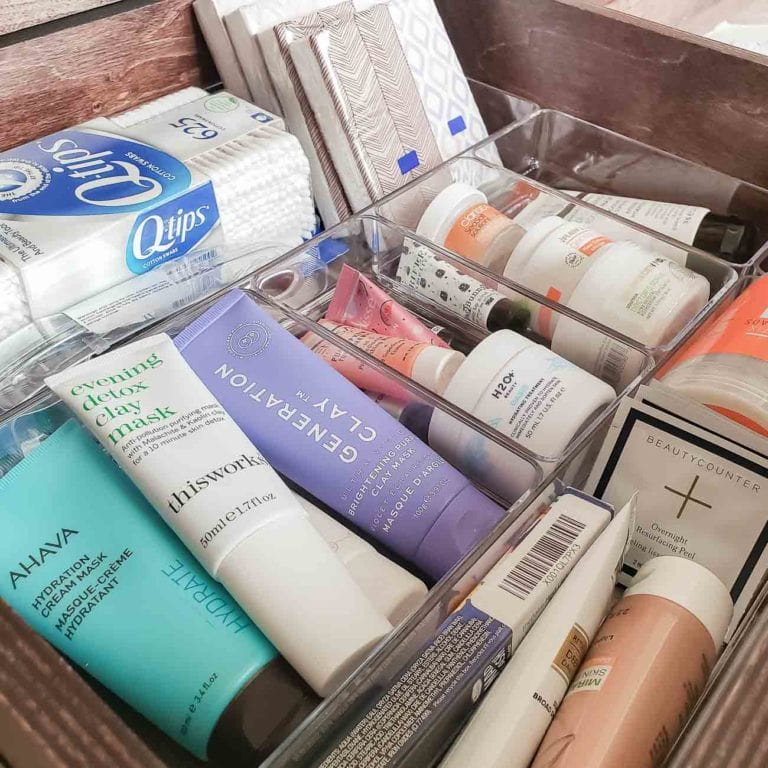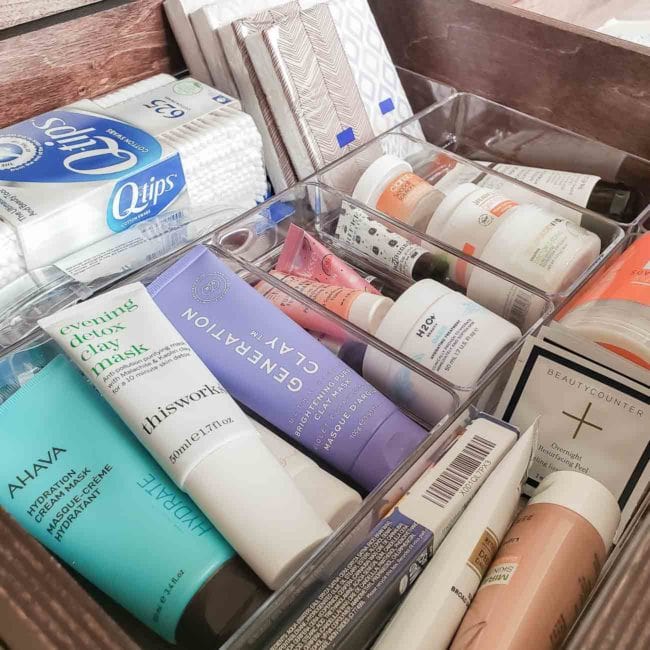 It's crazy how much extra storage I feel like I have now, even though I'm still limited to the same drawer space.
The last drawer I'm sharing today is actually the top drawer, which holds all my makeup.
I wasn't planning on updating it for the post because I had organized it with some craft storage bins from Michaels earlier in the year.  It wasn't perfect, but it was functional.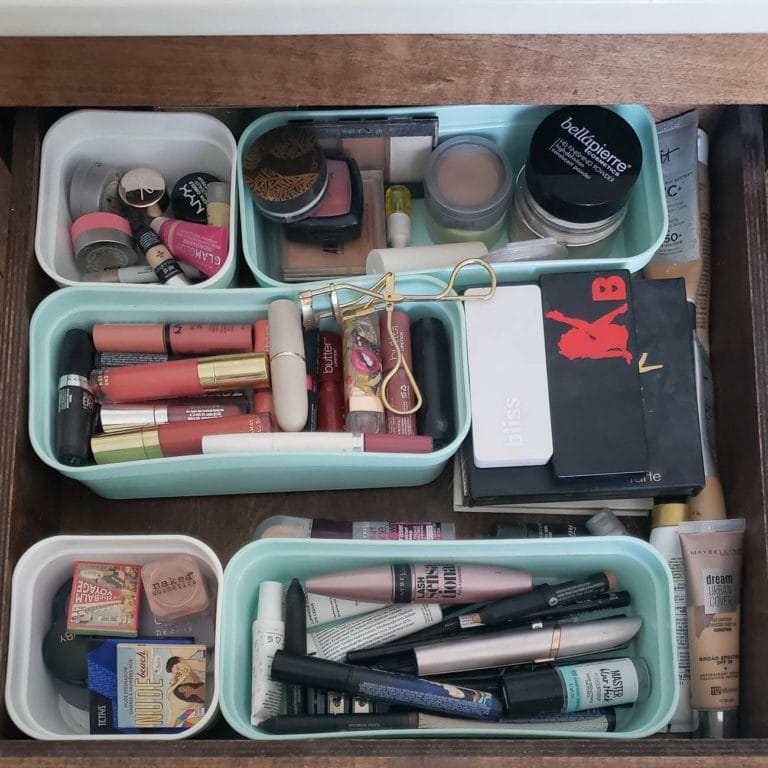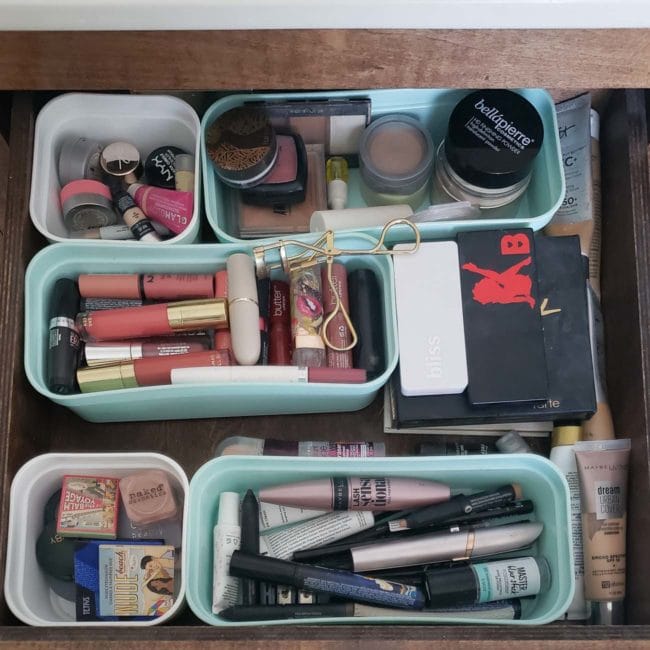 After I saw the clear organizers in the other drawers, I was hooked on how well they fit exactly in the drawers and didn't slide around.
I played with the different clear container sizes until I came up with the perfect mix of makeup organizers.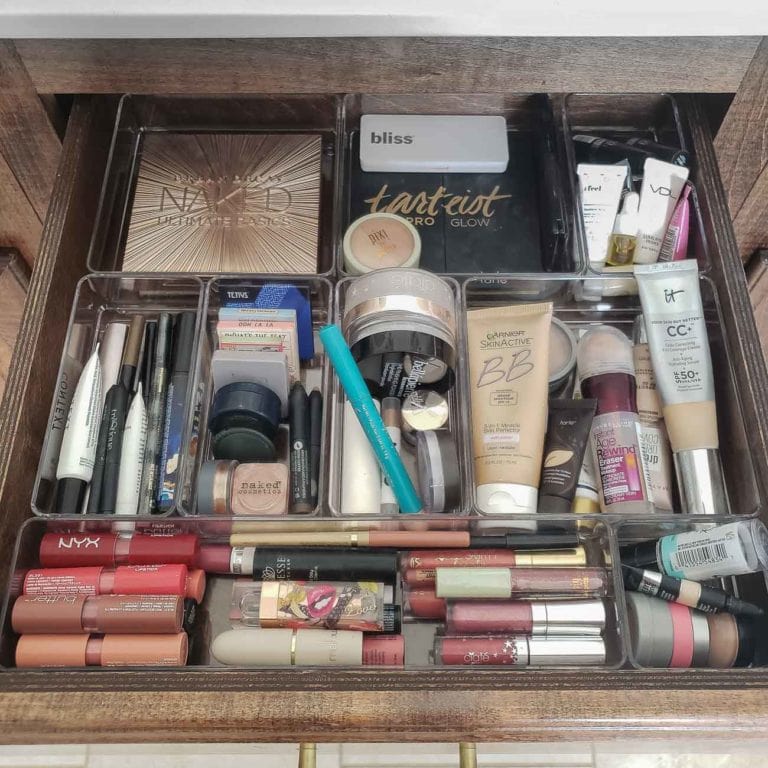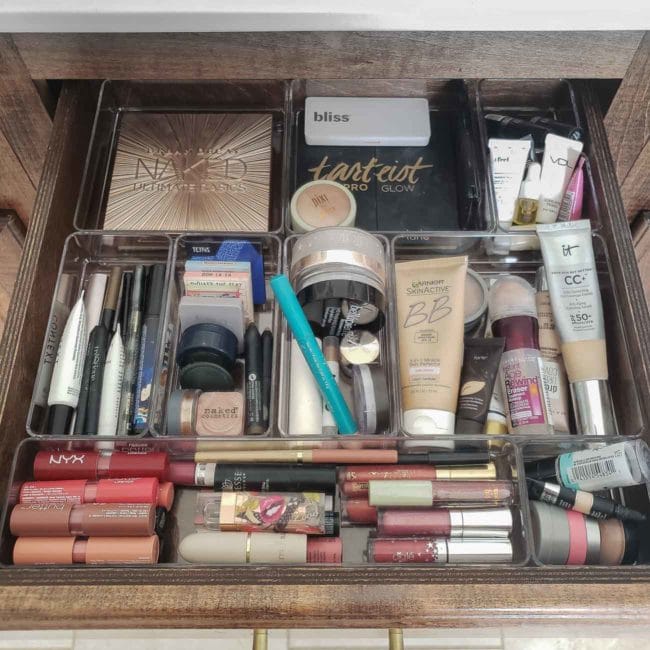 How To Select the Best Bathroom Drawer Organizers
To create your own perfect drawer organization, consider cutting up paper into each of the different container sizes available. Make multiple templates of each size since you'll likely use several bins of the same size.
Pull everything out of your drawer and arrange your new templates in the drawer. You can even write what you are going to store in each bin on your paper templates.
Your new system will STAY organized much longer when you're intentional with sizing BEFORE shopping.
Here are the sizes available along with links to order. Pay attention to the quantity when ordering as they range from 2 containers to 12 containers.
3″ x 3″
3″ x 6″
6″ x 6″
3″ x 9″
6″ x 9″
3″ x 12″
6″ x 12″
6″ x 15″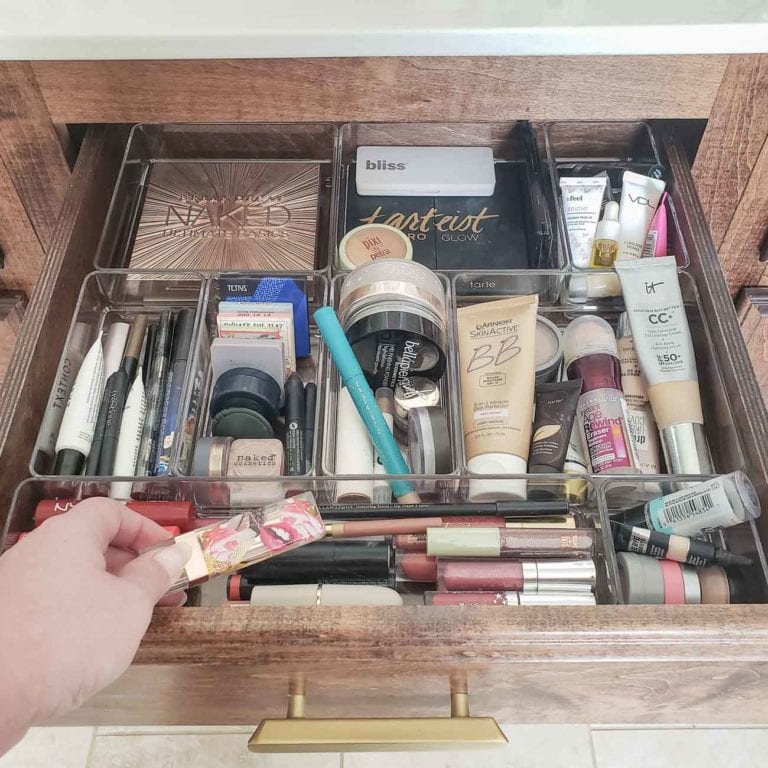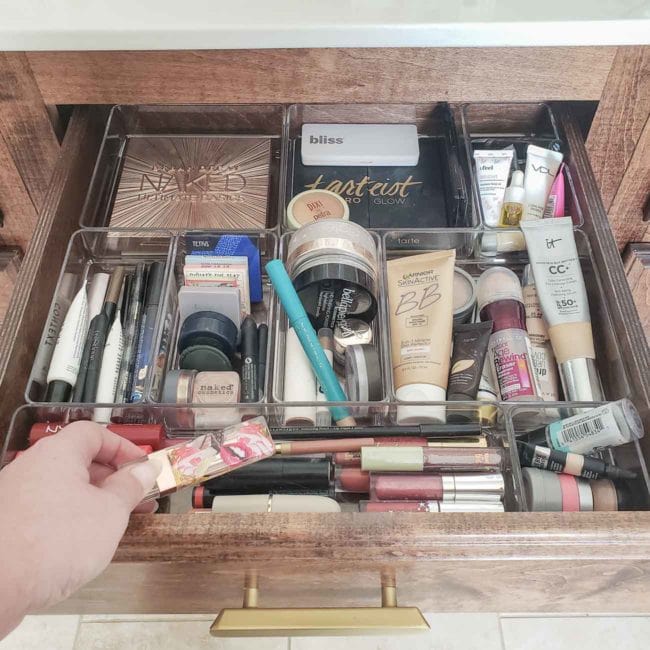 It's crazy how much extra storage I feel like I have now, even though I'm still limited to the same drawer space.
Now it's time to put the phone or computer down and grab a measuring tape for your own bathroom!
Happy organizing!