For February, I wanted to update our felt letter board sayings to a mixture of sweet and funny ideas perfect for Valentine's Day.
Almost all of them can be used year-round since they're just based on love. I bet you could find a great one for your anniversary on the list!

But that doesn't mean they're sticky sweet and just for couples.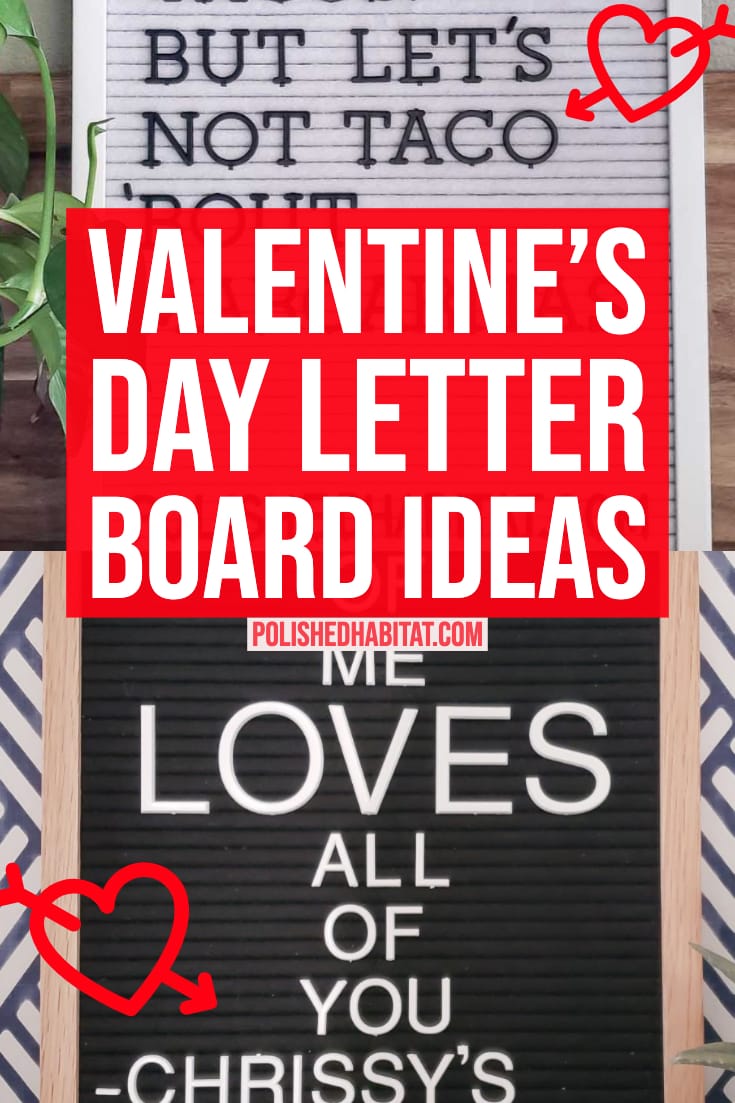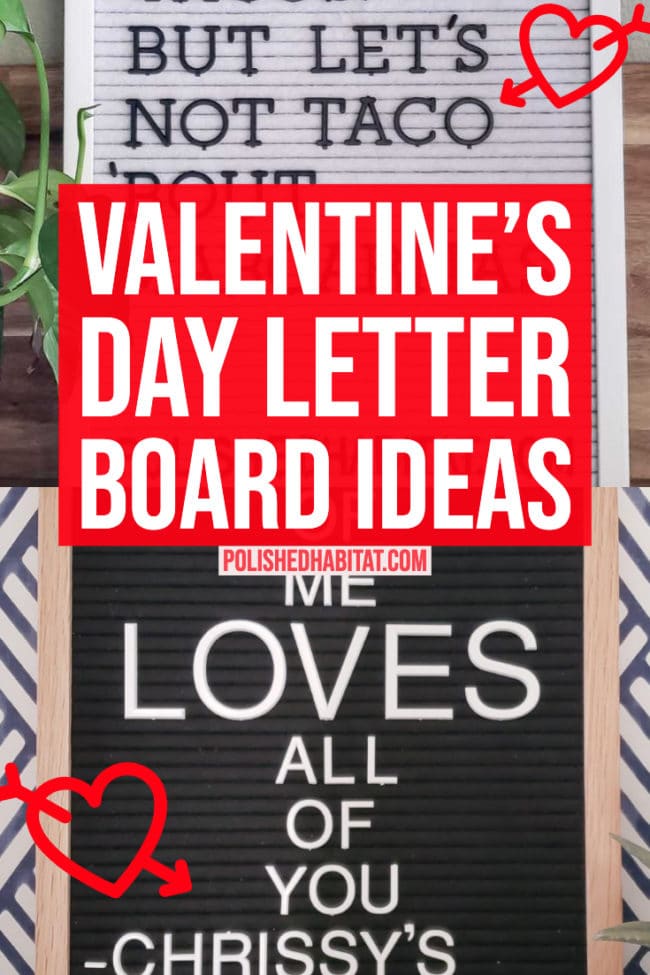 Let's peek at the 5 Valentine's quotes I added around our house and then I'll show you the full list of 17 options below that.
For the kitchen letter board next to the coffee pot, I couldn't resist an obvious simple pun. It works whether you're referring to the actual coffee or a spouse.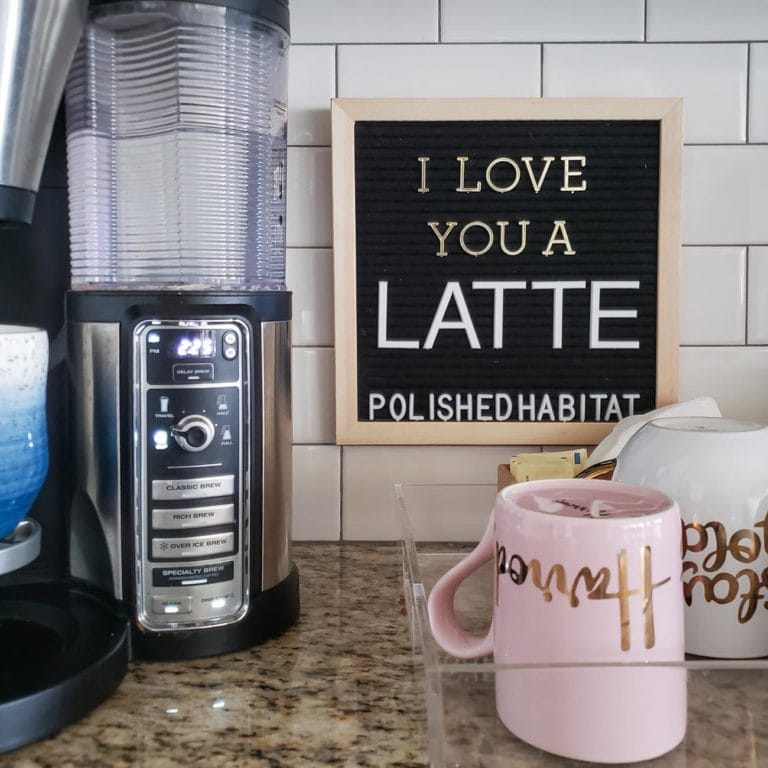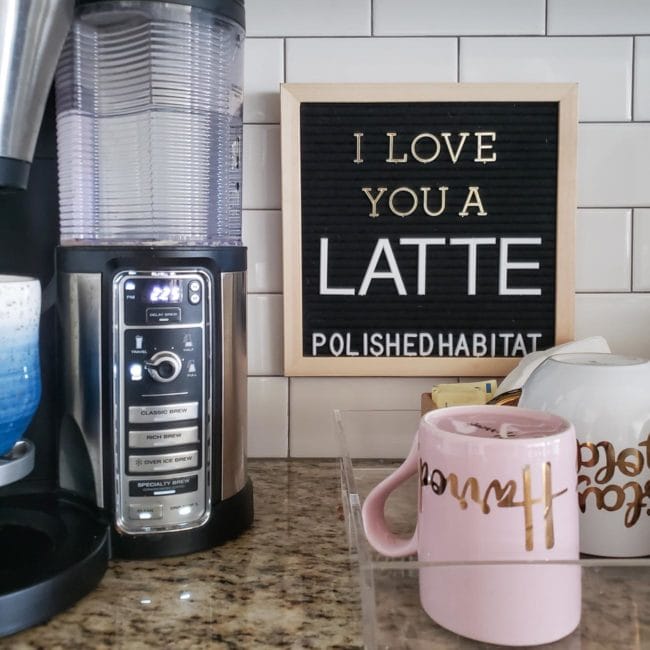 While we're in the kitchen and talking about beverages, the next idea has two options.
For small letter boards and a sweet sentiment, "I Love You More Than Tacos" would be fun. You could also substitute ice cream, pizza, or any other favorite food for tacos.
For larger boards, you can take it a step further and add a funny twist.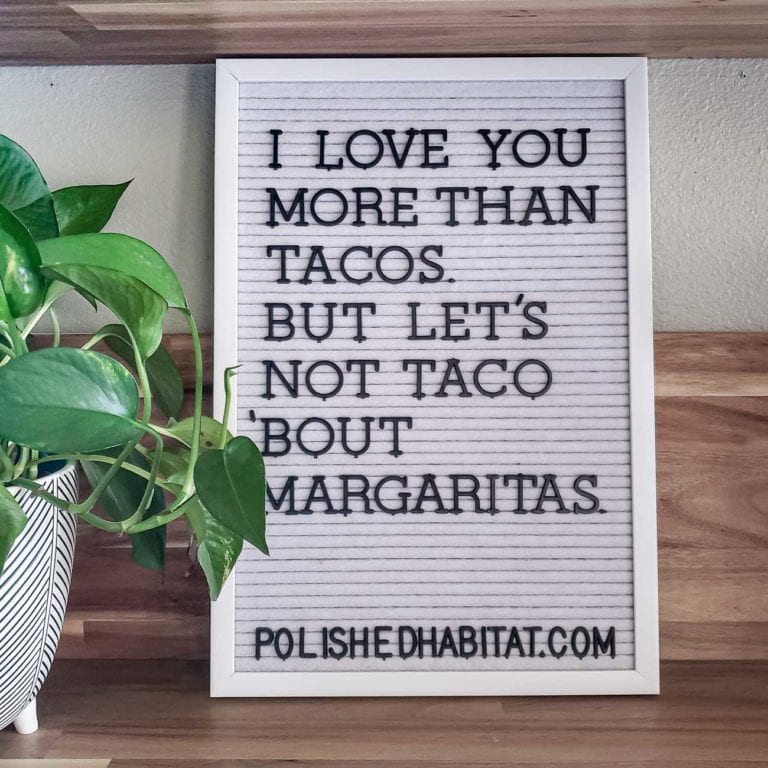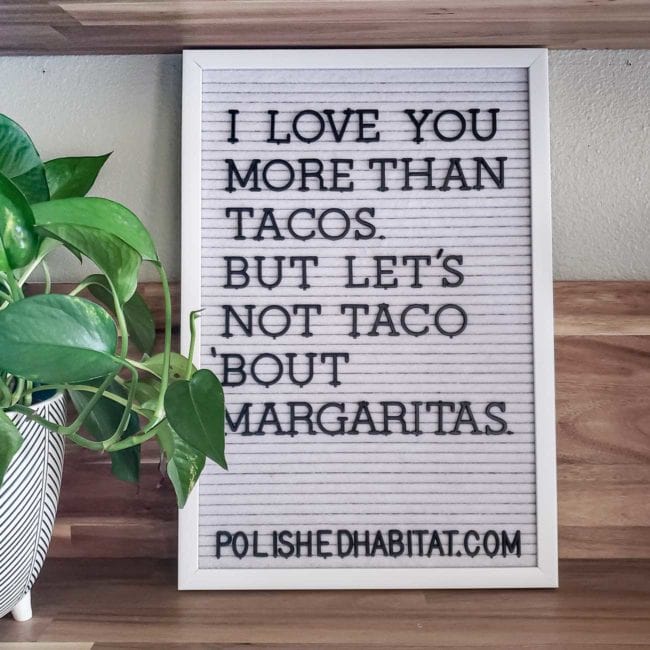 While I'm mainly just a Star Wars fan by marriage, I can't deny that Baby Yoda is absolutely adorable. Last year, I saw some cute Valentine's Day cards that said: "Yoda One That I Want".
We realized that we could add a Baby in front of that this year to make it even cuter.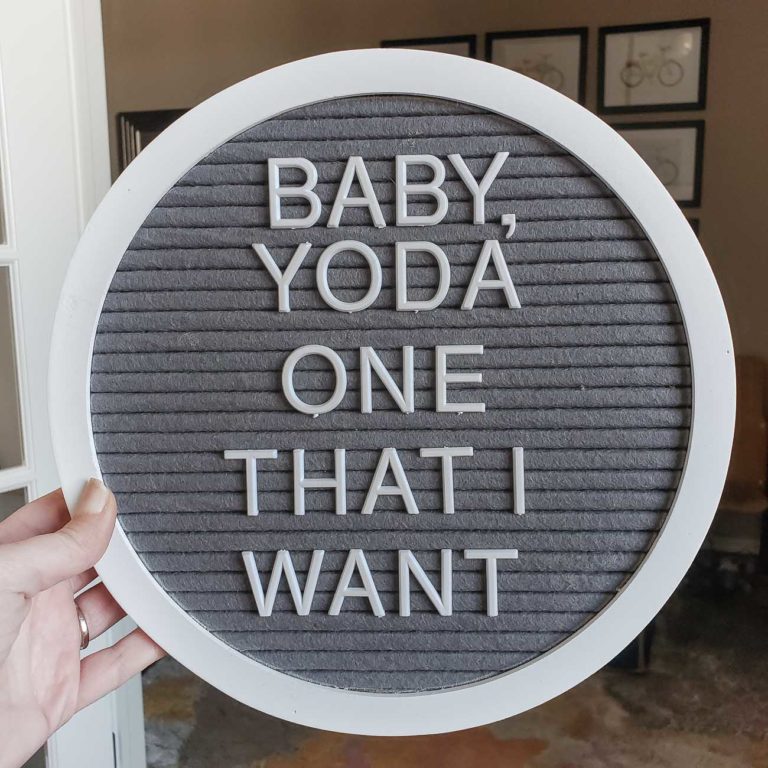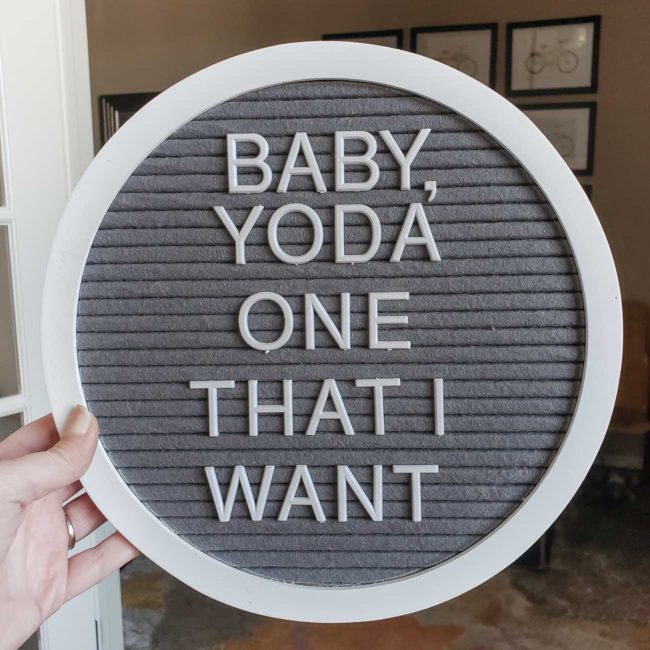 John Legend songs are full of gorgeous lyrics about love, so he's the perfect source for Valentine's Day quote inspiration.

Add a funny twist by crediting John as "Chrissy's Tiegan's husband" instead of giving him direct credit. She's not for everyone, but she makes me smile every time I have to check Twitter, so now this letter board makes me smile too!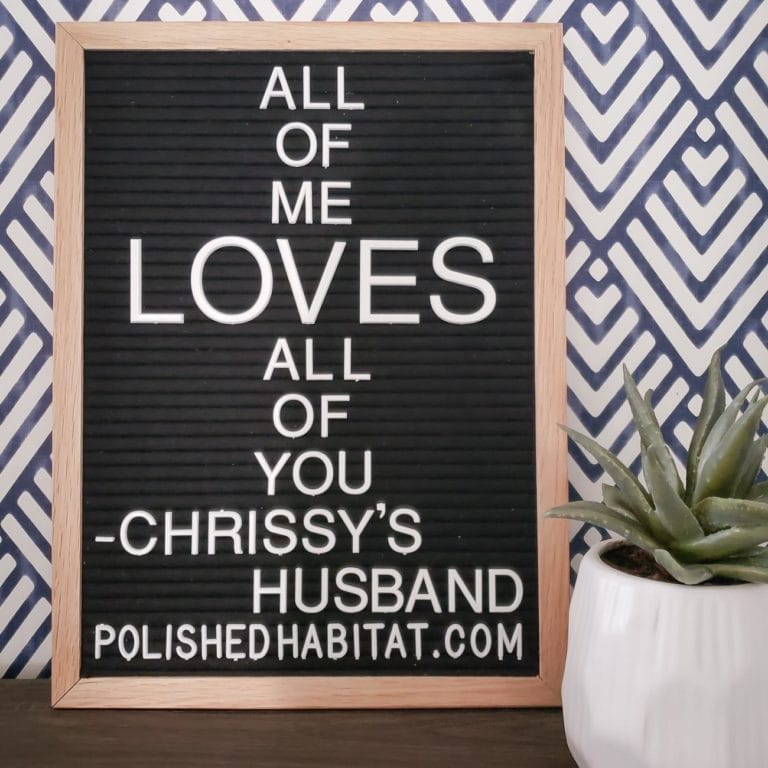 I promise, the next one won't make you roll your eyes at my corny sense of humor!
While Valentine's Day is typically about remembering to slow down and cherish your significant other, I think it's also a great reminder to treat everyone you encounter with love.

We always have a choice to respond to situations from a place of love instead of hurt or judgment. It's NOT always the easiest response, but it sure makes your soul happier!
This Reese Witherspoon quote is a lovely reminder.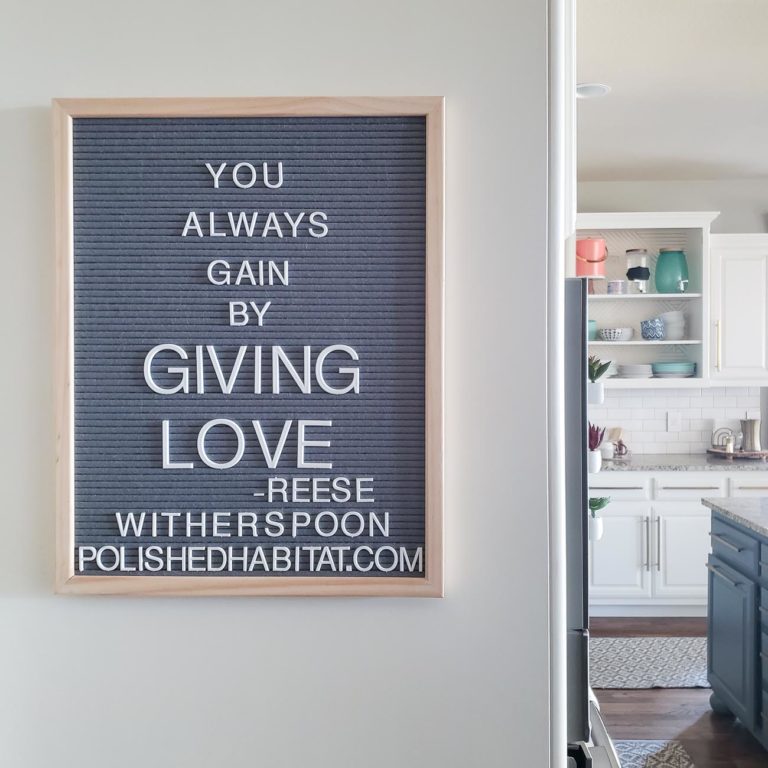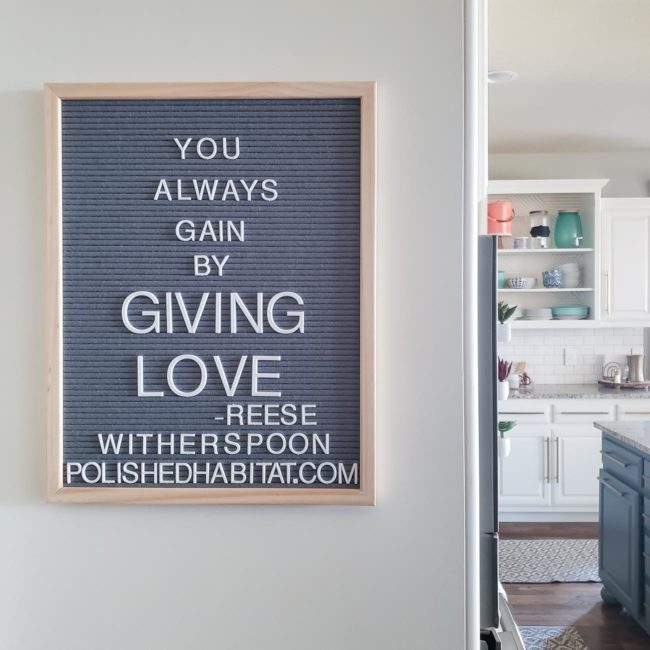 So that's what we have around our house! Even though my little pink letter board is perfect for Valentine's Day, I'm keeping my New Year's quote on it a bit longer.

It still motivates me every time I see it so I wasn't ready to let it go.

Here's the full list of 17+ Valentine's Letter Board Sayings.
Valentine's Day Ideas for Small Letter Boards
I Love You
A Latte.
Love the Wine
You're With.
Baby, Yoda One
That I Want.
I Love
You More
Than Tacos
Cute Valentines Sayings for a Letterboard
I Love You
More Than
Tacos, But Let's
Not Taco 'Bout
Margaritas.
I'm Spending
Valentine's Day
With My True Love:
(Fill in the last line with wine, tacos, pizza, Netflix, or even your Pet's name)
Home is
Wherever
I'm With
You
The World Needs
More Love &
Less Facebook
All of Me
Loves
All of You
– Chrissy Teigan's Husband
(Alternate – You could just credit it directly to John Legend if you're looking for a sweet option vs funny.)
Women Are Made
To Be Loved,
Not Understood.
– Oscar Wilde
You Always
Gain By
Giving Love.
-Reese Witherspoon
I Have Found
The One Whom
My Soul Loves.
Song of Soloman 3:4
All You Need
Is Love.
But a Little
Chocolate
Now & Then
Doesn't Hurt.
-Charles Schulz
Valentine's Quotes from TV, Movies, & Music
You're
My
Lobster.
– Ross to Rachel
You're the Jim
To My Pam
(Or sub in your favorite TV or Movie Couple)
The Single Most
Extraordinary
Thing I've Ever
Done With My
Life Is Falling In
Love With You.
-Randall Pearson (This is Us)

(PS: The full quote has other gems in it too, I need a GIANT letter board because the whole thing is so good. "The single most extraordinary thing I've ever done with my life is falling in love with you. I've never been seen so completely. Loved so passionately. Protected so fiercely. When I look in your eyes I see home. I see eternity."
Where You Lead,
I Will Follow.
-Carole King
My Life Isn't
Even Real To
Me Unless
You're There.
-Luke Danes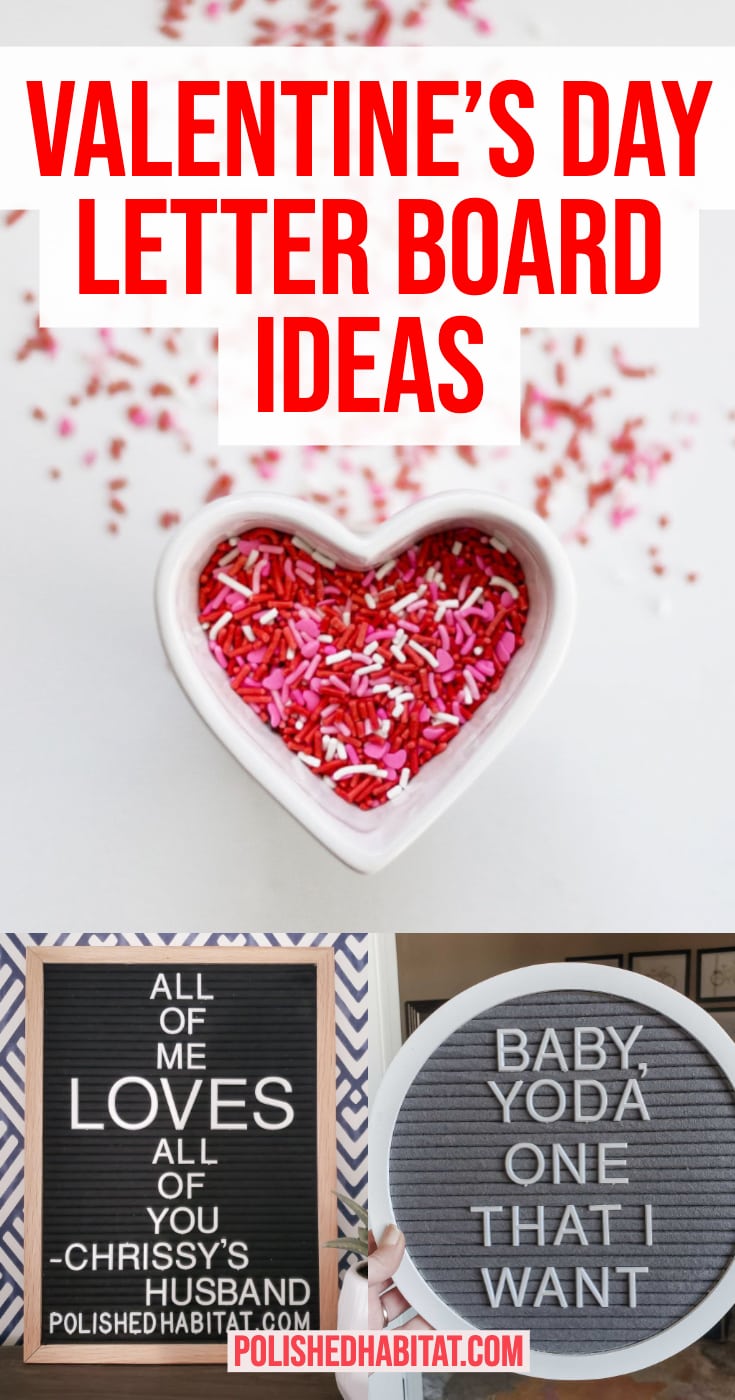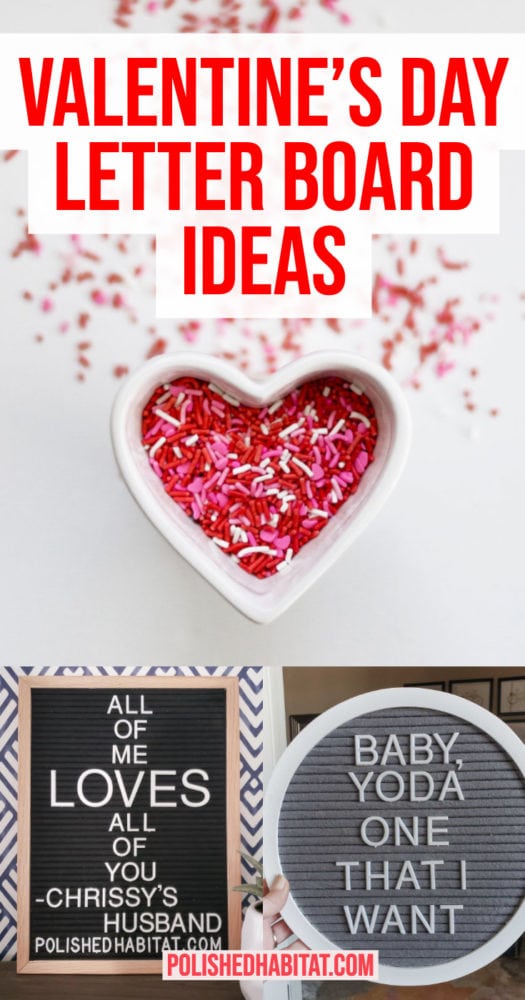 Don't forget you can see an index of all my letter board ideas in one place now. If you want to skip right to an early spring / late winter board, you'll find plenty of ideas!