Despite living almost 4 hours away from the nearest IKEA, they're our go-to source when we need to add an affordable storage solution around the house.
While many of the pieces would be great just the way you buy them, we tend to do at least a little something to customize the shelves in each room. I thought it would be fun to put all 5 of our IKEA Shelf Hacks together in one post to inspire your own stylish storage.
The shelves I get asked about most often are in my home office. We started with six nickel colored GRANHULT brackets and two 94 1/2″ BERGSHULT shelves.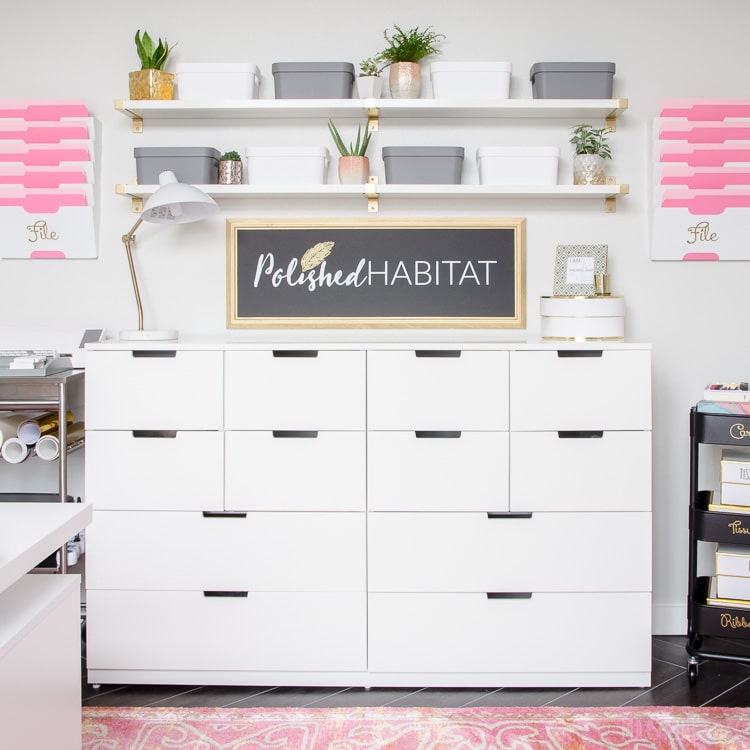 The GRANHULT brackets are great when you need a custom width shelf because the end brackets cover up the cut end, so no one can see the non-factory cut.
For the office, we trimmed the shelves to match the width of the storage drawers to create a more custom look. Then, we used gold spray paint to paint the shelf brackets gold before installing them. After painting, wait at least 24 hours before you install to give the paint enough time to cure.
I've tried MANY different gold spray paints, and this one is my favorite. I like it better than the more expensive Universal formula.

Bonus Tip: If you like to DIY and don't have a spray paint handle, they are worth it! It's easier to get even coverage AND your fingers don't get sore or covered in paint.
In the living room, we hung 3 MALERAS picture ledges, but instead of using them for art, we created a bookshelf. They only stick out from the wall a few inches, so it's an ideal way to add book storage to a room when you're limited on space.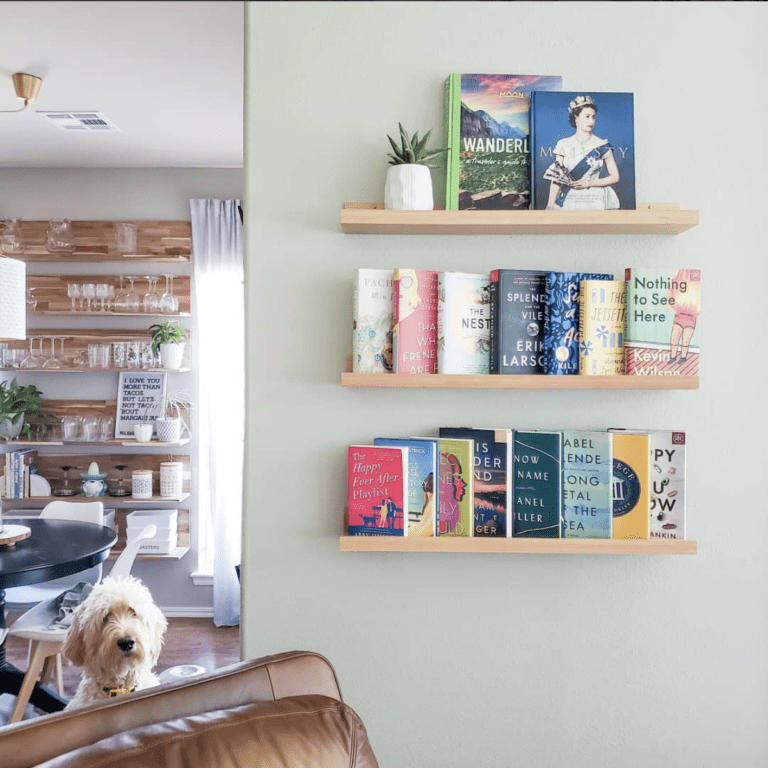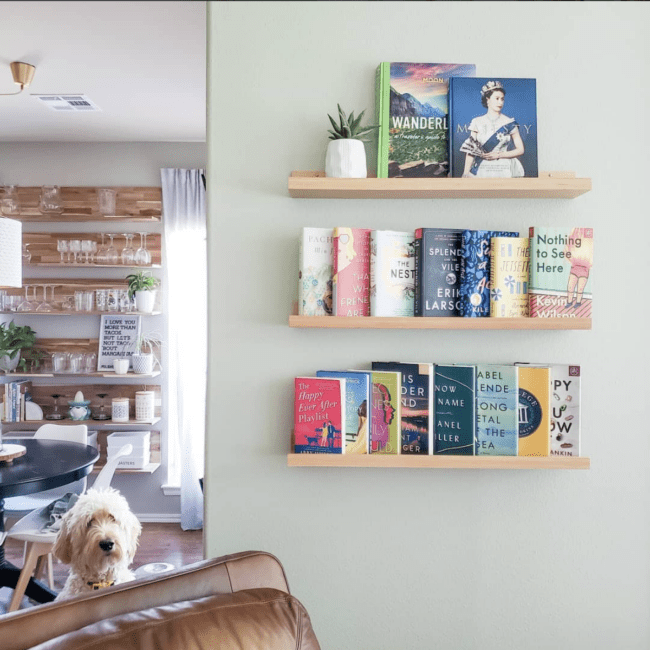 In our master bathroom, we desperately needed an over the toilet shelf for storage. I ordered the EKBY VALTER brackets, but IKEA didn't have shelves in the exact size I wanted, so we used lumber from Lowe's on top of the brackets.
You could use paint for a very affordable solution to hack your shelves, but I decided to try applying removable wallpaper to mine. It was a little stickier and trickier than I anticipated, but they turned into cute bathroom shelves!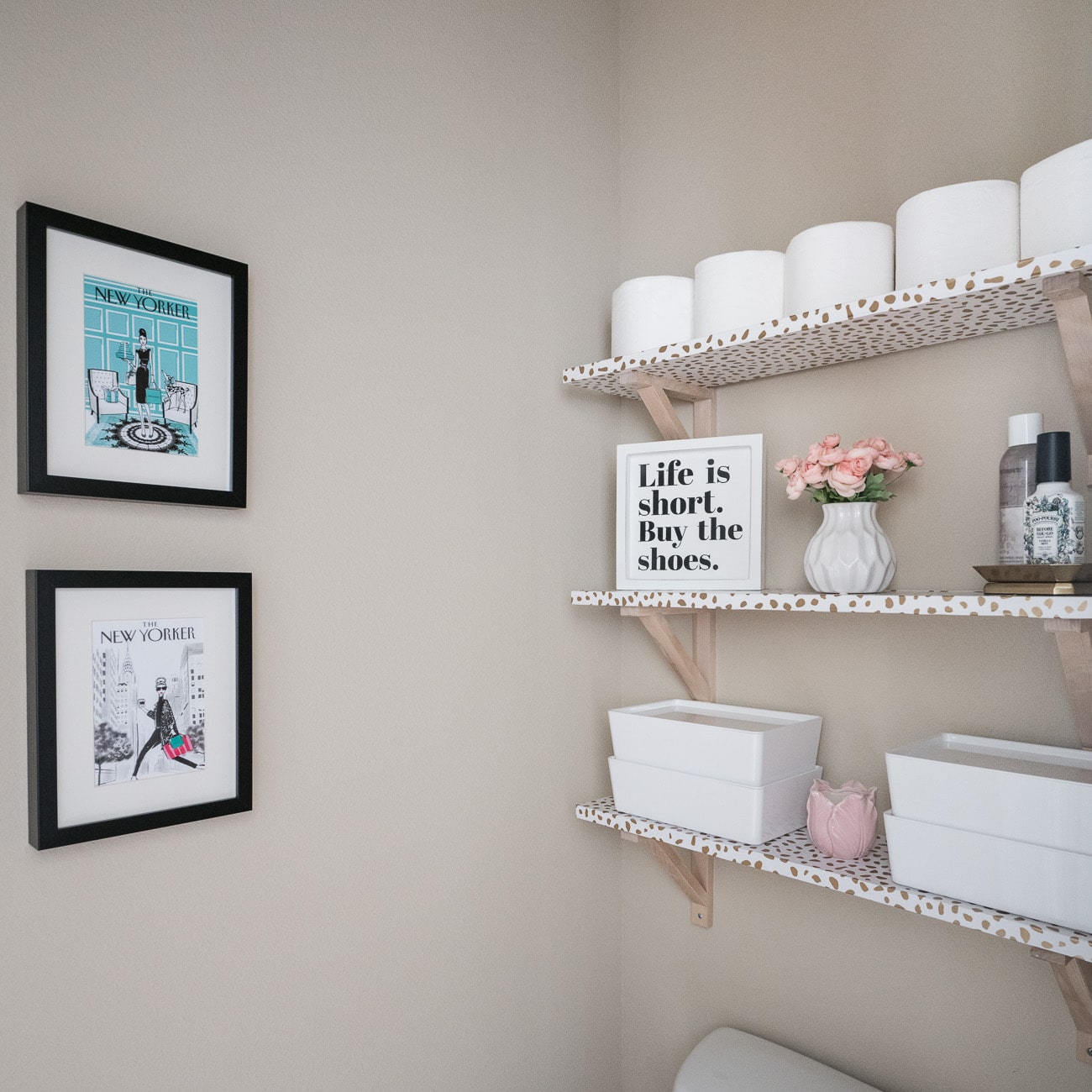 Contact paper would be an easier option than wallpaper and I'll show you an example later in the post with marble contact paper!
I debated including the next two because we didn't change the actual IKEA items, but we used them in unexpected ways.
In our kitchen nook, no one can believe our new floor to ceiling storage is from IKEA. I was VERY lucky and realized the SKOGSTA wall shelves would be close to an exact fit between two windows.
Instead of hanging one or two of them at normal shelf height, I ordered six to create a full wall kitchen storage unit!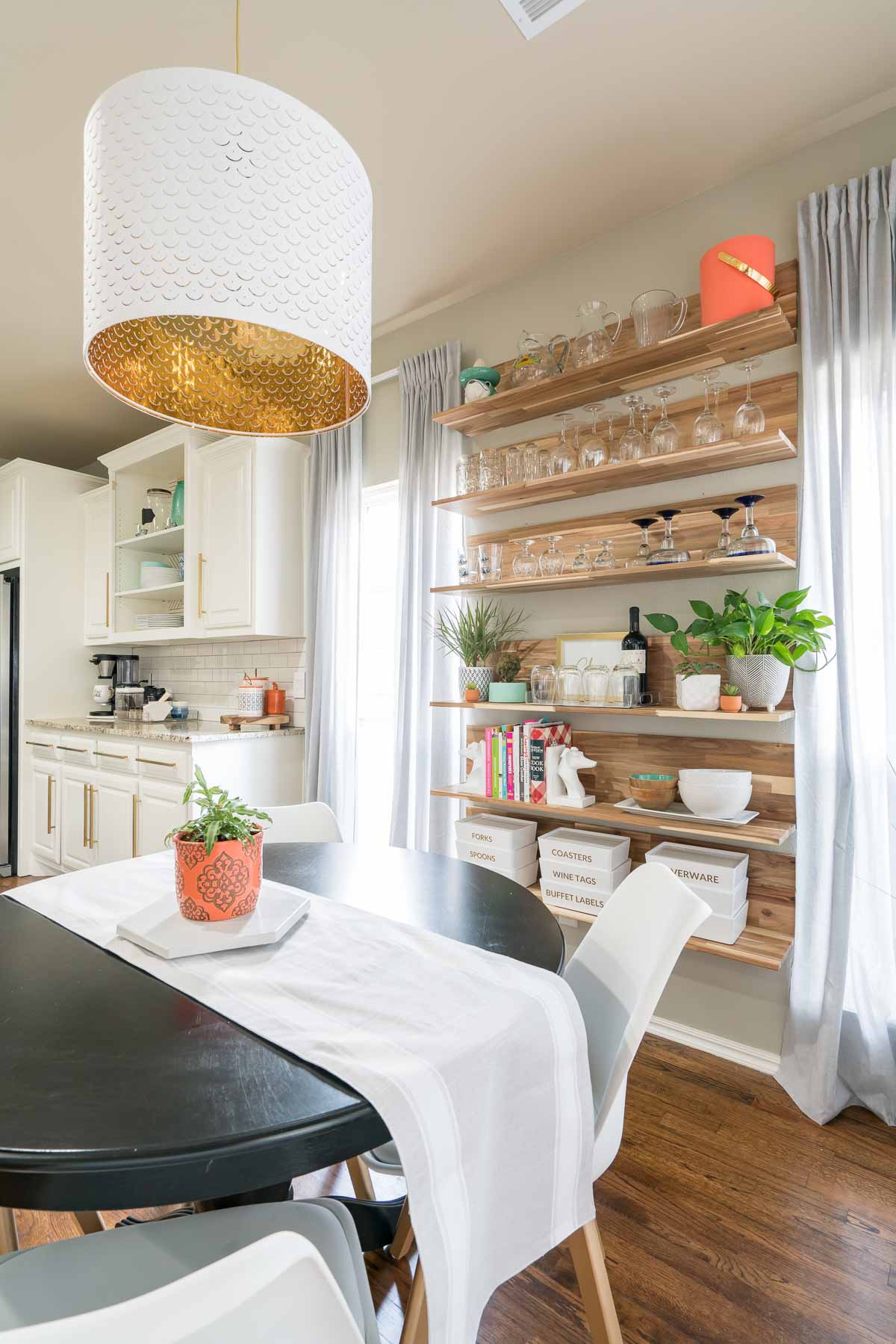 We really love that the wood grain is totally different on each shelf, so you'd never guess they came from a mass-market store.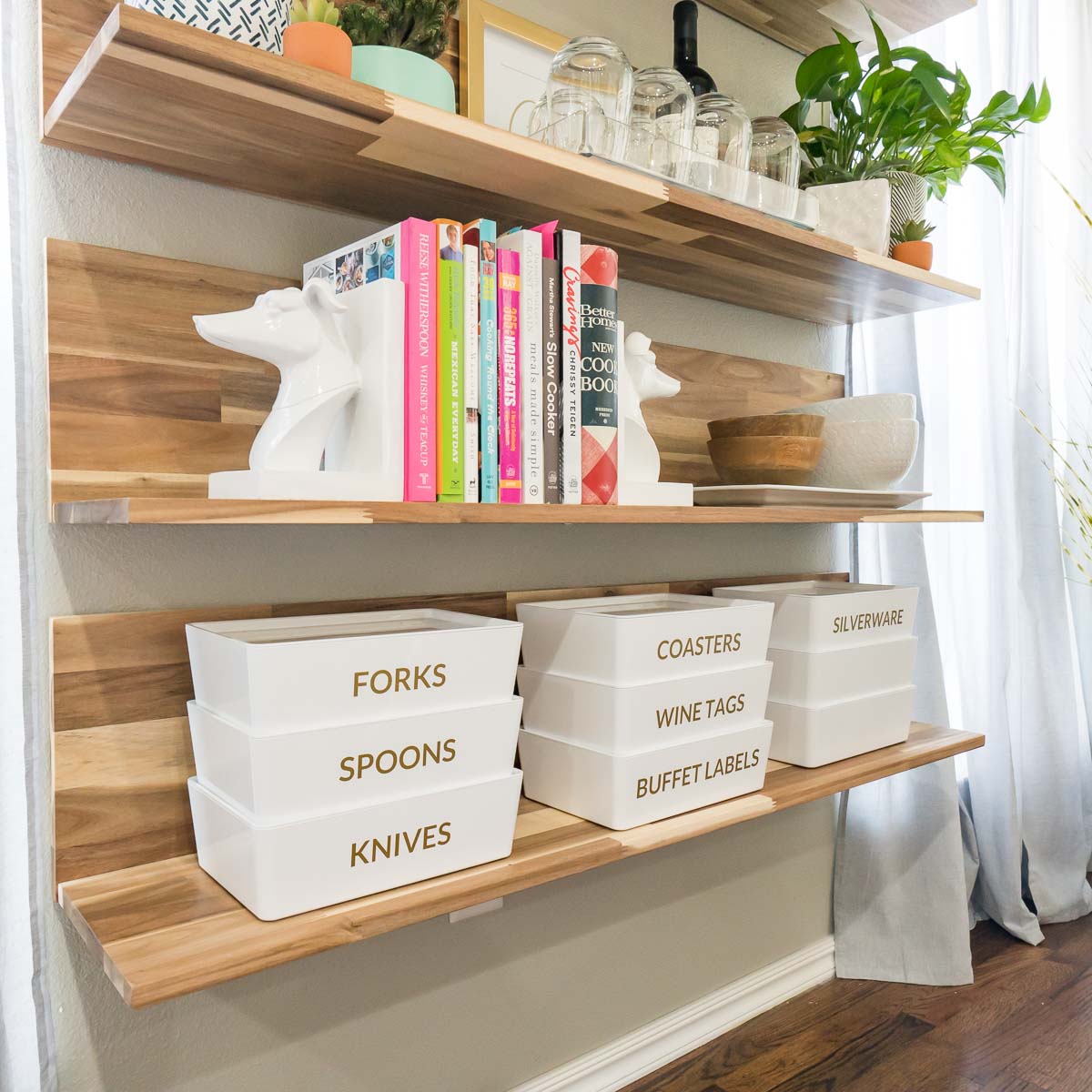 The garage isn't the first place you'd expect to find an IKEA shelf hack, but we got creative when we needed budget-friendly garage storage.
If you've never used the KALLAX storage cubes, I highly recommend them. They're much sturdier than other cube units, and they can be hung on the wall with anchors!
We combined two KALLAX units with a pegboard in between them to create organized vertical storage in the garage. Here's an old progress pic of what it looked like with just the IKEA shelves on the wall.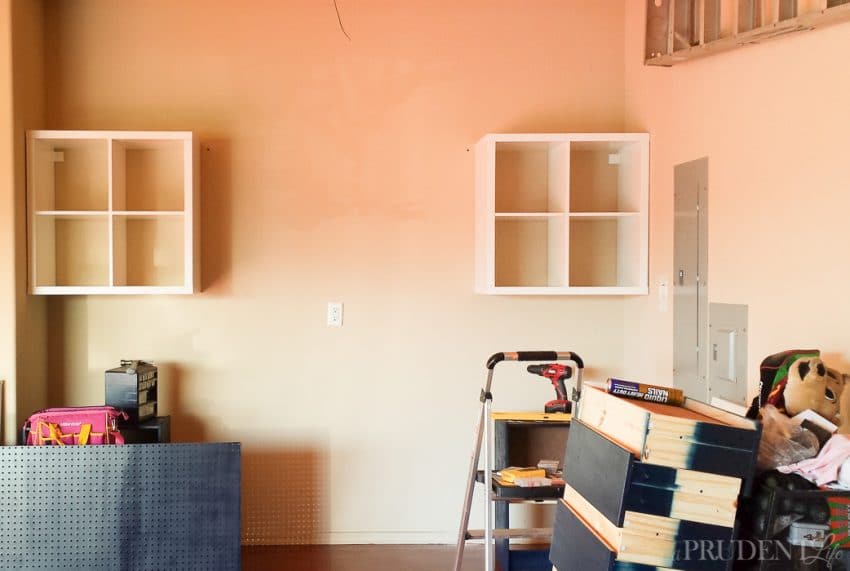 And here's what it looked like when we used the pegboard to turn them into a cohesive area. The bottom part of the workbench is also made of IKEA pieces!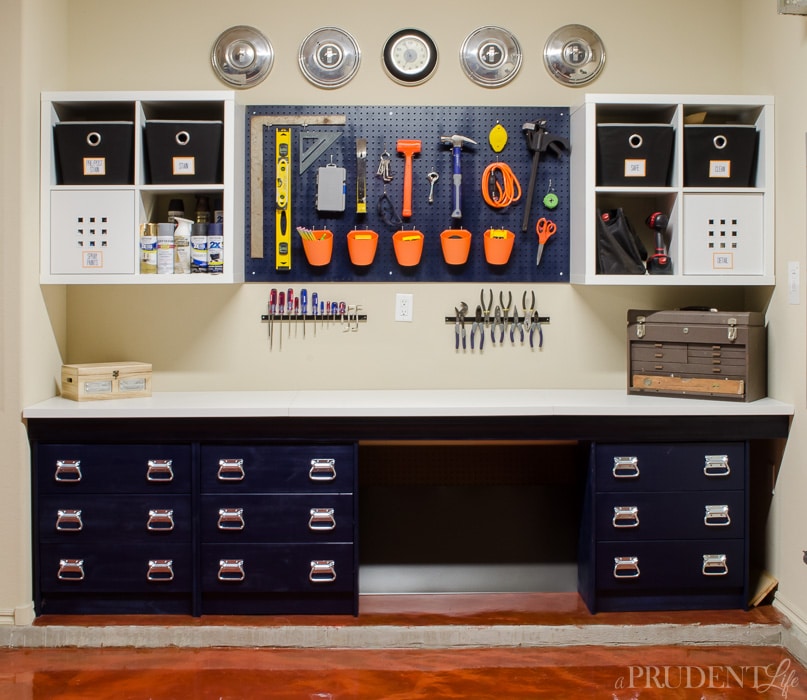 You'll think I'd be saying enough is enough with IKEA shelving units throughout the house, but I've got my eye on a blank wall in the dining room. And I wish we had more book storage in the living room!
For even more shelf inspiration, I added links to some other clever IKEA hacker friends below!
You'll also find links to all the projects I mentioned above in case you have seen the full room makeover for those spaces before.
Who's ready to tackle an IKEA shelf hack in their house now?