I can't believe it's real! My home office is totally unrecognizable compared to 5 weeks ago when I started the One Room Challenge(ORC).
Just like the first 5 times I took on the ORC, our house emerged this period of chaos looking better than I ever dreamed.
Equally important, the office is already functioning exactly the way I envisioned. I'm a big advocate of your home being a retreat, feeling like you, and working for you. This room checks all three boxes in a way it never has before.
PS: If you're a new reader, welcome to Polished Habitat! You should head back to week #1 to start at the beginning of this 6 post event hosted by Linda from Calling it Home. The short version is that 200+ people are making over one room in their house. Each week, we all shared progress updates until the final reveals today! I'm one of those crazy people who take part in the event each spring and fall, even though it usually makes me cry.
Let's do a quick history of the office I tackled for this challenge. A few years ago we painted it gray and added some IKEA bookcases.
Before #1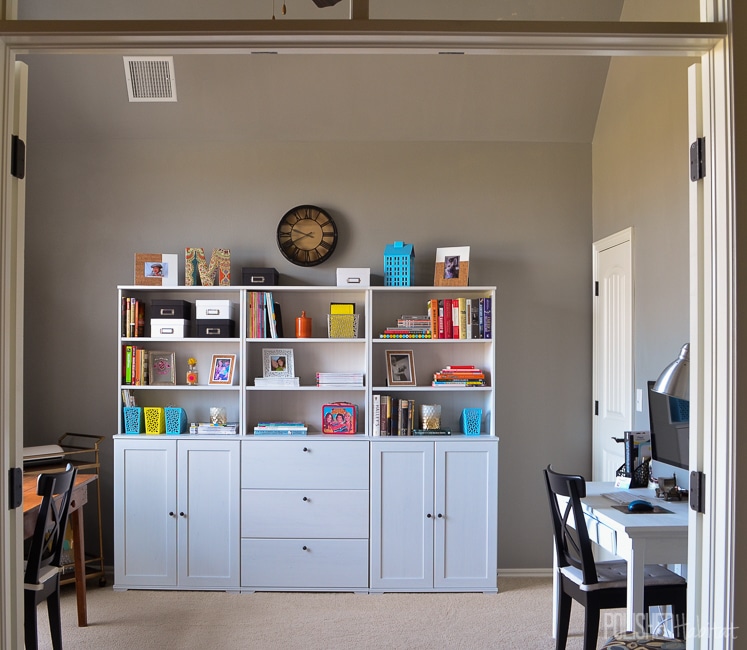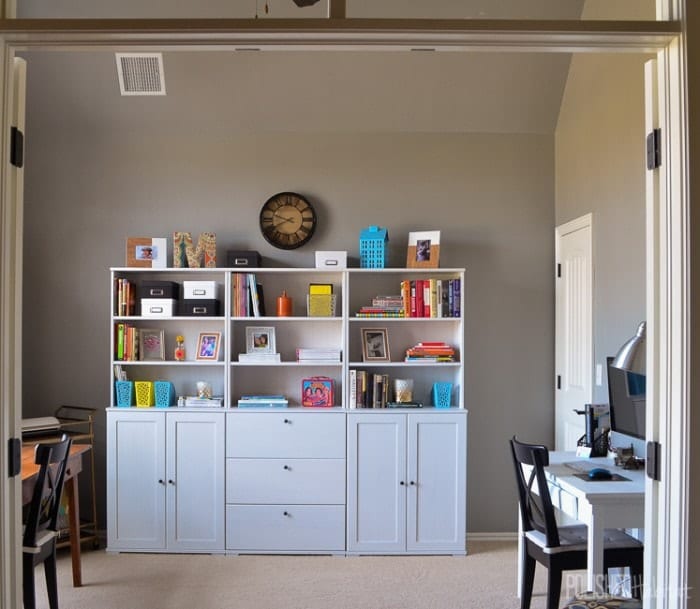 Then last year, we rearranged everything and added an awesome gallery wall of gig posters over my husband's desk.
Before #2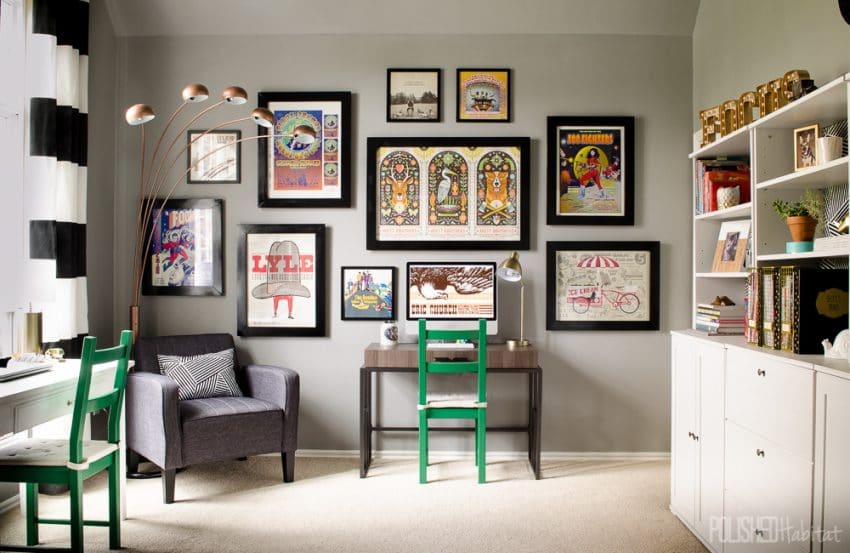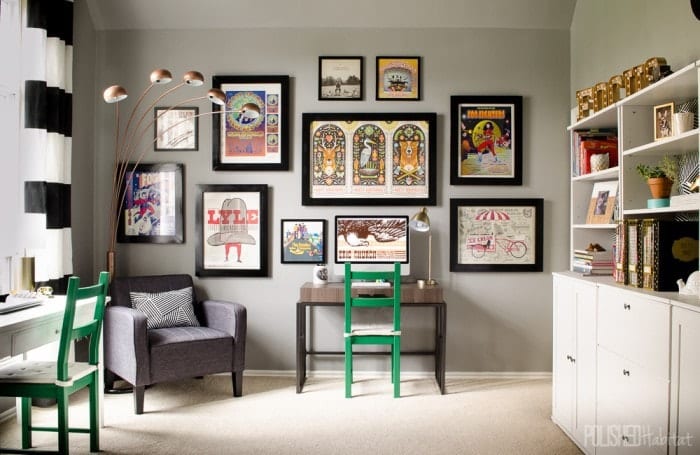 The problem was that my husband is rarely in the office, and I work there full-time.
It didn't feel like my space, and there was no flat surface for me to prepare Etsy orders. I also craved space to brainstorm and keep notes on the walls. We tried to come up with an arrangement that still kept a desk for him in the room, but he was gracious enough to volunteer his exit from my space. 🙂
With only one desk needed, I came up with this plan.
Functional & Fabulous Office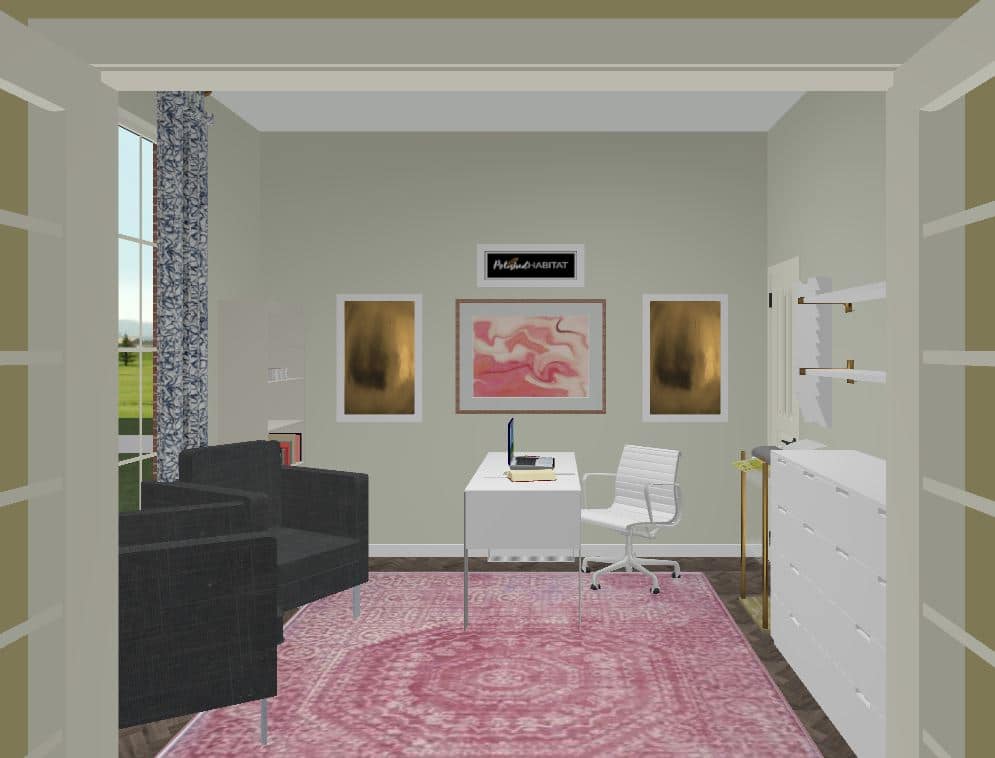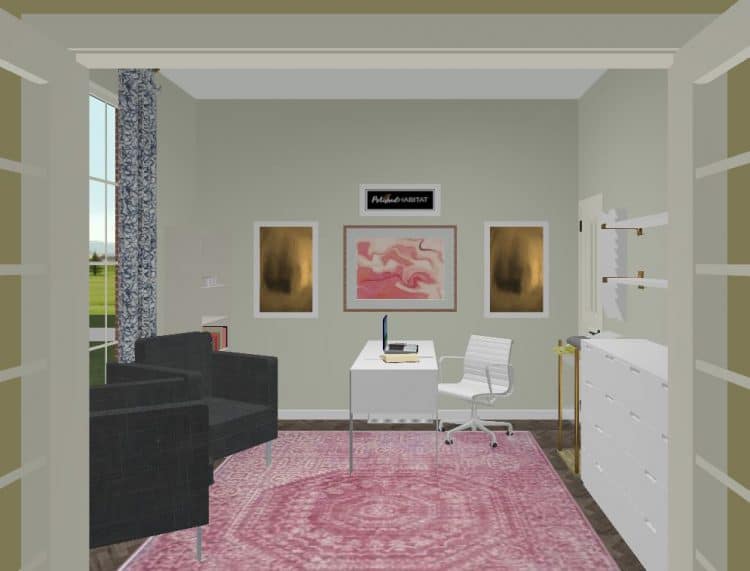 And today…drumroll…it looks like this!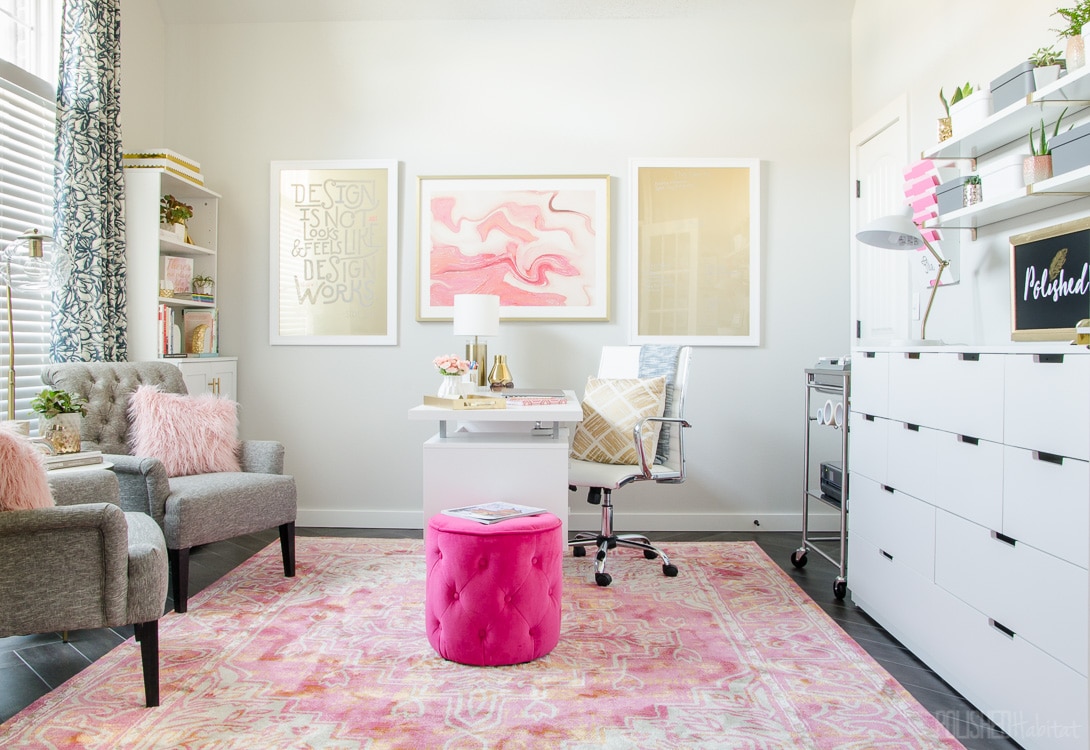 I feel like I live inside Pinterest! And isn't that the dream? 🙂
I'll share the full source list at the end of the post and just mention a couple favorites along the way. Like that pink swirly art that was the jumping off point for the whole room design. I'm so thankful Minted was willing to provide it! (Original art no longer available, but this is a great alternative!)
When you come into the office and look right, we've got one of the old bookcases. I swapped out the backing to subtle gold dots using wrapping paper. We also swapped out the wimpy pulls using the same pulls and paint we used in the closet and pantry.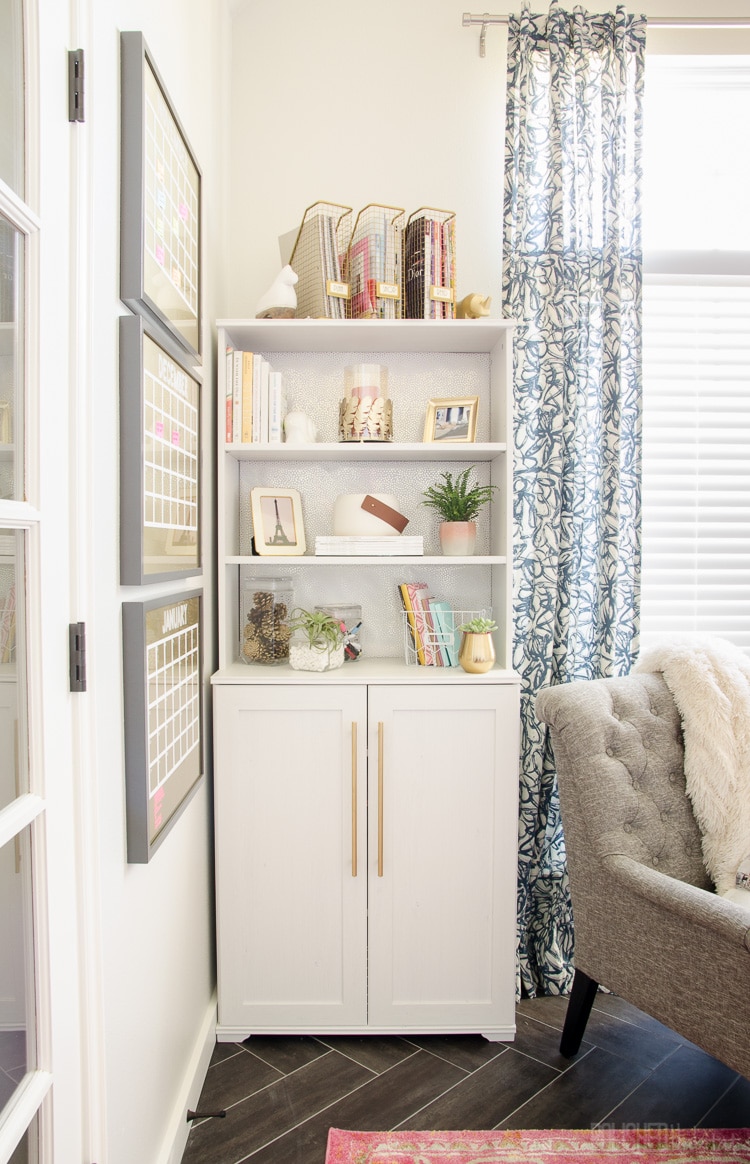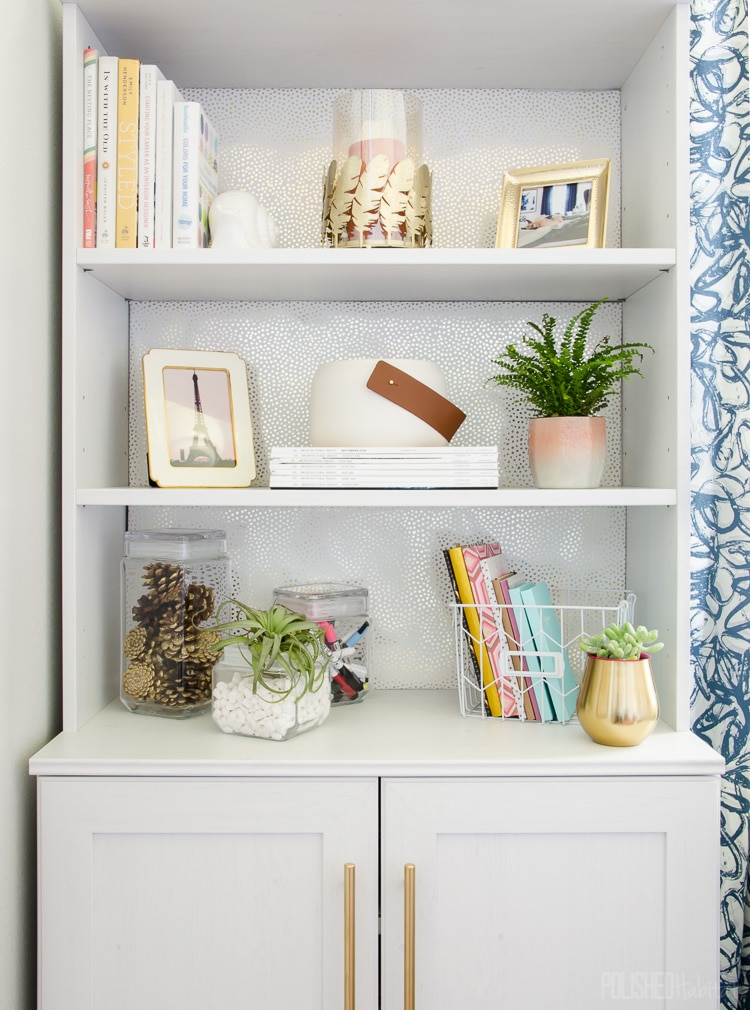 My husband is known for his ORC art projects and I fit one in this space as well.
I asked him to letter something on one of the gold dry erase boards and he came up with a quote the really resonates with my philosophy. "Design is not just what it looks like and feels like. Design is how it works." – Steve Jobs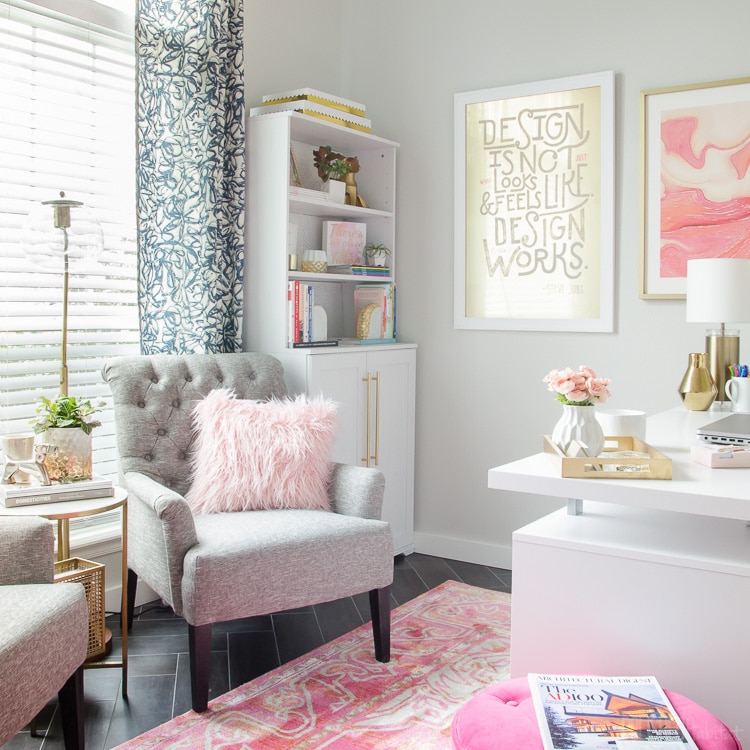 I think the bookcase backing will change again when I find something I REALLY love that works in the space.
This isn't bad, but I'm not crazy about how shiny it is in person.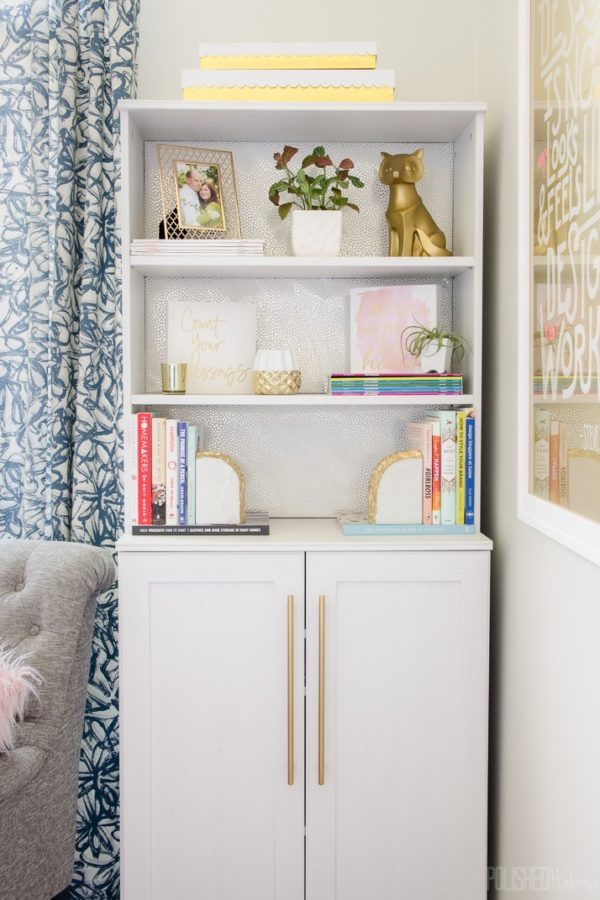 Spinning around from the bookcase, the "function" side of the room turned out prettier than I expected!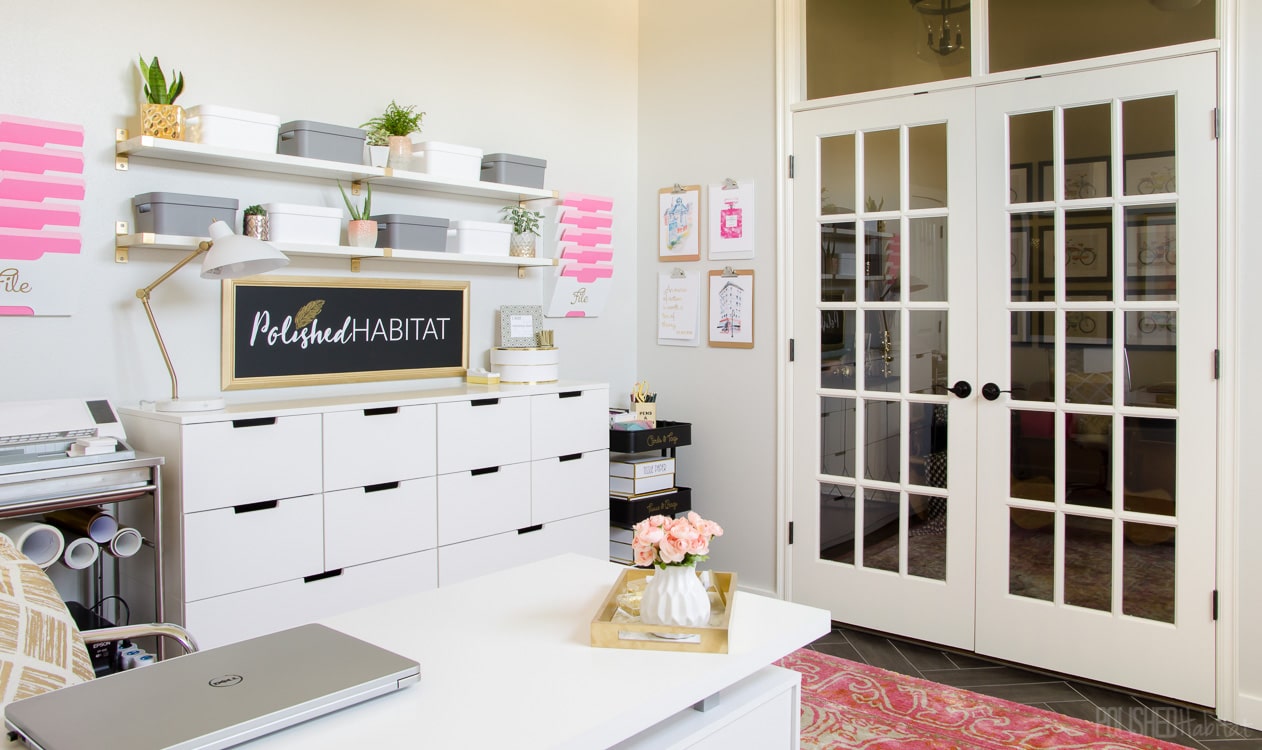 Look at all this glorious work space! It has already come in handy.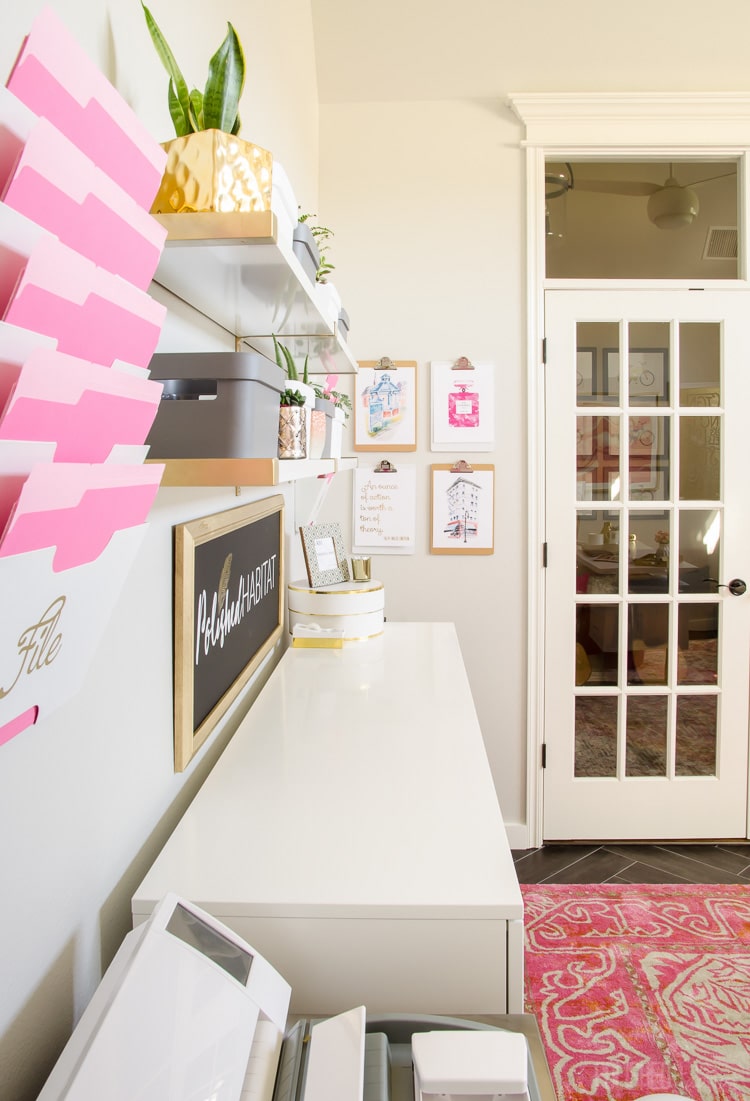 Right behind my desk, I fit in a kitchen cart that holds the Silhouette, vinyl rolls, AND the printer. This is probably the least pretty picture, but has already been so much less frustrating than the old set up. I'm pretty excited about the file storage on the wall right behind me too!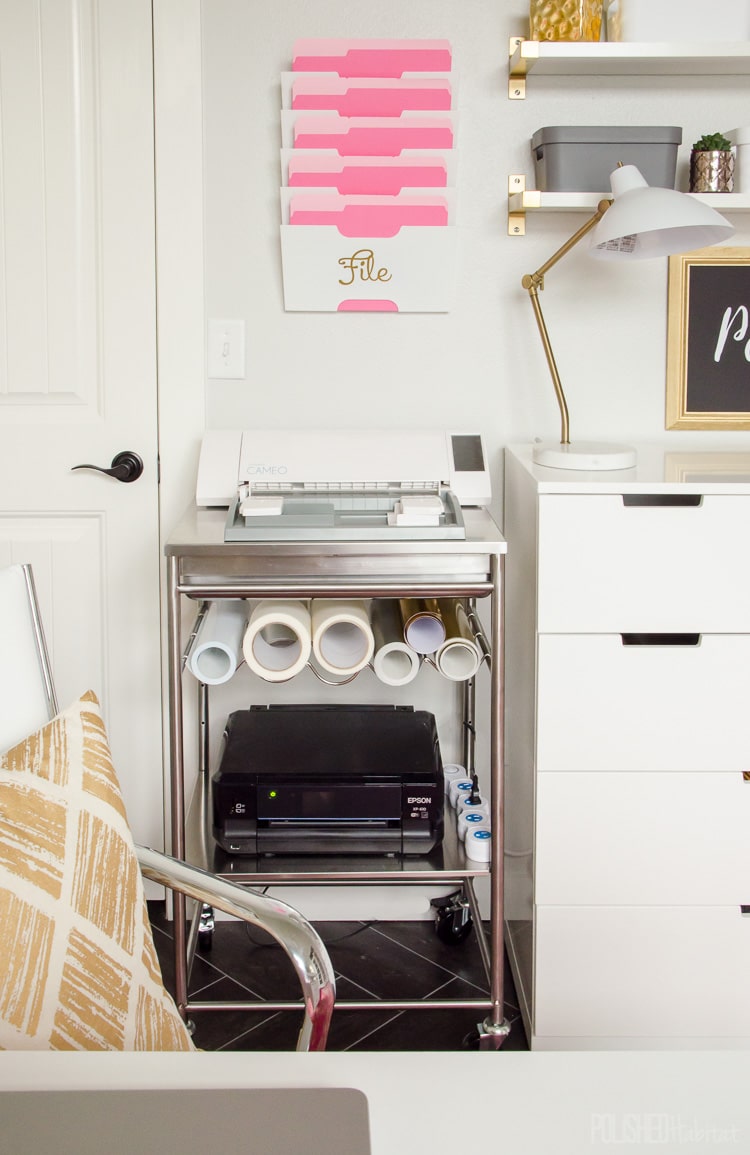 SO MUCH STORAGE! Eventually, the shelf bins will be labeled, but I'm still debating how to configure things and didn't want to rush it. (Update: See the labeled bins & labeling tutorial here)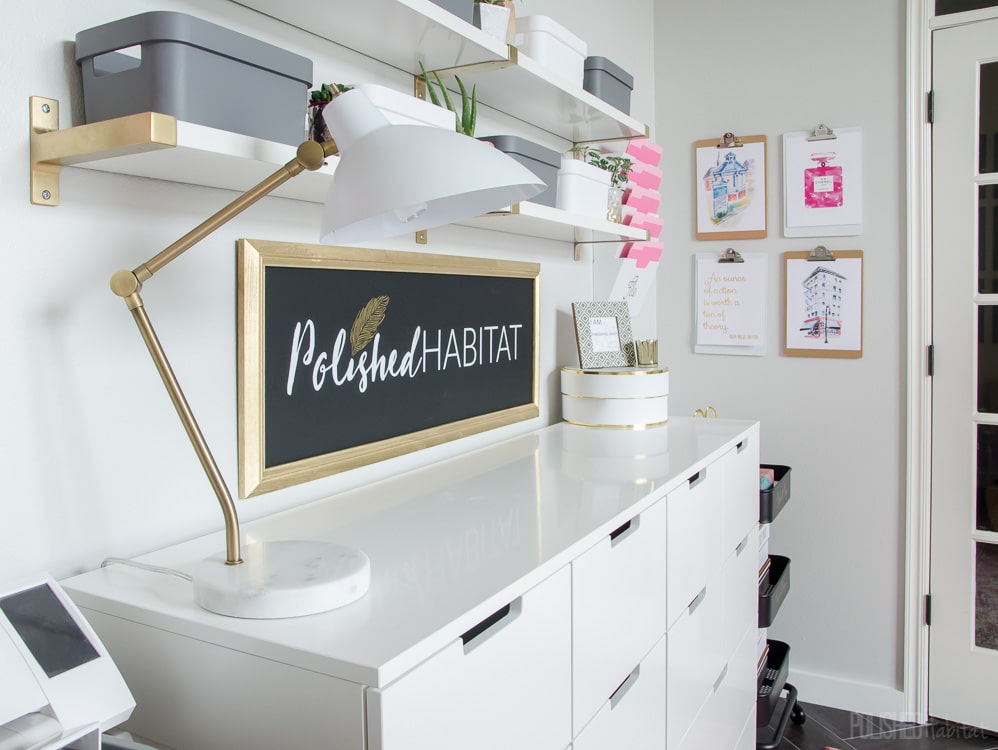 Ah, sweet, sweet symmetry. The right side files will be for personal paperwork while the left is just business. I keep adding plants to my collection and feel like they are going to be VERY happy on these shelves getting some sun every day.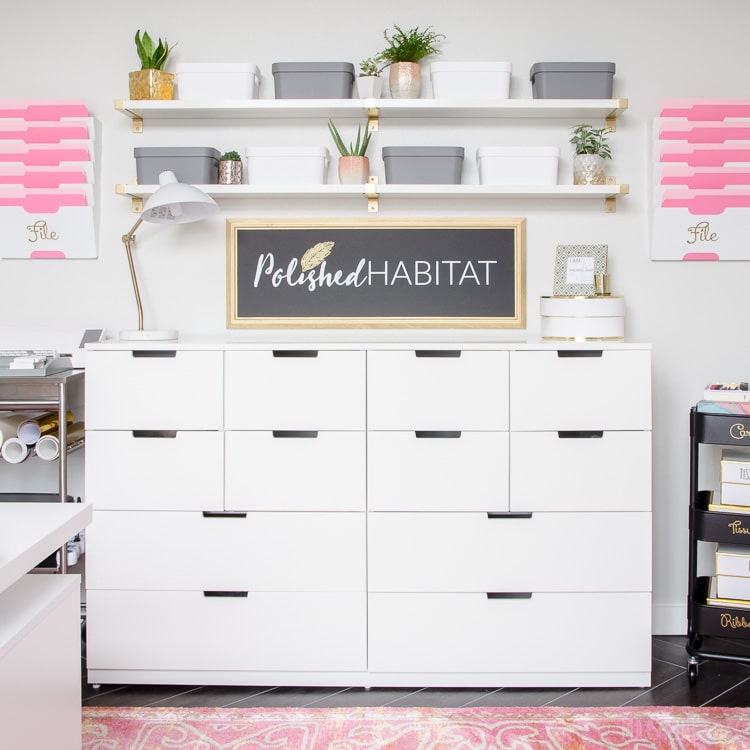 Update: Since the post, I upgraded to a larger printer and from Silhouette to the Cricut Maker. Luckily the space was flexible enough that everything still looks great!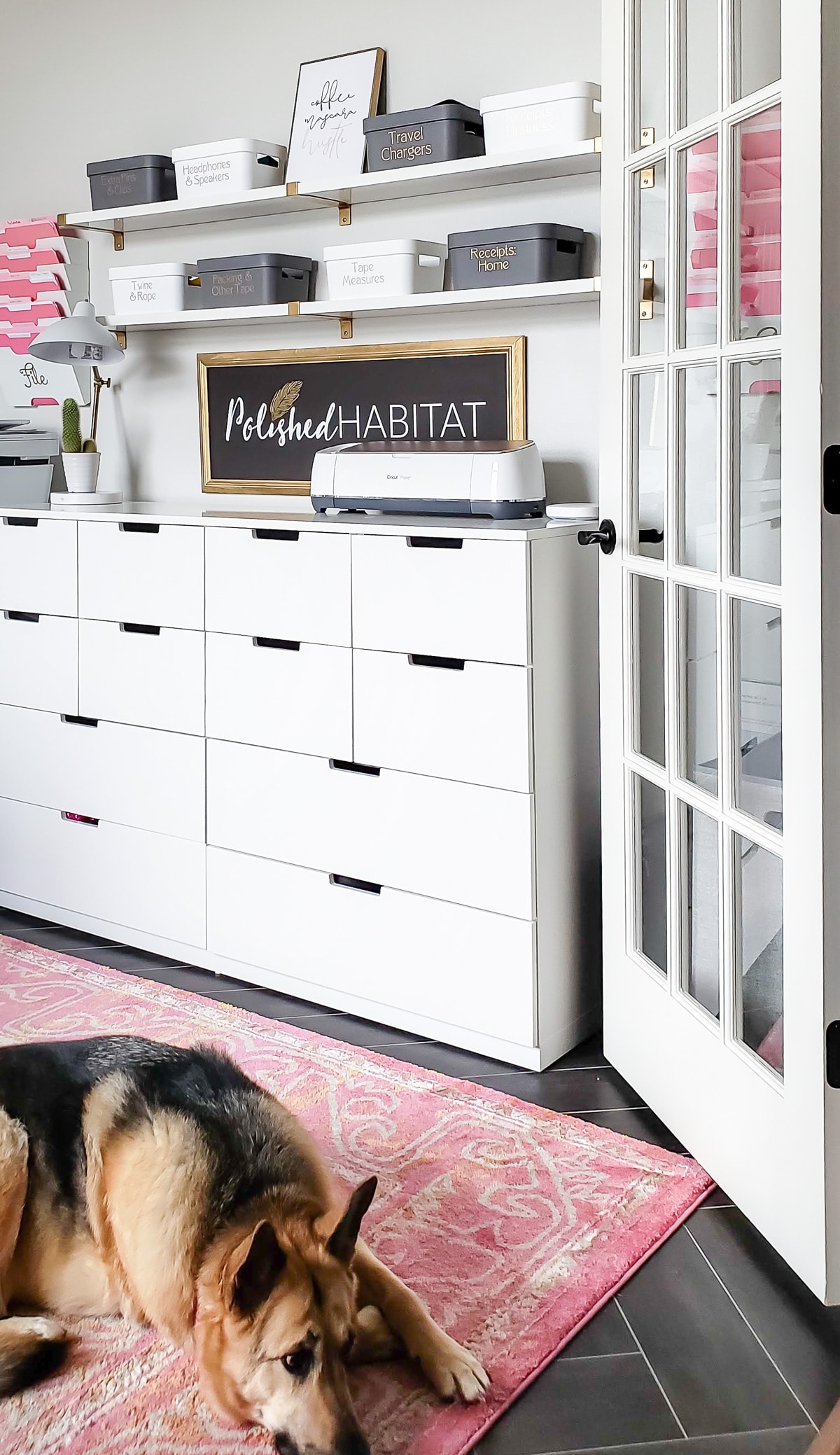 When I found white and gold clipboards in the Target Bullseye Playground last week, they became the perfect interchangeable art wall. The pink Chanel print by fellow One Room Challenger Foxy Oxie matches the room so well!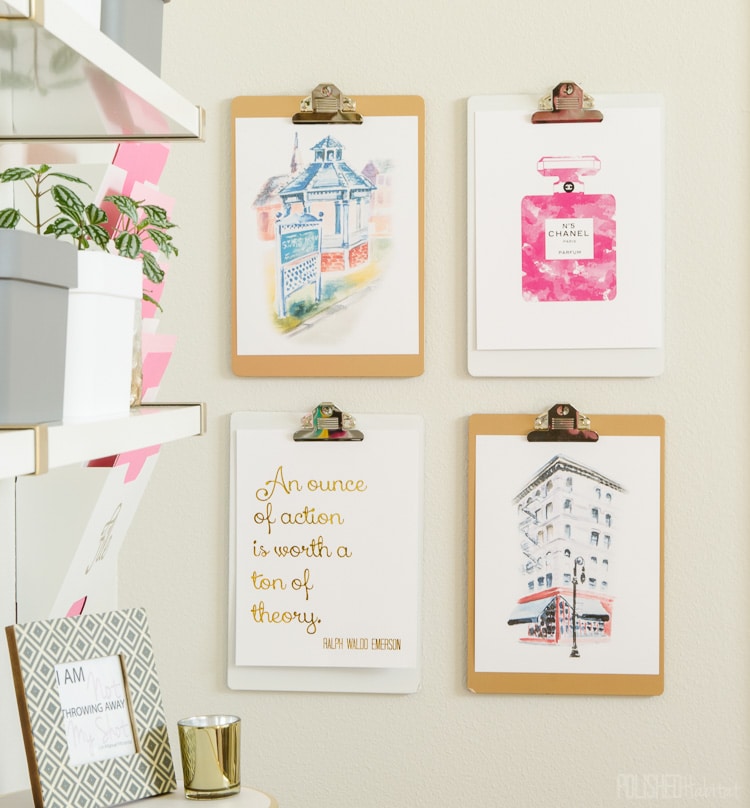 Tucked in between the dresser and clipboards, I had just enough room to add a rolling gift wrap cart. Isn't she pretty?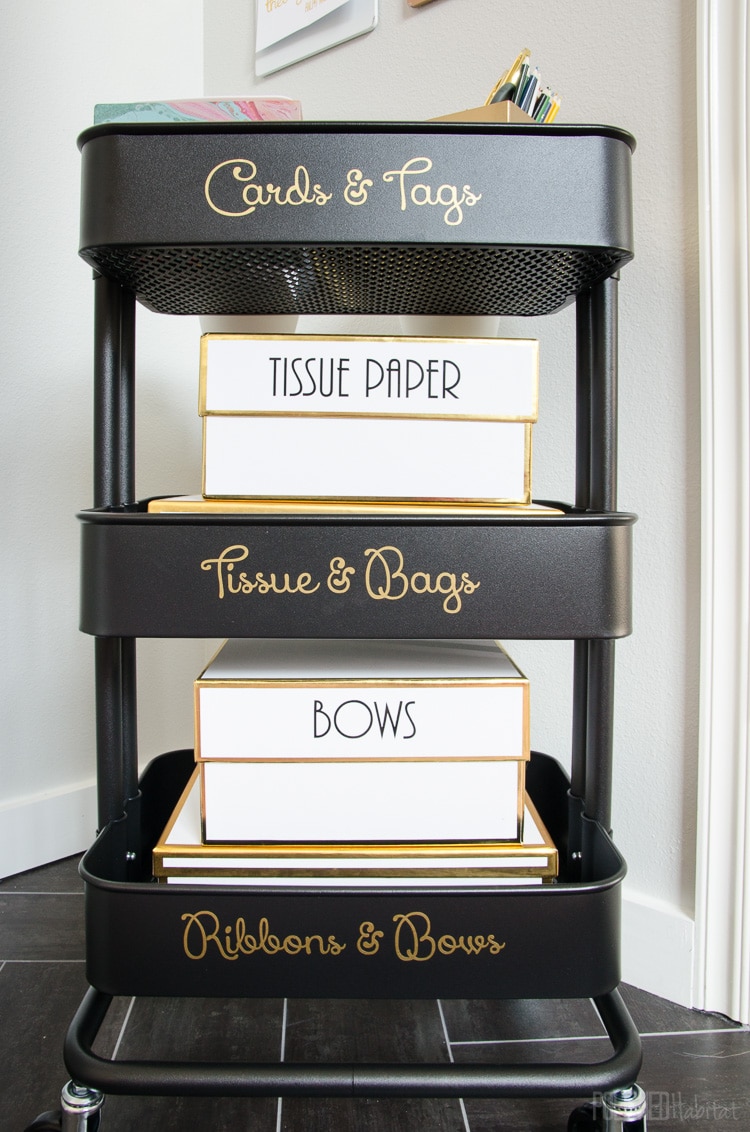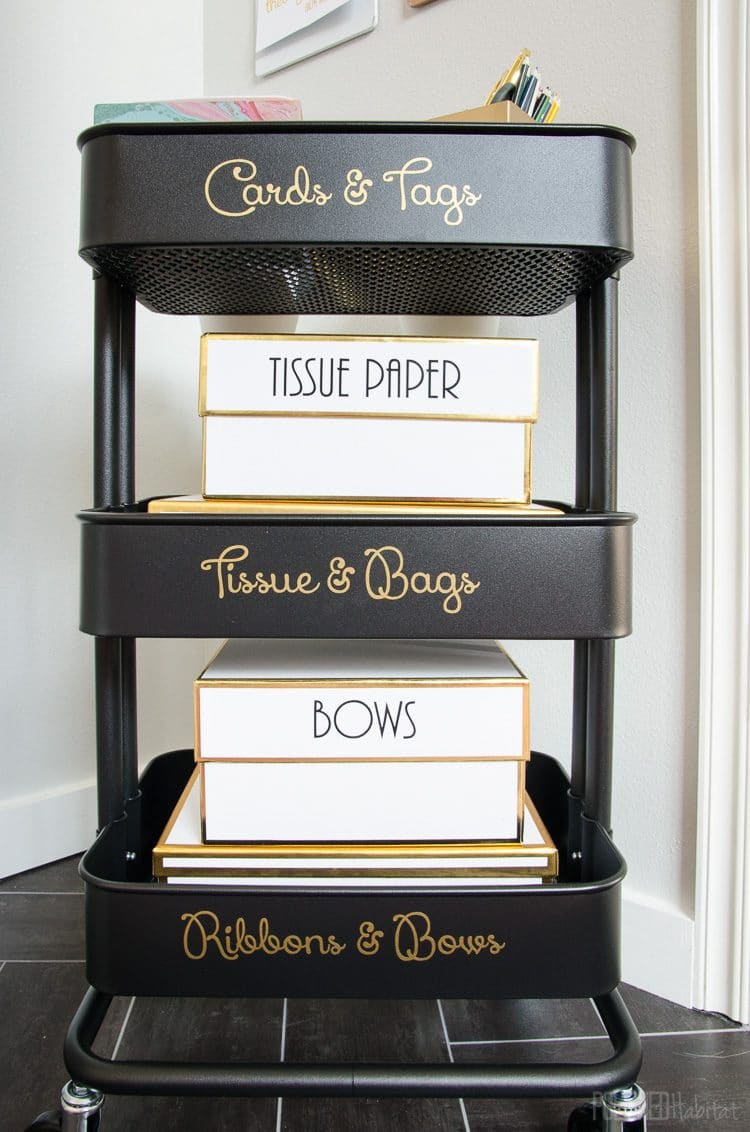 I'm so glad we got the art hung in the entryway. It would have been sad to have a view of a blank wall. Boy, do I want to paint the front door now! Who picked brown!?!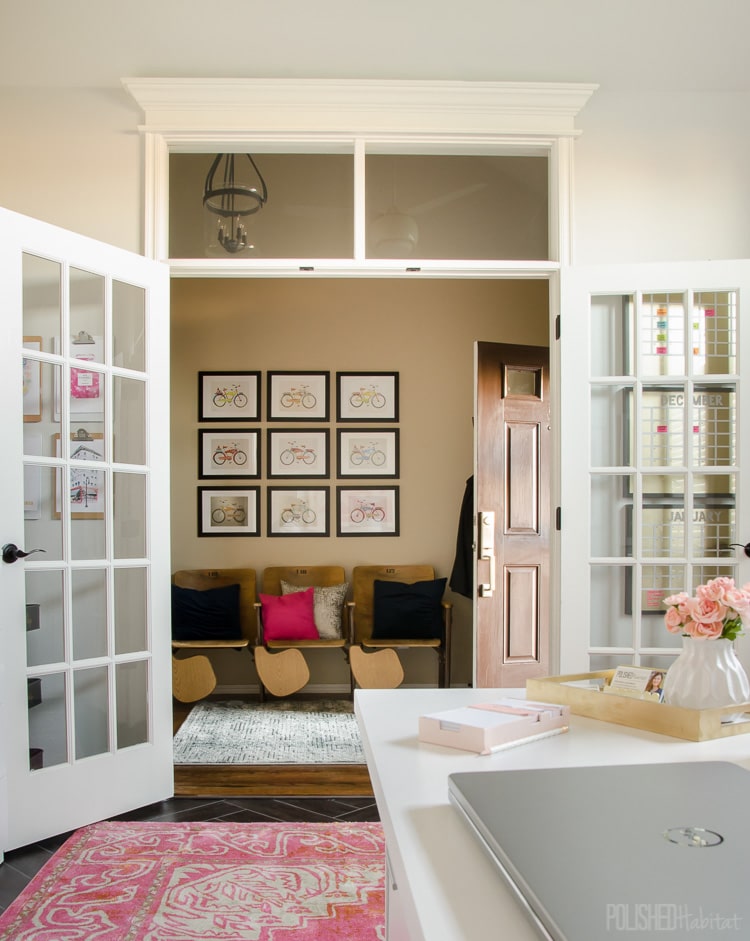 I LOVE my new three month dry erase calendar system!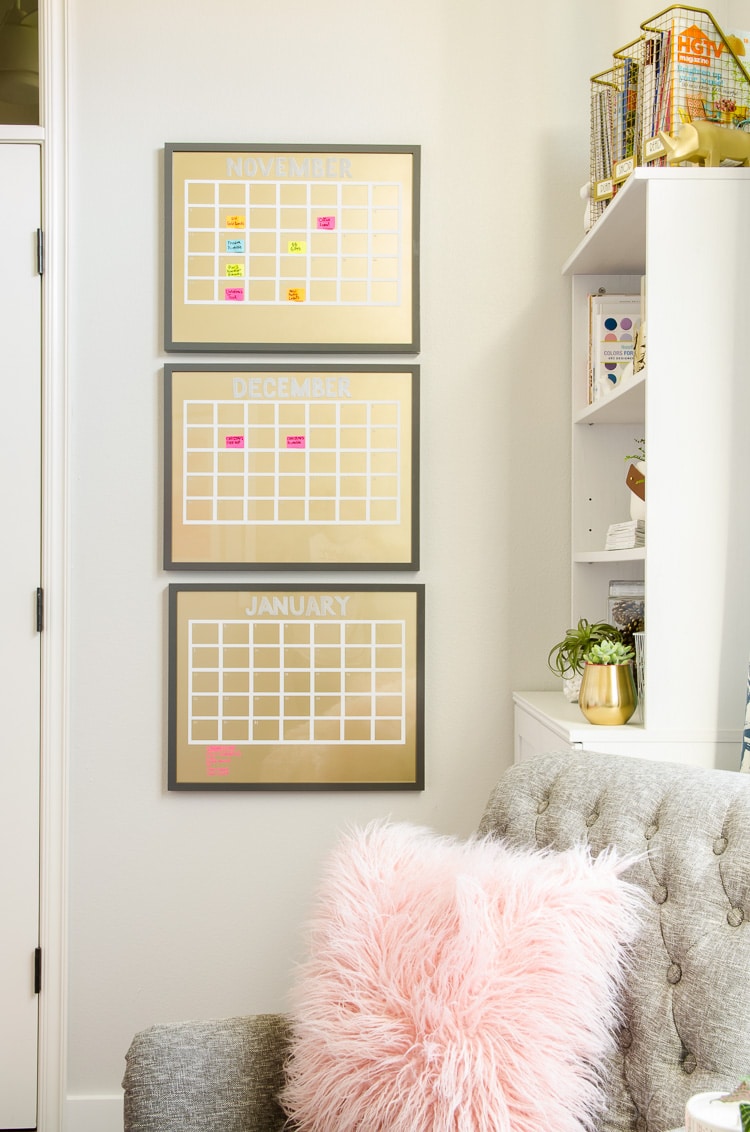 Remember the window stress? I am thrilled we went with the Ultimate Header and SelectBlinds. SelectBlinds totally saved the day! I can tilt the blinds for the right amount of light during the day. Then, they get closed when the sun starts blazing in too much.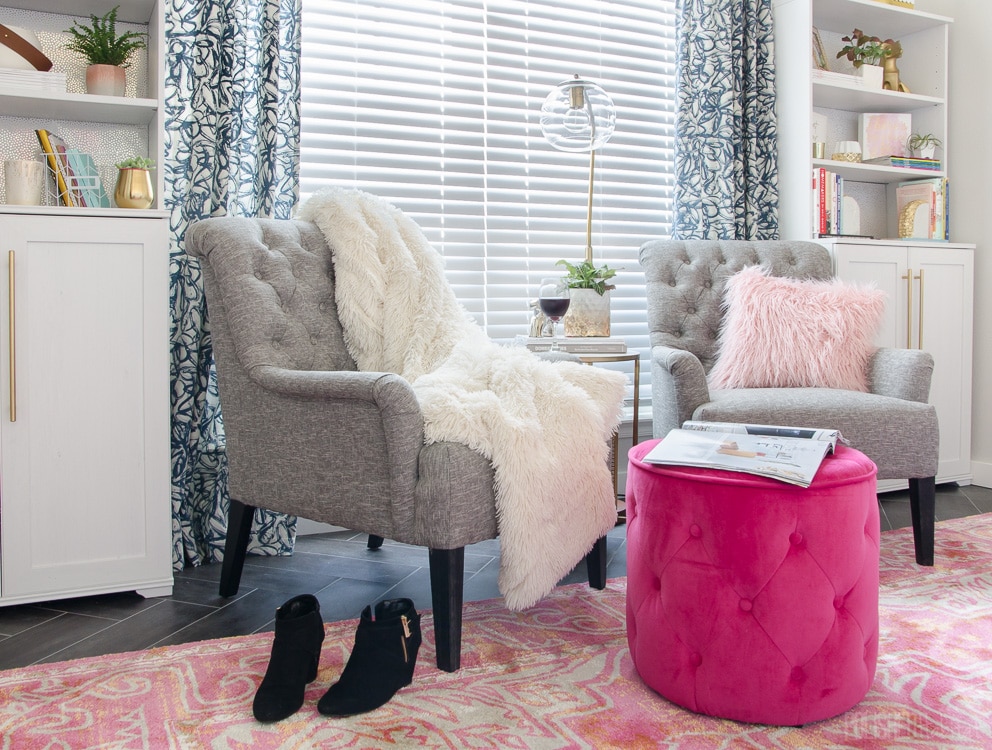 I really like that there is a single smooth header running across both blinds. It's nice not to be on full view of the neighborhood if I'm working in the evening too.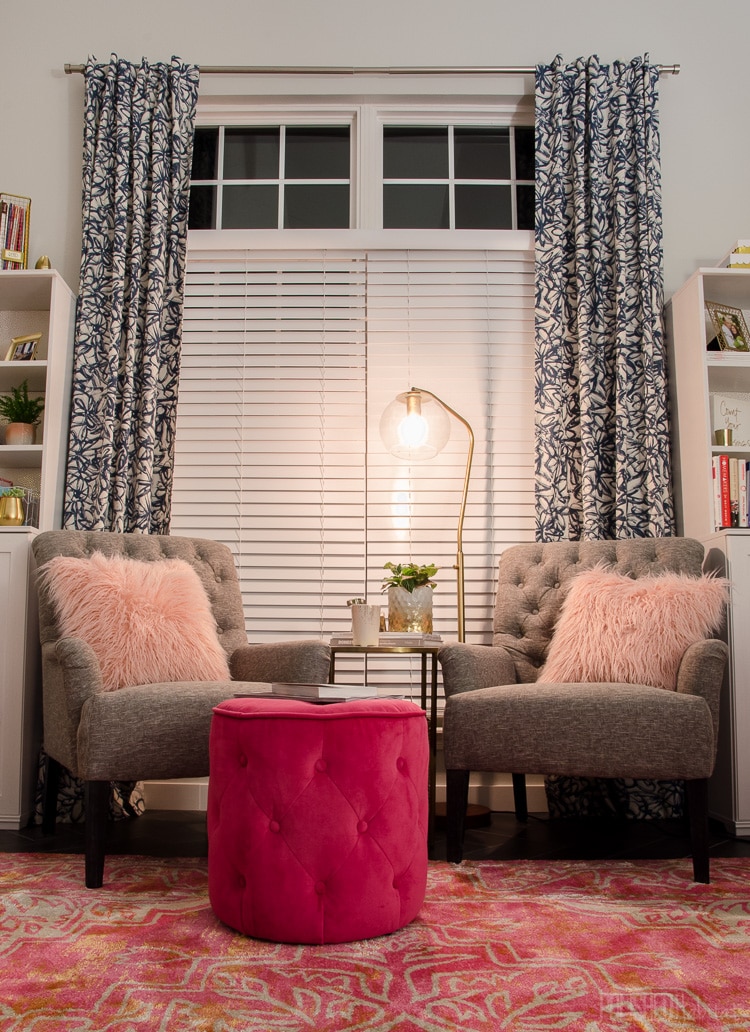 Here's one final look coming straight in from the doors. I don't know if I ever mentioned the ceiling fan swap. I found a mod white fan that works with the room so much better than old one.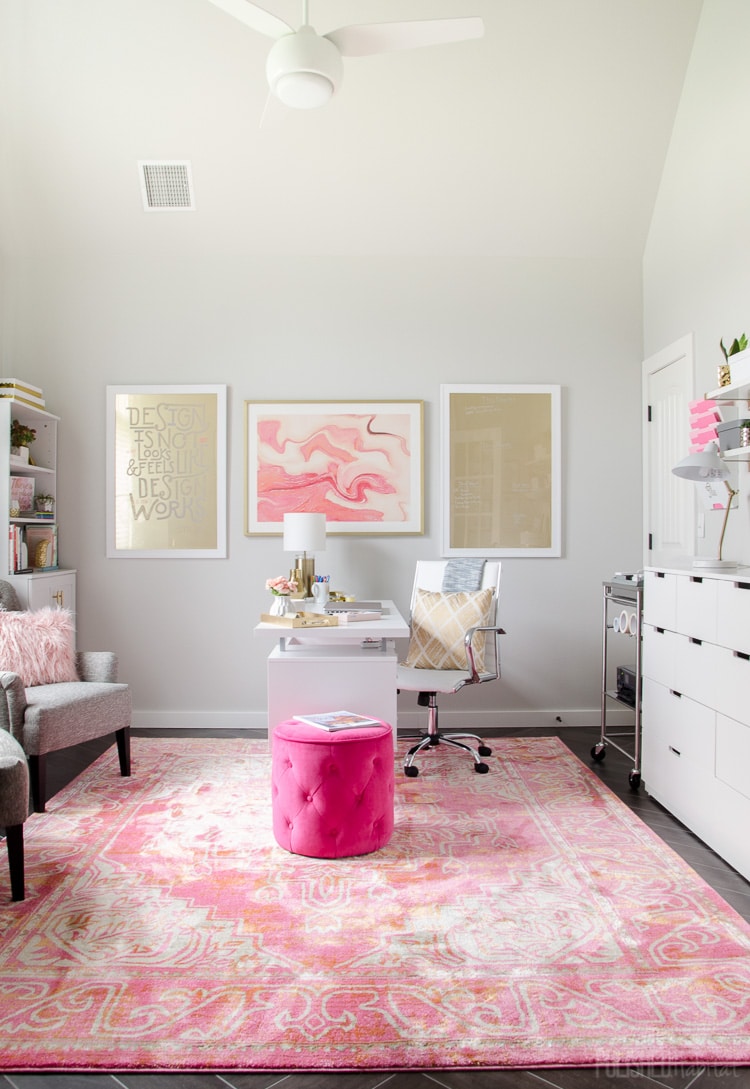 Functional & Fabulous Office Product Sources
Furniture
Pink Rug – Wayfair
White Desk
White Desk Chair (or similar on Amazon)
Pink Ottoman
Gray Chairs – I lucked into mine at Tuesday Morning, but found a similar color and shape on Overstock here.
Marble Top Accent Table
Printer/Silhouette Cart – IKEA GRUNDTAL Kitchen cart
White Dresser – IKEA NORDLI
Gift Wrapping Cart – IKEA RÅSKOG with Custom Labels applied
Windows
Curtains
Blinds (Provided by SelectBlinds.com)
Ultimate Install Header
Lighting
Floor Lamp
Desk Lamp – Target
Dresser Lamp
White Modern Fan
On the Walls
Wall Shelves (Brackets painted gold) – IKEA EKBY JÄRPEN / EKBY BJÄRNUM
Dry Erase Boards – DIY TUTORIAL HERE
Pink Art – Strawberry Crepes (Provided by Minted) (No longer available, great alternative here)
Chanel Art – Foxy Oxie
Stars Hollow Print
Friends Building Print
Wall Mounted Files – IKEA KVISSLE with Custom Labels applied
Bookcase Wall Accessories
Feather Hurricane Candle Holder
Frame with Pink Eiffel Tower Print
Leather Handle Vase – Cost Plus World Market
Clear Square Storage Containers – Cost Plus World Market
Brass Wine Glass (used as planter)
Magazine Files
Decorative Boxes
White & Gold Bookends – Marshall's in store
Pink Pillows – At Home in store
Functional Wall Accessories
Pink File Folders
Gray and White Storage Bins – Target
Round White & Gold Box
White & Gold boxes
Gold Scissors
In addition to Minted & SelectBlinds, HomeRight was a great One Room Challenge partner. As you can see by all the gold boards, my spray shelter was in big use the last couple weeks!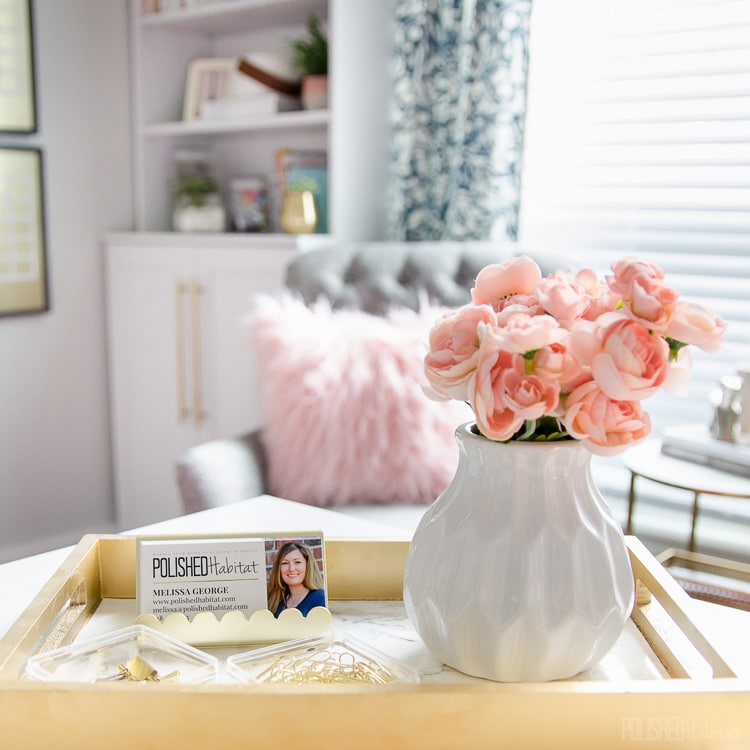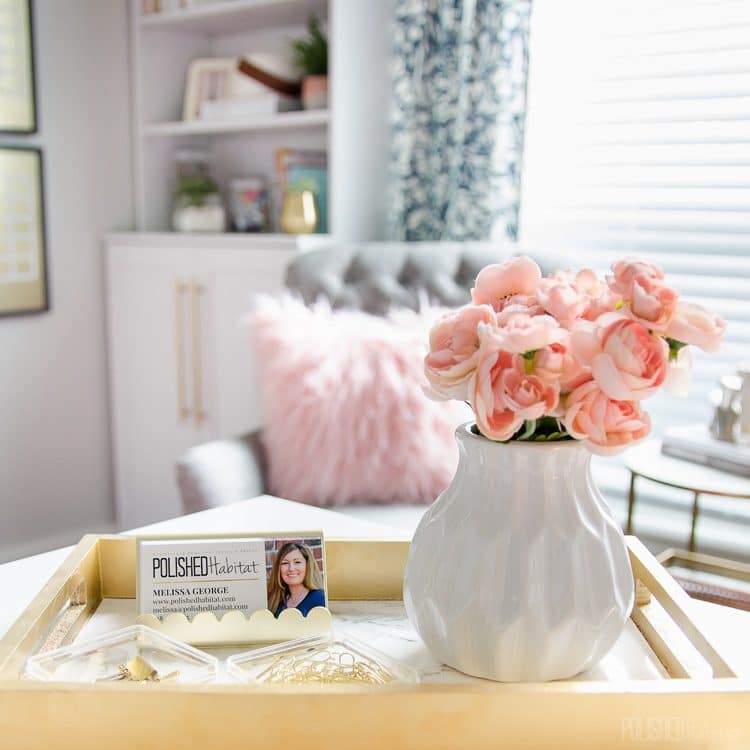 We're so thankful Linda from Calling it Home started this event and let's us join the fun. It's such great motivation to make fast, bold decisions and get spaces finished.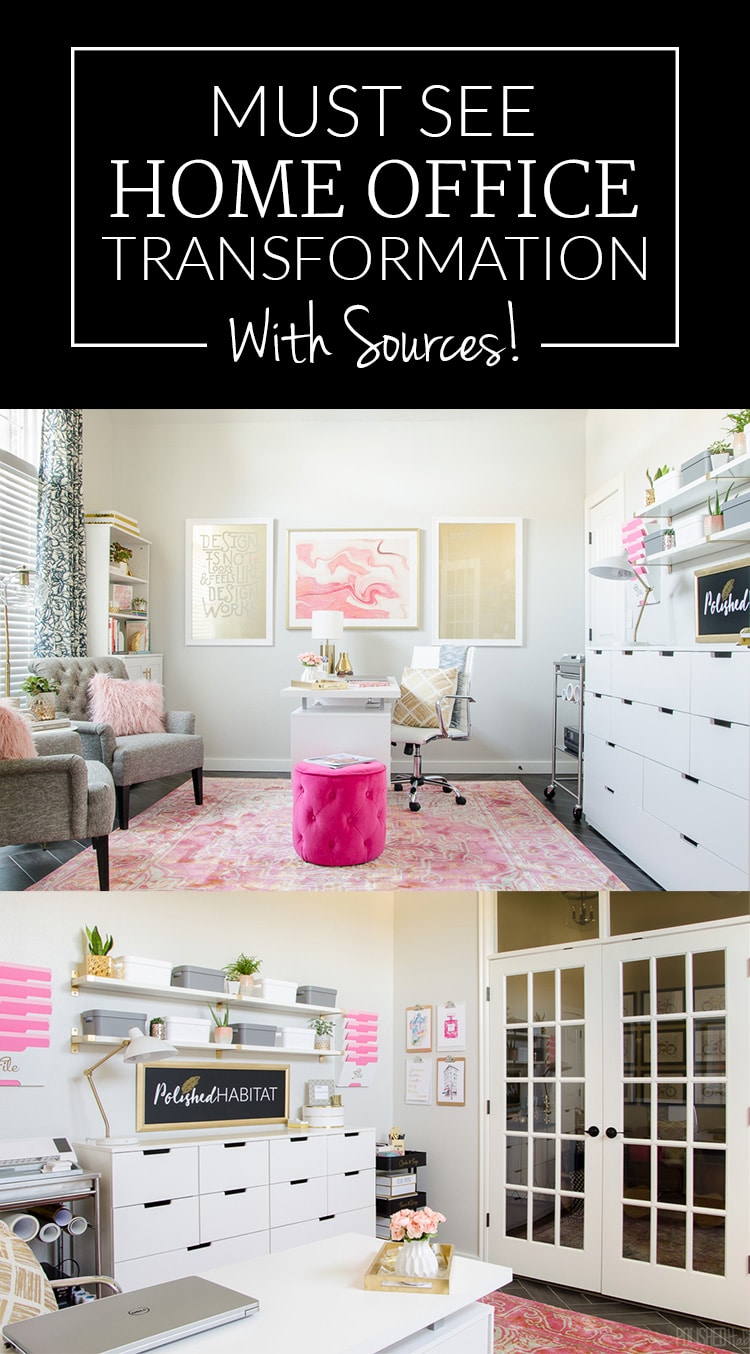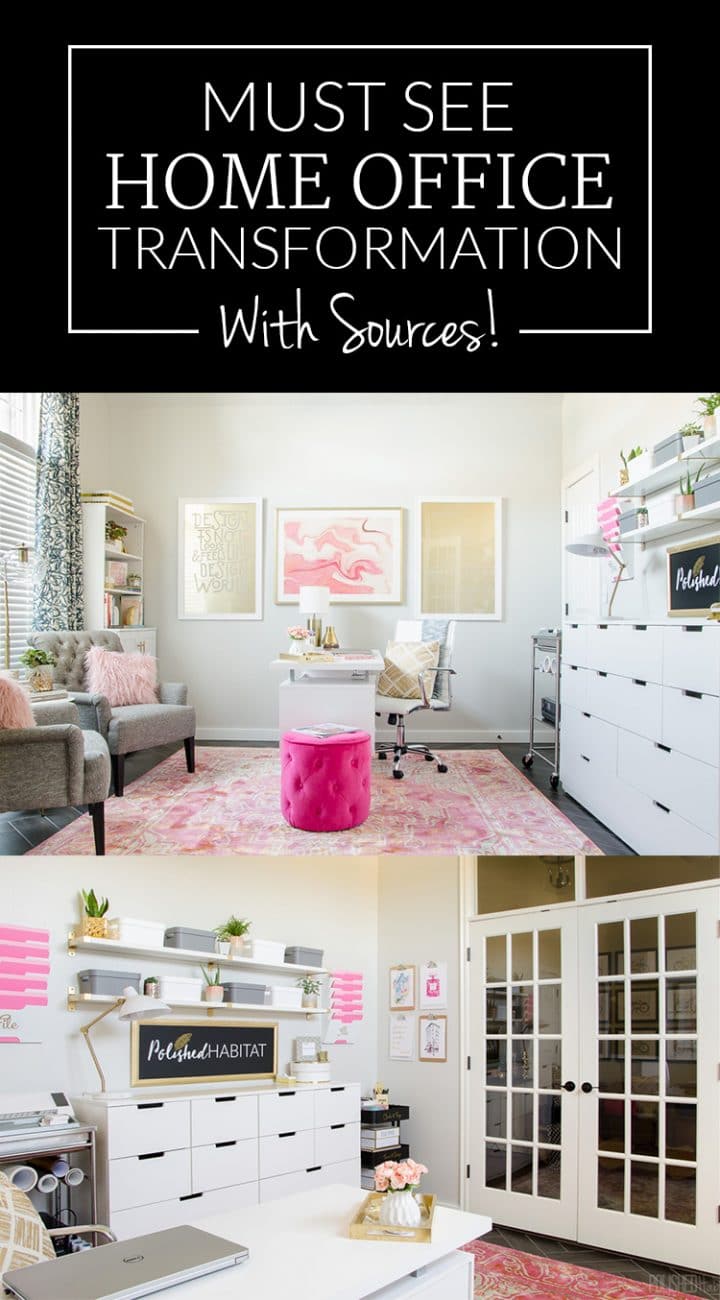 Ready for more inspiration? Here are the other rooms I've completed during the past One Room Challenges!
Dreamy Organized Master Closet