One of the most common topics I get asked about is storage ideas for small spaces. Whether your struggle is small closets or limited floor space, I have some go-to tips that will help you maximize every inch of your home.
The best part is that they will make your home look great while helping it stay organized.
Here's my Top 5 Storage Tips for Small Spaces!
Tip #1:
Use Flat-Top, Rectangle Containers
Like most things when it comes to organizing our home, I learned this one through trial and error. I'm often drawn to the prettiest bins and containers, which can be round. But if space is at a premium, rectangles and squares are the way to go!
In our pantry, I choose these food containers, which can be stacked and fit right next to each other with zero wasted shelf space.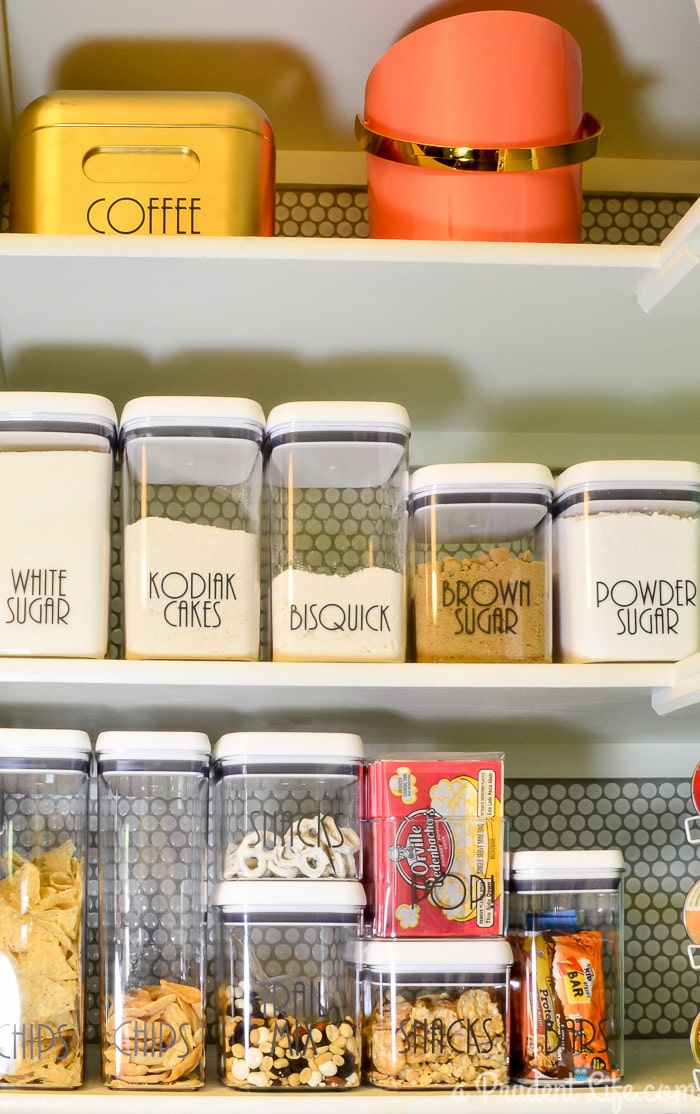 I used the same tip in my office closet by choosing these clear containers with hinged lids.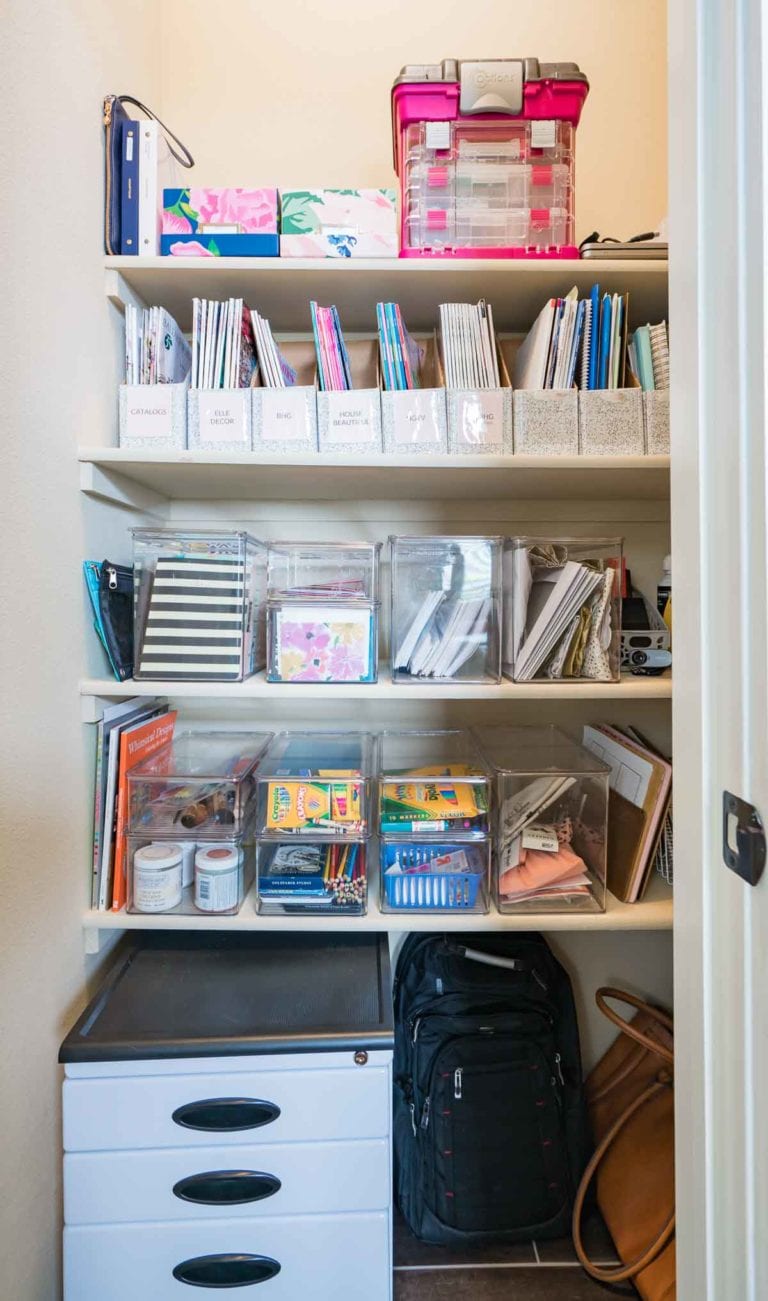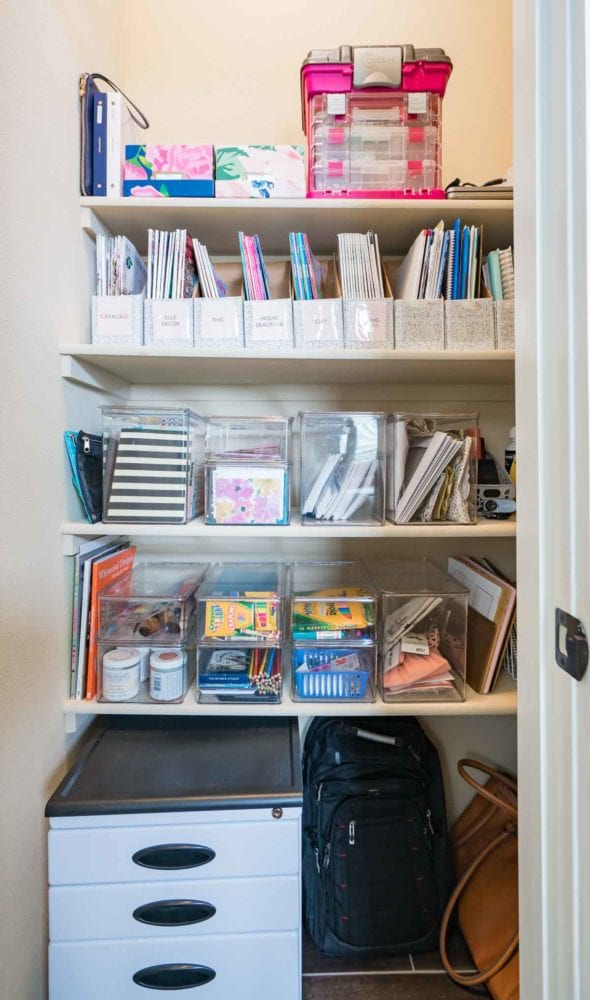 It's also the same reason I'm OBSESSED with the cheap Michael's photo boxes for both year-round and Christmas organizing!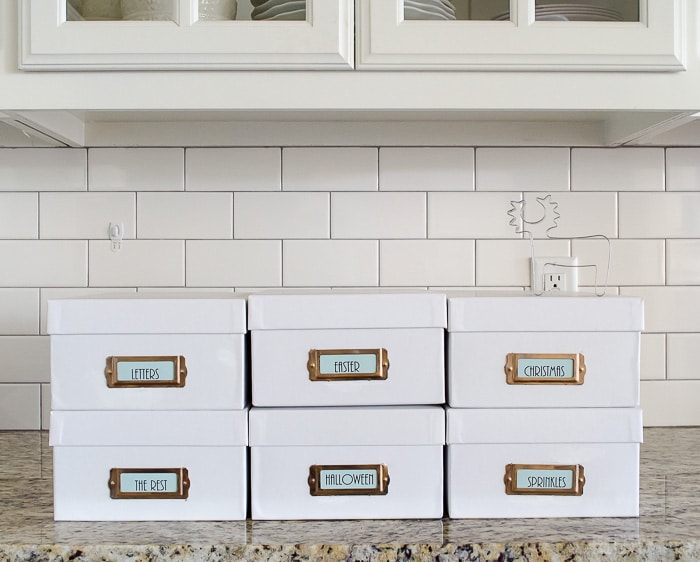 Tip #2:
Use Vertical Space
When you live or work in a small space, vertical storage can be your best ally. Whether it be on the walls, backs of closet doors, or backs of cabinet doors, you can fit perfect organization into tight spots.
While it's a splurge compared to the cheap photo boxes in the last tip, the Container Store Elfa system is worth it. The units are totally customizable and can be installed on doors or wall mounted. I couldn't be happier with how well the system worked in our under stair closet to maximize previously wasted wall space.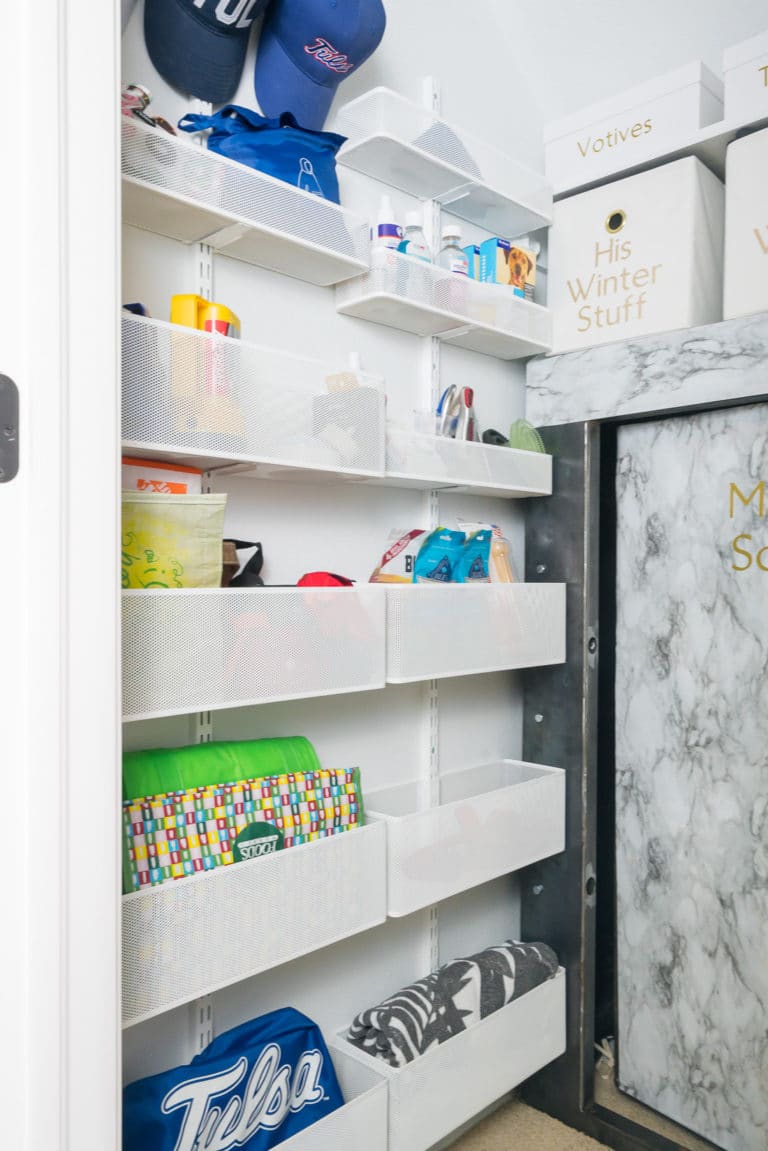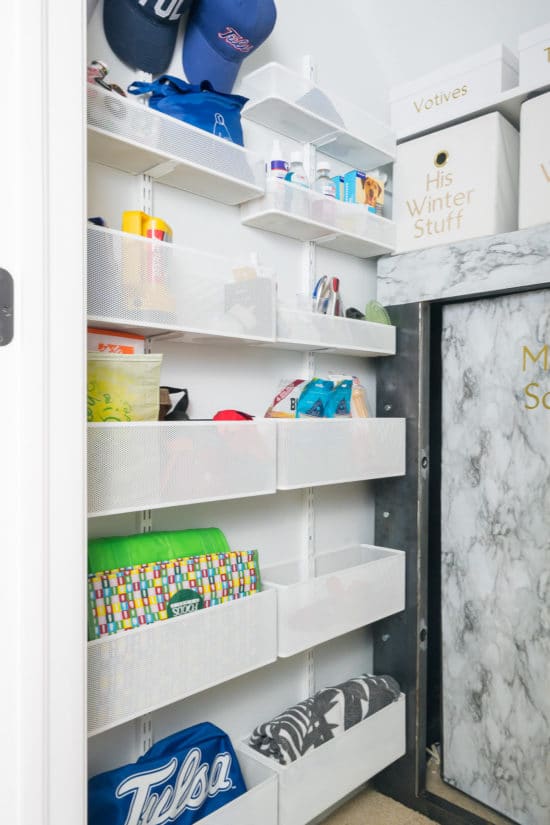 I have a whole separate post sharing my favorite creative storage ideas for cabinet doors, but here are two examples.
I never had room for the accessories for our Kitchen-Aid mixer and food processor. Adding a simple basket to the cabinet door was a quick and effective solution for both!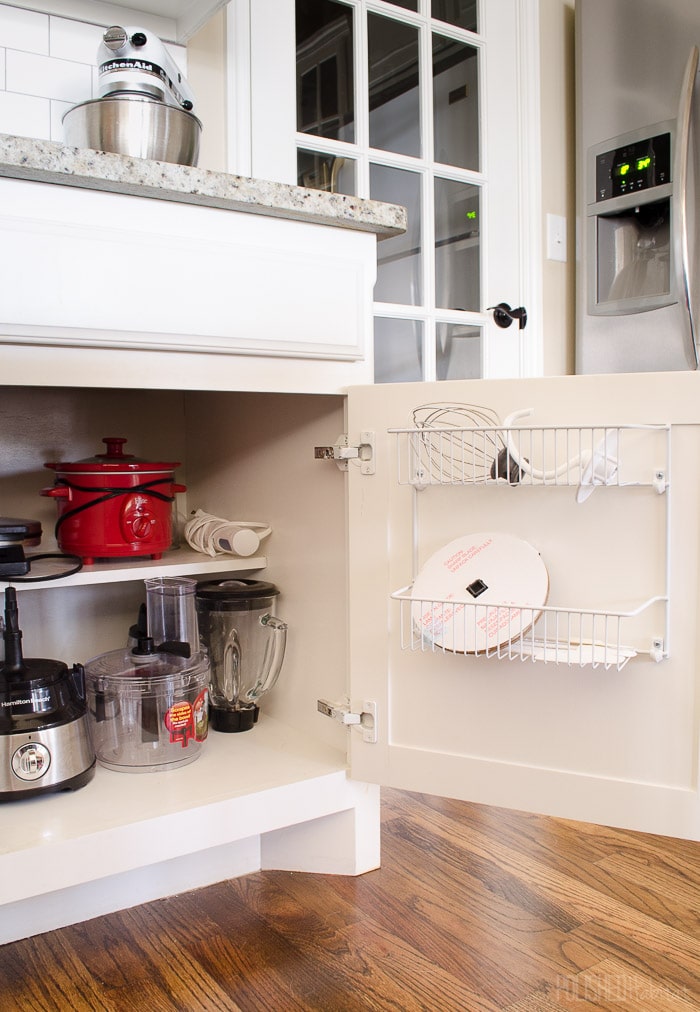 The bathroom cabinet doors are another spot to add extra storage. For example, we used renter-friendly Command Hooks to hold up a basket of cleaning supplies under the sink.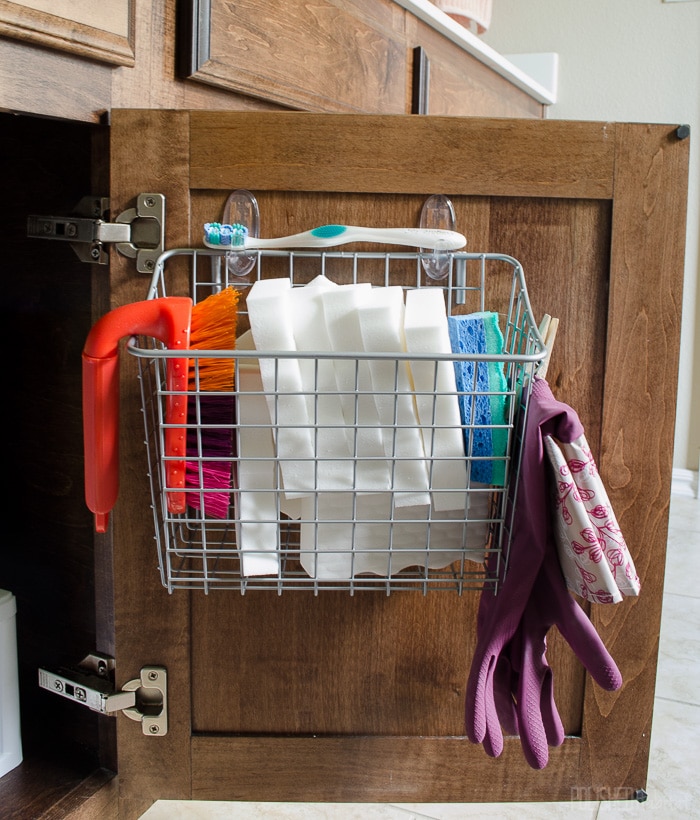 While I love MANY things about our kitchen and am thrilled to have it, we don't have that much upper cabinet storage space.
To create room for glassware and other items, we installed 6 shelves in between windows in the breakfast nook. Going vertical in this small area multiplied our kitchen storage!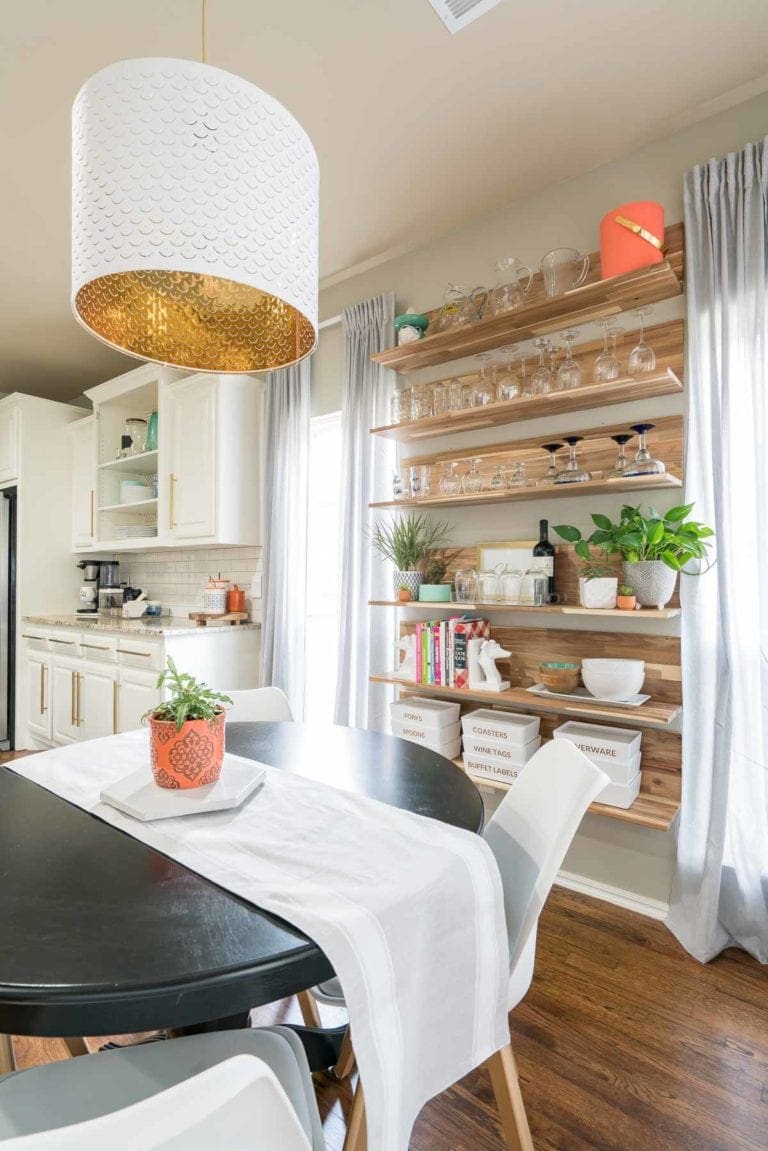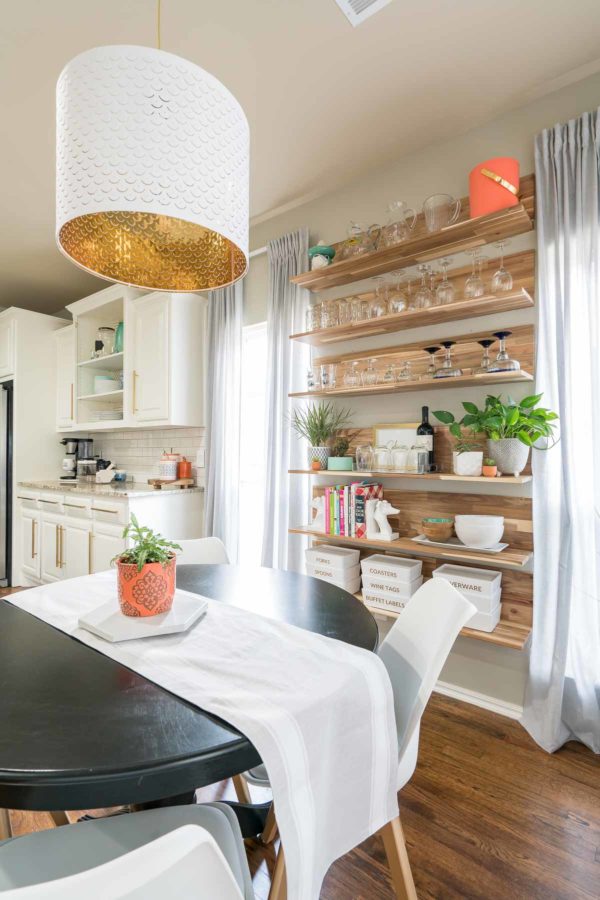 These shelves are also the perfect example of our next tip!
Tip #3:
Store Things In Plain Sight
You don't need space to hide everything away if you store it strategically as decor. By grouping our most used seasonings and oils on a marble lazy susan in the kitchen, we don't have to put them in our limited upper cabinet space.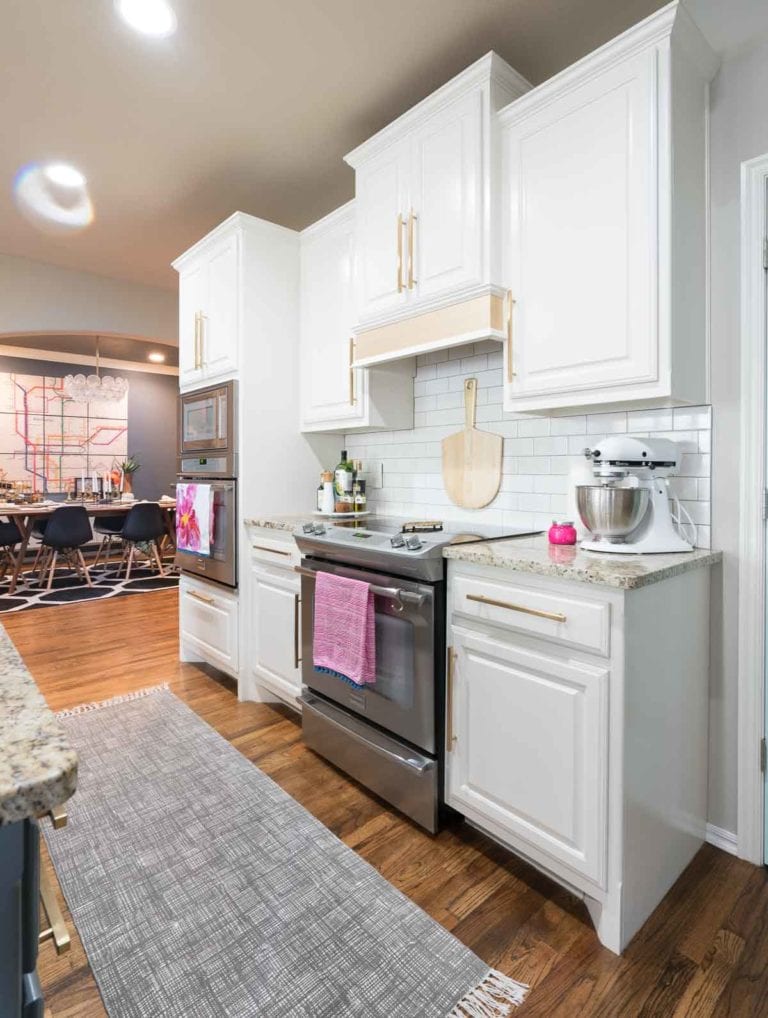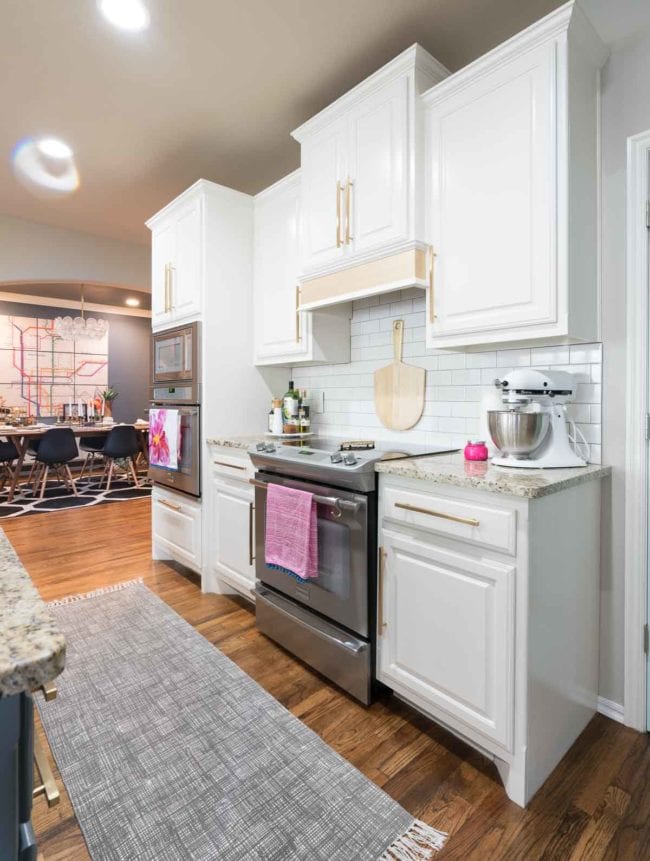 If you have more books than bookcase space, grouping them by theme and placing them throughout the house is another way great to store items in plain sight.
For example, my gardening books all live on a small console table in a hallway and our small collection of classic fiction books are grouped in the bedroom.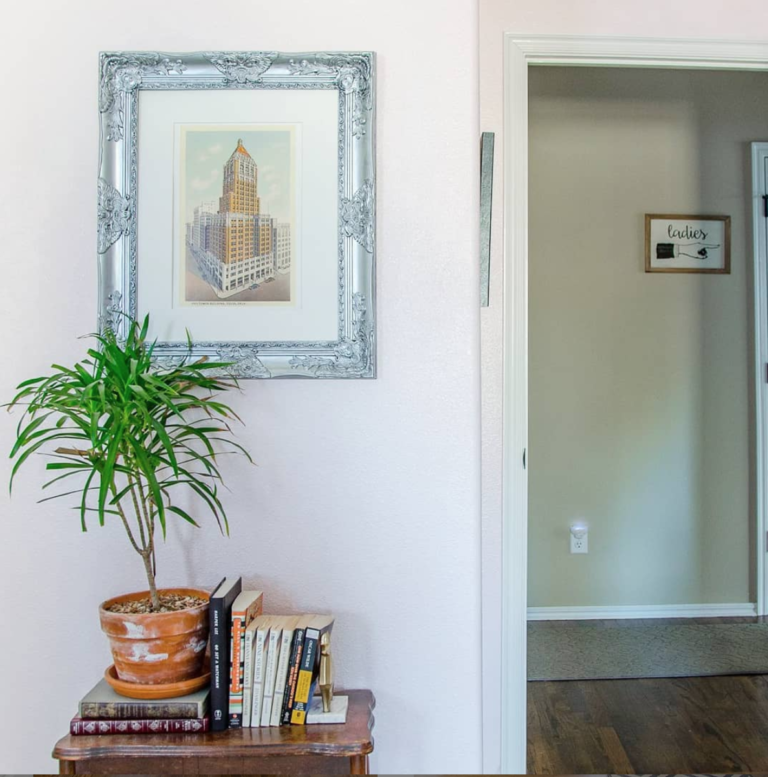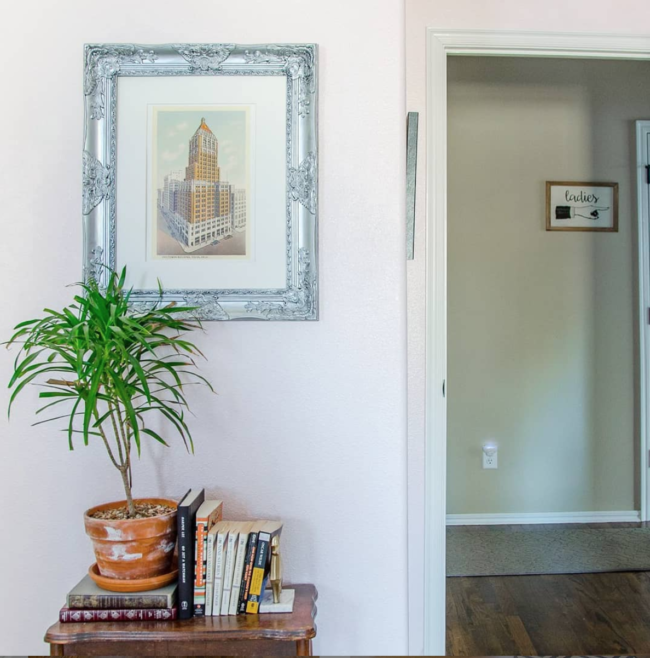 PS: You can find more book storage ideas here.
For less attractive or small items, bins and baskets with cute labels make everything look better!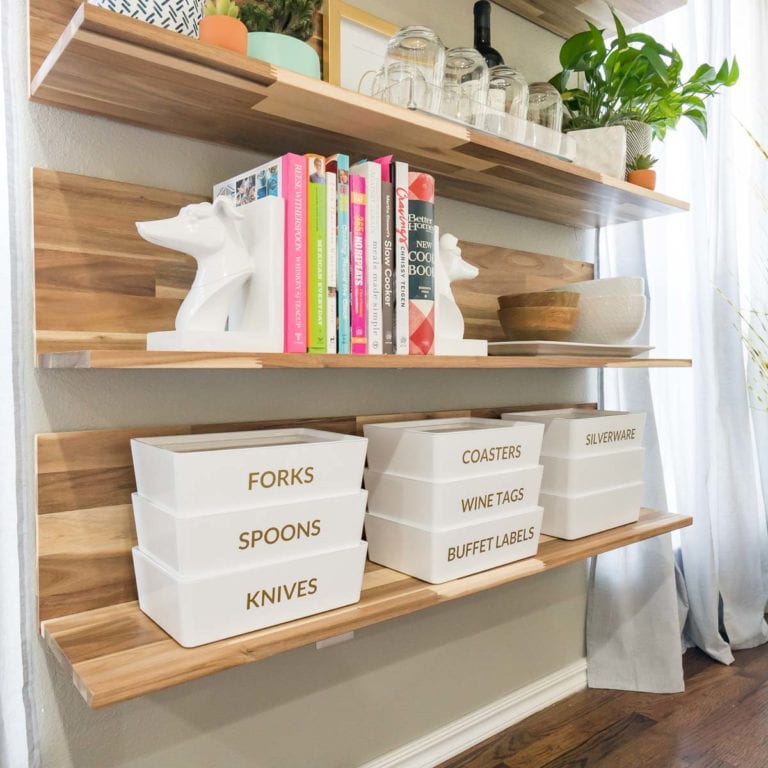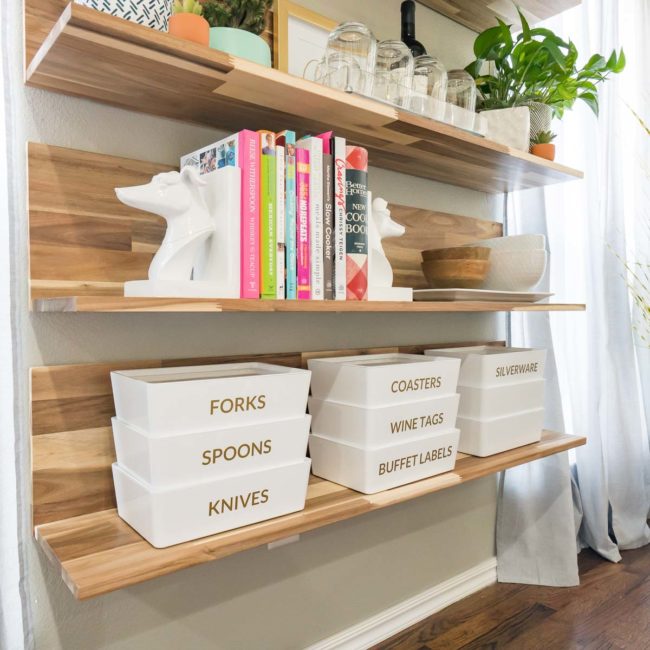 Tip # 4:
Use Multi-Purpose Furniture
When you're purchasing furniture, be sure to think through the storage needs of the room FIRST. We needed a new end table in the living room, but I really wanted somewhere to stash things like remotes, extra coasters, and even random items like dog brushes that end up cluttering the living room.
Instead of purchasing a traditional end table, I selected a nightstand that has a chic look AND two full drawers of brand new storage opportunities!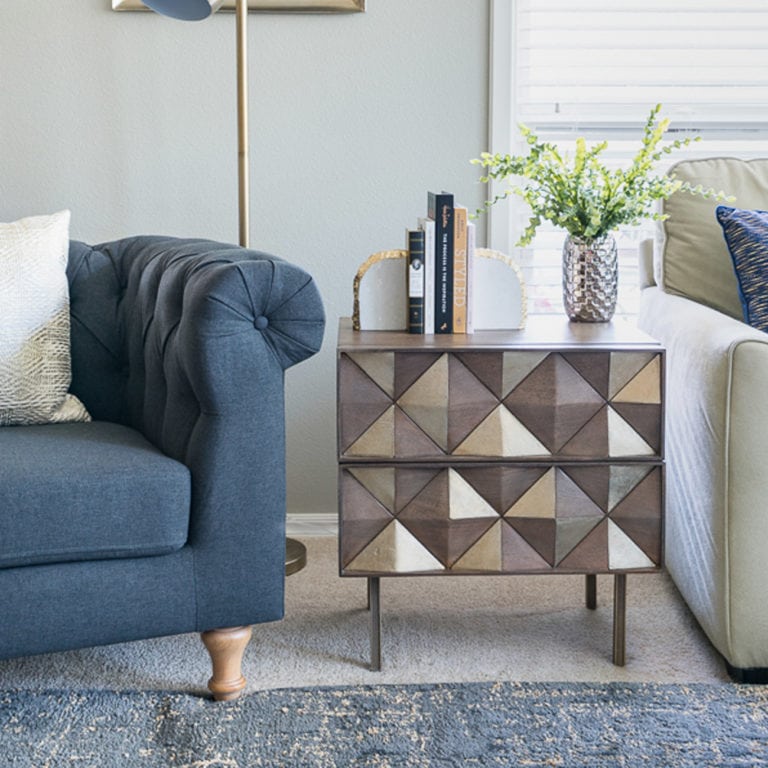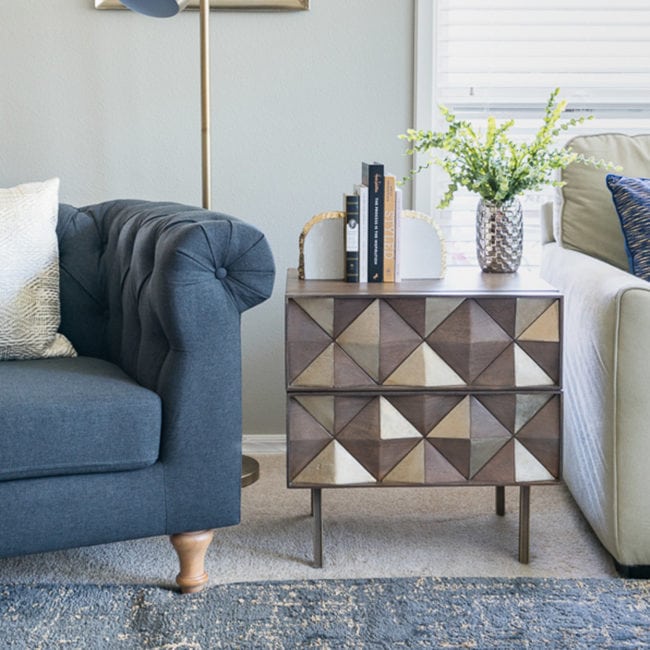 I used the same strategy in the bedroom, selecting nightstands with 3 drawers.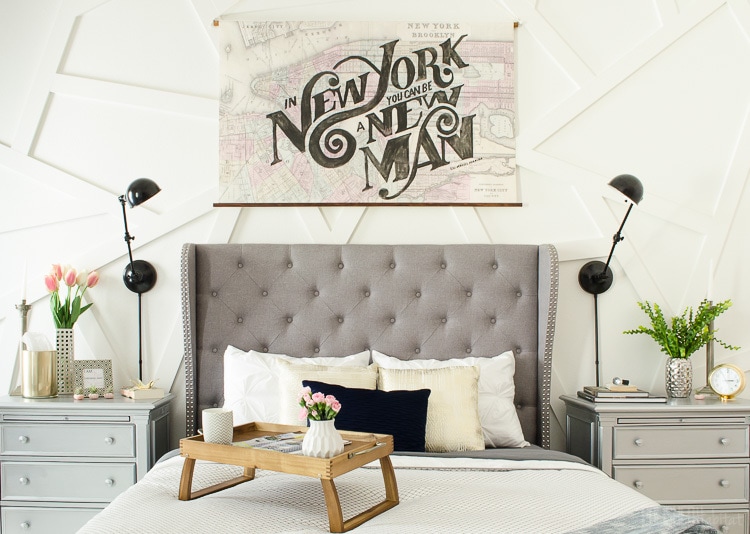 Tip #5:
Don't Waste Space Between Shelves
I'm not sure if it's a money-saving tactic by builders, or them trying to keep things flexible, but all too often the height between shelves is way too big.
If you think back to tip #1, using stackable containers is one way to take up the space. But there are other options that keep things accessible as well.
In the pantry, I found the perfect solution – under shelf hanging baskets. I need to order more of these!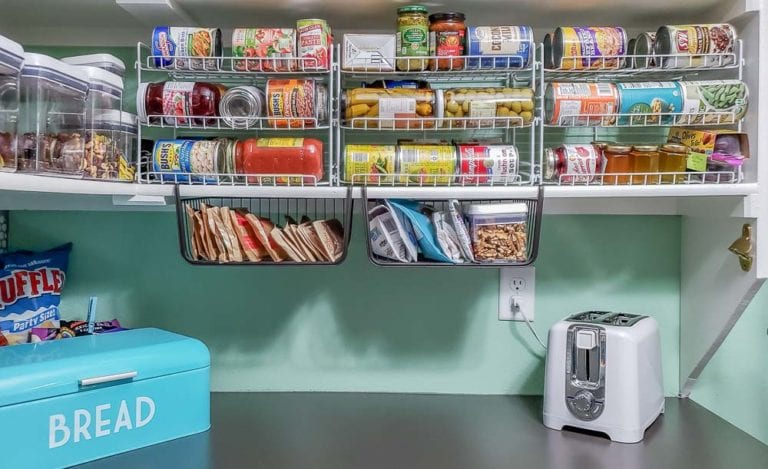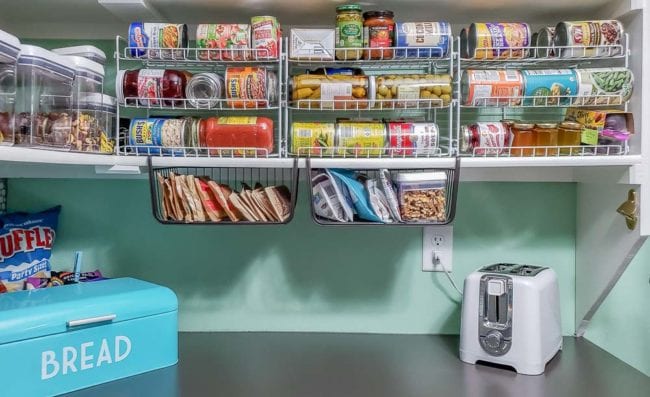 Also in the kitchen, I made better use of the cabinet space with a tiered rack to stack dishes.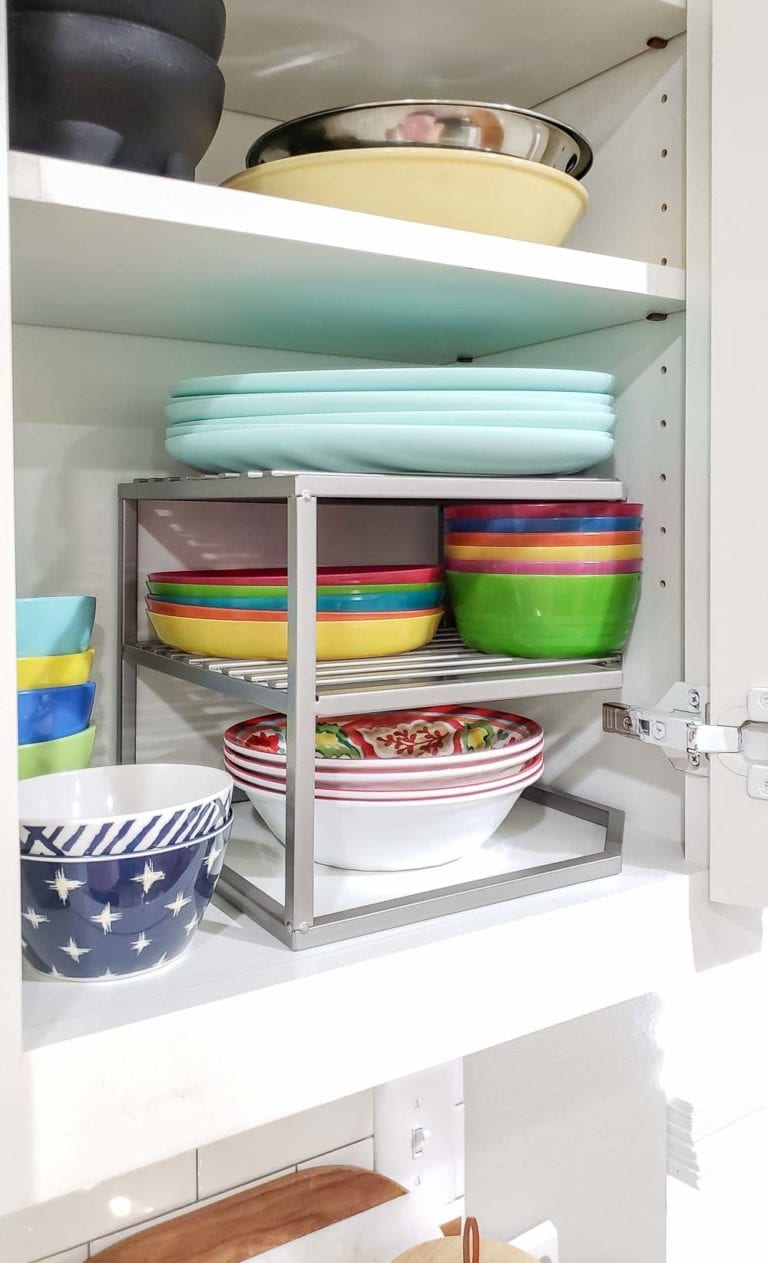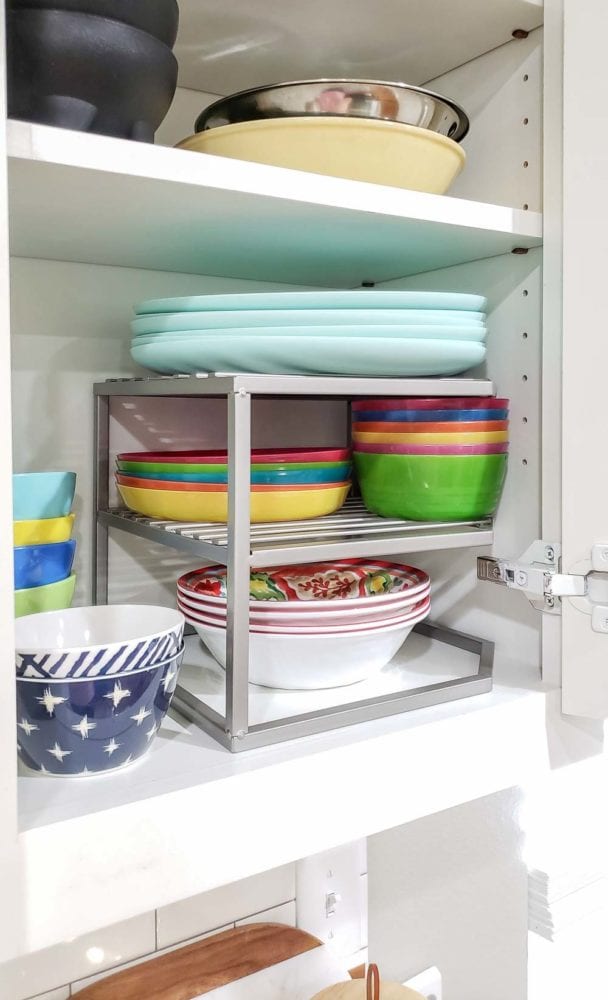 While we can STRETCH small space storage, we also have to be mindful of what we're storing. Sometimes the best solution is committing to be more intentional with what we're buying and what we're keeping around.
I LOVE having a well-stocked and organized home, so you won't find me pressuring you to be a total minimalist, but I also believe it's easier to keep any size house tidy when it's decluttered.
If you know you need to get rid of things but find it daunting, head over to read my decluttering tips or how to handle overwhelming organizing projects next.